The project could make Chinnaswamy the first cricket stadium in India to have complete solar panel coverage on the roof
Karnataka State Cricket Association (KSCA) is planning to install solar panels across the West Stand of the Chinnaswamy Stadium in Bengaluru.
Shankar A, Secretary of KSCA, said, "We are planning to install solar panels across the West Stand. Currently, the entire East Stand is already solar powered, but we soon hope to have the entire stadium covered by these panels."
Shankar added that KSCA is working with Bengaluru Electricity Supply Company Limited (BESCOM) to install the solar panels that could generate a large chunk of the stadium's energy needs.
"The plan is currently in the pipeline. KSCA is set to work with BESCOM to implement this process and upon completion, the stadium could become the first in the country to have installed solar panels across the entirety of its roof," he added.
The Chinnaswamy stadium was the first in the country to install solar panels on the rooftop in the eastern stands, which generates about 1,700 units of energy.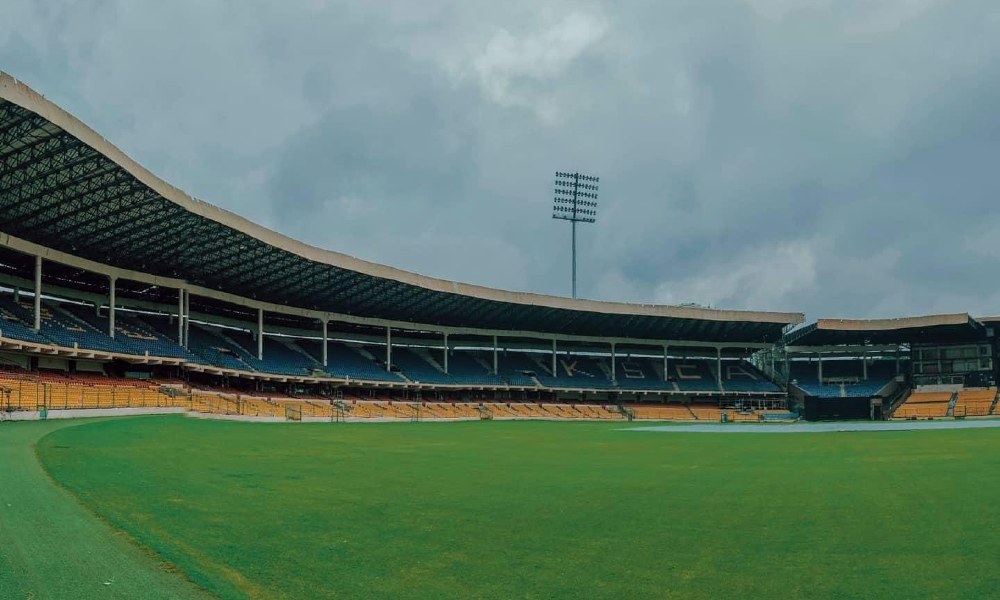 The entire system is automated using a technology called Supervisory Control and Data Acquisition (SCADA), which lets the engineers access the performance of the solar panels and how much energy they are generating. The system is powered by BESCOM, but KSCA is only liable to pay for the energy units generated and consumed from BESCOM, not the ones produced by the solar panels.
KSCA funded the solar project on the East Stand for a cost of Rs. 3.8 crores. There are approximately 1,422 panels covering the eastern side of the ground. The plan for KSCA is now to cover the western side of the ground as well.
Yere Goud, former Karnataka Ranji Trophy player, who now coaches at the Andhra Cricket Association, welcomed the move to install solar panels across the West Stand. "Anything you do for the environment is a welcome initiative and to have Chinnaswamy install solar panels across the West Stand is truly commendable. Solar electricity is a natural form of electricity that can be a great alternative for a stadium like Chinnaswamy and for the city of Bengaluru as a whole."
However, KSCA refused to provide an exact timeframe for the start of the project. "We cannot put out a specific timeframe for this project just yet. We have yet to bring this up in the Annual General Meeting (AGM), but we are hopeful of fast-tracking this project in the near future," Shankar said.