A type of bacteria, faecal coliform is indicative of the presence of faecal material of man or animal and can result in a wide variety of illnesses and diseases.
Delhi: Ammar, a Delhi-based photographer, frequently visits the Yamuna shore between the Delhi-Noida Direct Flyover and Zakir Nagar, near Okhla. "I went there last year to document the everyday lives of children and after that, I became a regular visitor. While the Yamuna was always dirty, the massive construction on the flood plains has meant that the riverbed is now visible. There are all kinds of trash floating there, including single-use plastics; you have buffaloes urinating and people from the nearby slums defecating too," he said.
An indicator of sewerage in a water body is the presence of faecal coliform. It's a type of bacteria present in the intestines of man and animals that is passed out of the body via faecal excrement of humans or livestock.
While the acceptable limit of faecal coliform in a river is about 500 to 2,500 MPN per 100 ml, in March 2021 it was found in excess of 9, 20,000 MPN/100ml in parts of Delhi, as per the data released by the Delhi Pollution Control Committee. The highest faecal coliform content was recorded at Okhla Barrage at 45,000,000 MPN/100ml.
Given that the Yamuna river water is used for domestic water supply, faecal contamination can cause potential health risks to people exposed to this water. Diseases and illnesses that can be contracted in water with high faecal coliform counts include typhoid fever, hepatitis A, dysentery, etc.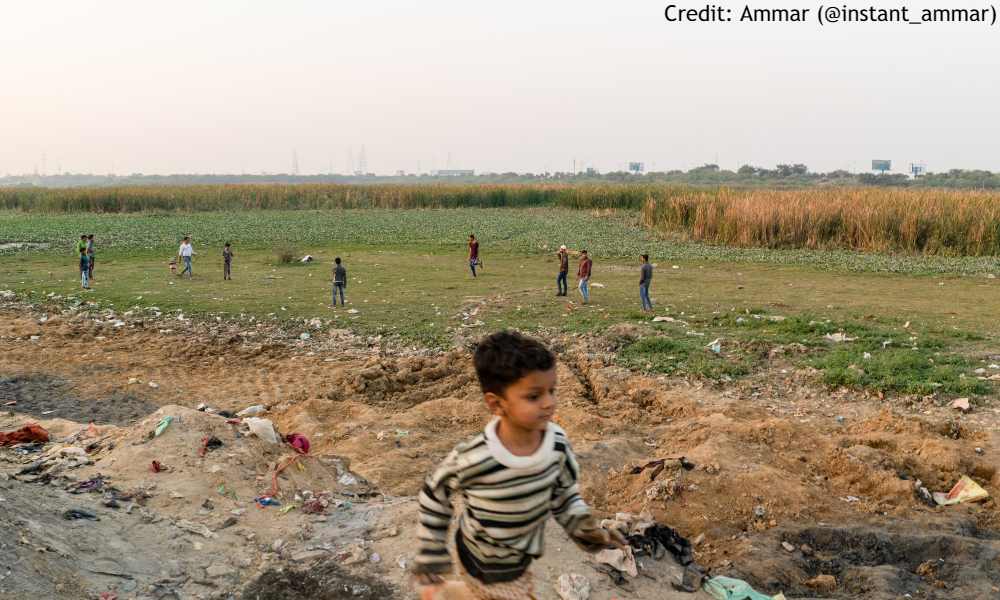 R S Negi, a member of the drainage department at the Delhi Jal Board said, "You have to understand the pollution load that the Yamuna brings to Delhi is also from Haryana and Uttar Pradesh (UP). Apart from this, large parts of Delhi consist of unauthorized colonies which do not have sewerage so their drains go directly into the river. What you see is the cumulative effect of all of this."
"Places like Juggi Jhopri (JJ) Colony are located on the banks of one of the drains. Places like that cannot have sewerage given the way they are located; so open defecation from JJ is also there," he added.
He added that one has to look at this in isolation given that Delhi gets about 50 million gallons of water from UP and 105 million gallons of water from Haryana. Over the years, they have also increased our sewage treatment capacity from about 300 million gallons in 2014 to 500 million gallons today and by next December, they hope to increase this to 700 million gallons.
"We are progressively improving our capacity," he said.
Kamlesh, Bharatiya Janata Party (BJP) Municipal Councilor from Madanpur Khadar West, an area near JJ Colony said, "There are no sewer lines here, everything is going to the Agra canal. This has always been the situation since the colony was established in 1995. The water board does not help since they have not laid any pipes here. "
Dr. Nandita Moitra from the water laboratory department of the Delhi Pollution Control Committee refused to comment on the matter.
A 2020 report by the Yamuna Rejuvenation Committee set up by the National Green Tribunal noted that according to the water quality trends, since 2015 the amount of dissolved oxygen in the Yamuna has consistently remained below the acceptable level. On the other hand, the Biological Oxygen Demand, which represents oxygen demand by bacteria while decomposition is consistently rising over the years. While the amount of faecal coliform, has remained stagnant over the years, it still remains way above the permissible limit.
Dr. Maharaj Pundit, professor at the Department of Environmental Studies, University of Delhi, said, "One should be worried about the high amount of faecal coliform in the river. This is an old problem, but it has significantly increased as a large number of people live on the banks and they take their cattle to bathe there and they throw untreated waste too."
"Faecal Coliform is a worry as it can cause a lot of problems for human health. At times, people get urinary tract infections because of it, and at the wrong place, it might prove fatal too. It's a health hazard," he said.
He added that the lax enforcement of norms is further contributing to this problem.