Job security still a fantasy for many outsourced employees who work on a contract. They have threatened to go on strike from December 19 if their demands are not met.
Outsourced workers — drivers, loaders, cleaners, and water delivery people will not work from Dec 20, as a part of their protest against unequal wages. So the city is not likely to get water, clean roads, and regular transport if this issue is not resolved.
"Today's protest is a symbolic protest; all workers from around Karnataka will not work from December 20 if the basic demands are not met. We have three simple demands—direct payment, equal wages for all labourers, and job security," said Nagana Gowda, President, Oraguttike Rajya Naukara Sangha, a labour welfare organisation. This was the agenda for the 'Outsourced Employee protest' at Freedom Park on Monday, Nov 28.
"We want a direct payment system. The past government implemented this system for pourakarmikas but loaders, drivers, cleaners, and manual scavengers are still outsourced. They also need job security," said Gowda. He added that they are issuing a deadline of December 19 for the government to meet their demands. Only some workers get a minimum wage while most still do not. Workers demand,"equal work, equal wage all across Karnataka."
Workers expressed their discontent with the current contractor-based system; and hoped to get job security. "I want job security; I have worked for five years as a water supply person. Now that my contract is over I'm scared. What I do is important so I want to be recognized for it." said an outsourced employee who works on a contract. Many other workers agreed with this sentiment.
The state government has agreed to hire and recruit 11,138 civil servants, drivers, loaders, cleaners and water delivery persons, said an official report by the Karnataka State Administrator, City Council.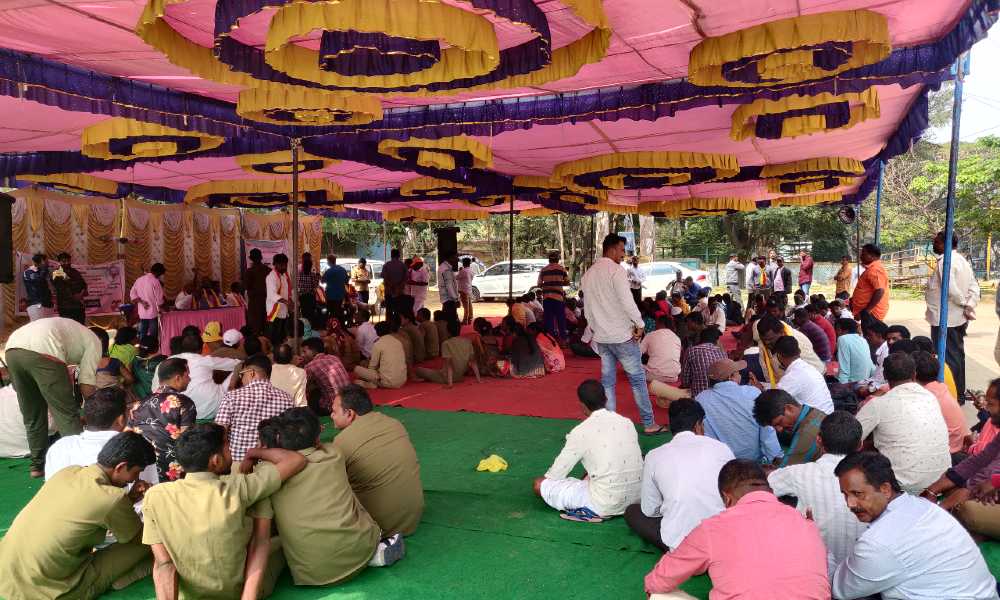 Nagaraj, an advocate said "It does not matter if you are left or right aligned politically, these issues need to be heard on humanitarian ground at least., They contribute a lot to society. "30 of these civil servants died during the pandemic and their families have not received the compensation amount as per rules." He added, "According to the city's needs, urban local bodies have to do better. There has been no change in the staff and recruitment system. The staff requirement demands need to be heard and changes need to be made accordingly."