Bangalore University says implementing long-term measures to divert traffic is 'not an easy task.' However, regular drivers resist a ban on traffic through the university.
As Bangalore University (BU) students demand a vehicular ban, commuters using university roads feel the detour would cost them more fuel and time. The University roads are used by about 40,000 vehicles per day. This traffic would have to be diverted and would have to make a four-to-five-km detour if the University roads are closed.
A commuter who regularly uses the road said, "Diverting so many vehicles that use the university roads daily would cause more chaos on the already busy campus roads. I will have to take a detour each trip, that would cost me more fuel, time and mental exhaustion. Although the students demanding the ban is justified, they should also look at the commuters' problems."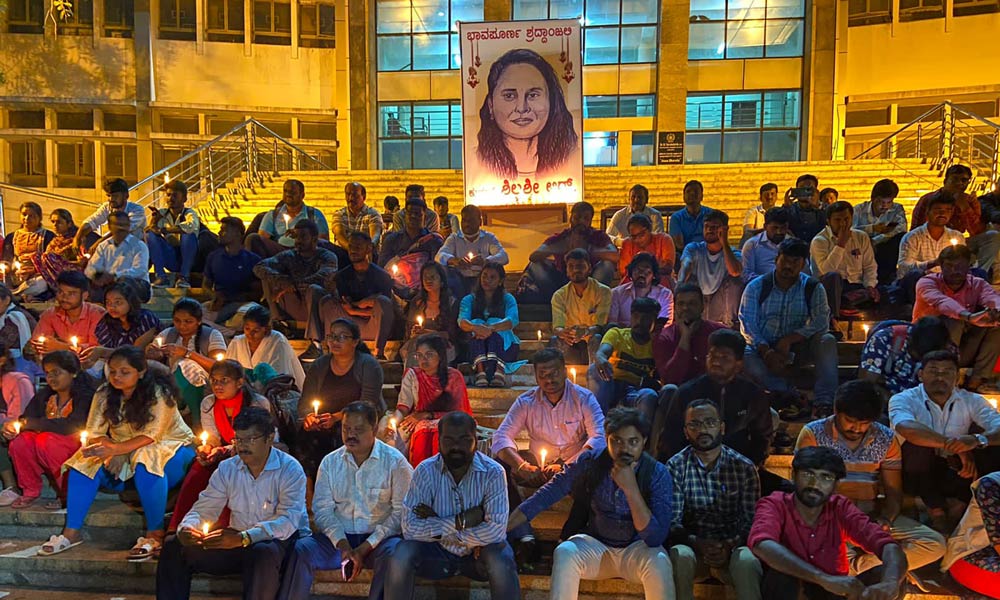 Students have been demanding a ban on vehicles on Bangalore University roads after a 22-year-old MSc student, Shilpa Shree, was knocked down on Oct. 11 by a BMTC bus inside the campus and sustained injuries. She succumbed to her injuries two weeks later.
Lokesh Ram, the president of the Bangalore University's students' union said, "The government had promised extended support to Shilpa Shree's family which is yet to be provided. Students and staff collectively have also been demanding compensation for her family. After her tragic death, we had proposed a complete ban on the movement of vehicles inside the campus to University administration, which was then forwarded to the government."
He continued, "A meeting was held involving BU Vice Chancellor, Registrar, BUTC (Bangalore University Teacher's Council), government officials and student leaders on Oct. 12 and it has been over a month and there is still no improvement in the situation."
Kamakshipalya Police Station data shows Bangalore University campus roads saw two death cases, three grievous injury accidents and three simple injury accidents in 2022. In 2021, there were two death and two grievous injury cases.
However, a writer at Kamakshipalya Police station said, "Roads will not be closed for commuters but the Nagarbhavi Main Road will be closed from 10:00 p.m. to 6:00 a.m. To improve the situation, barricades in curves and accident prone areas will be placed. Since the roads are owned by the university, we have also suggested measures like building higher compound walls along the roads to control traffic."
Students' representative Lokesh Ram said, "We are demanding to shut all four main gates to the University, these are Nagarbhavi Main Road to Mariyappana Palya Road and Mysuru Road to University Quarters. We have suggested building new road adjacent to University compound for the safety of students. We want BU campus to be like others like Indian Institute of Science, whose roads are separated from public access."
Following the death of Shilpa Shree, which sparked huge student protests, Bangalore University's vice-chancellor Prof Dr Jayakara SM had proposed a flyover and a compound wall to control vehicular movement on campus. However, registrar of Bangalore University said, "Implementing these long-term measures is not an easy task as they require huge finances and a lot of time. But temporary measures like putting up barricades and humps to control such heavy traffic are being carried out."
He said the university has established "short-term, medium-term and long-term measures that will be implemented." Short-term measures include renovating campus roads and placing removable rambler strips. Whereas, medium-term measures like installing CCTV cameras throughout campus, designing separate lane for Bengaluru Metropolitan Transport Corporation (BMTC) buses inside campus are to be implemented. Long-term measures proposed are building skywalks and underpasses wherever required, building compound walls on the main road, and permanently closing Nagarbhavi and Mariyappana Palya Road.
Prof. M.N. Sreehari, a traffic advisor and expert said, "University campuses are a gated community, they should only be open only for students and faculty. Why should they be kept open for general public? Campus should be a very safe place where there is security. To maintain this security, outsiders should not be allowed on University roads as they disturb the environment of the campus."
He said, "All the traffic movement caused by commuters and public transport like BMTC and KSTRC (Karnataka State Road Transport Corporation) should be prohibited. Their routes should be fixed outside the campus premises. Commuters will also have to adjust with whatever option is available to them and make their own arrangements."