Self- help groups are a priority sector for the Reserve Bank of India, but not for banks under it.
Self- help groups still face difficulties in getting loans from banks, despite being classified under priority sector lending.
Mariyamma, leader of Amman Shakti Self-help group said, "Banks do not provide Self Help Groups (SHGs) with any loan. I approached Punjab National Bank (PNB) to get a loan of Rs.1,50,000 to buy products, chairs and lights as we were planning to start a beauty parlour. But my application was rejected." She added that, because of this her venture has been delayed. She regularly visits the bank to know when she can re-apply for the loan.
However, the guidelines issued by RBI on priority sector lending states that no commercial bank, primary and urban co-operative society, local area bank, regional rural banks and small finance banks can deny loans to any individual member or a whole SHG group.
SHGs are eligible for getting loans up to Rs.2,00,000 for activities like social needs, construction orhouse repairing , construction of toilets and any viable activity started by SHGs.
But a loan official from PNB said,"Branches of PNB in Bengaluru do not have any provision of providing loans to SHGs under Priority Sector Lending (PSL). As SHGs rarely apply for loans, we stopped giving loans to them anymore."She added that in the last six months, only 20 SHGs applied for loans.
Sarla, leader of Mukalmika SHG said, "I wanted to start my stitching business in order to financially support my husband. I went to State Bank of India (SBI) to apply for a loan to buy sewing machines that cost Rs.50,000." She said that she applied for the loan six months ago, and her application is still under process.
So Sarla took a loan of Rs.1,00,000 from a local moneylender who charged her 23 percent of interest rate. Hence, it became difficult for her to pay interest along with repayment of loan.
Subrat Kumar Mohapatra, Assistant General Manager, Bank of Baroda, Race Course Road said, "We try to complete our targets in disbursing loans to SHGs under PSL. We can't refuse them as it is against the RBI mandate. However, sometimes we delay disbursements because of low credit worthiness of SHGs."
He said that also banks have to tackle accumulating Non Performing Assets. But, we still try our best to help SHGs.
Self help groups feel that banks will not help them anymore. Pavitra, leader of Atilakamma Self-help group said that banks are not of much help. They delay approving loans and even if they approve them, banks do not disburse the loan amount immediately. She added that due to such reluctance on part of banks, members of her SHG face difficulty in starting any viable venture, as everything gets delayed. Further she said that getting loans from banks is very crucial for them as they have to support their families financially.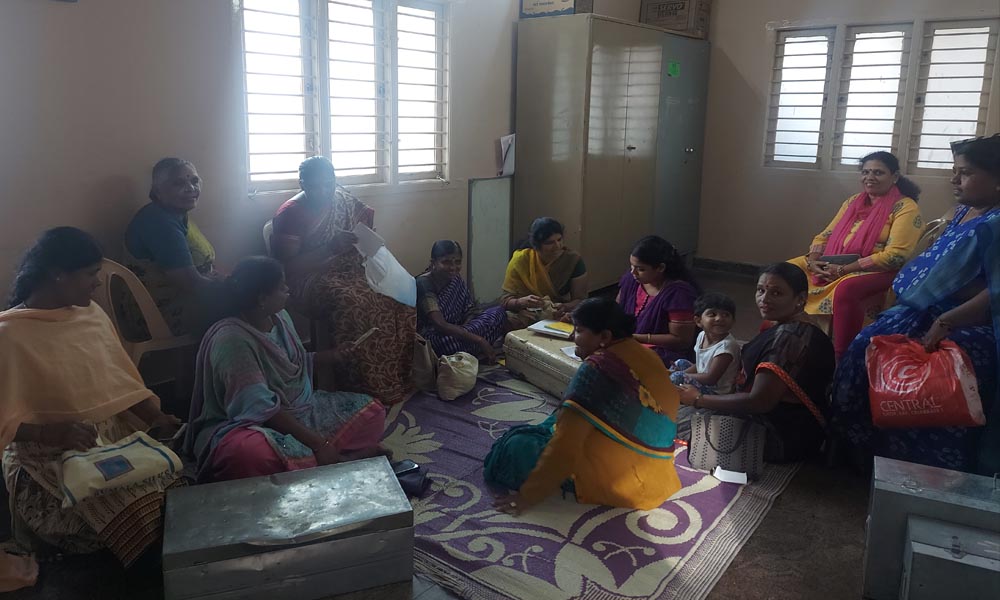 The finance manager of SBI, Mahatma Gandhi (MG) Road branch, Bengaluru said, "SBI is India's largest bank. We are the torchbearer in providing loans to SHGs under PSL. We have been maintaining continuity and consistency in this and also we try not to delay disbursements." However, Praveen Chandra Shah, retired General Manager of Bank of Baroda said, "Banks usually work as per their discretion. They are more concerned about completing their targets. Banks continue to turn SHGs away by asking them to come on a different day without giving them proper assurance and assistance."
Lalitamma, a member of Mariyamma's SHG said, "Now we do not go to banks at all. We work hard so that we can have more savings and then we can lend our members so that they can fulfill their dreams without seeking help from banks."
Suresh Kumar, Additional Director of Association for Promoting Social Action, NGO working to empower SHG communities said, "It is with the help of NGOs that SHGs are able to get loans. Sometimes, we become their guarantor, so that banks do not deny them loans." He mentioned that their organisation has provided loans for over 108 SHGs.
Further, he added that if banks do not provide them loans they cannot buy sewing machines, computers or start their own business. Since the income of SHGs is very low, it is the responsibility of banks to give them loans. As they are classified under priority sector, banks must give them priority in giving loans.