As of September 2022, Karnataka has the fifth highest number of swine flu cases in India.
The high price of the swine flu vaccine is causing people to avoid getting vaccinated, even as the number of cases is rising every day. Swine flu is a communicable viral disease which causes upper and lower respiratory tract infections in the infected person. A single vial of the vaccine costs around Rs. 1,400 and is only available in selected places in the city.
Parvathi, wife of an auto driver, said, "I have three children, out of which two have asthma. I know they have to get the swine flu vaccine regularly but as my entire household only runs on my husband's income, we cannot afford it." She said that she used to work as a nurse before retiring to care for her children. So, she knows that her children are vulnerable to any kind of viral infections. "Every time they get a fever, I start praying that it is not the flu," she said.
The Swine flu vaccine is a Schedule X drug, so it is only available at selected places. Schedule X pharmacies, which are hard to find, are the only places that the vaccine is sold at. Even most government hospitals like Victoria Hospital do not have the vaccine. It is only available at a few private hospitals like Ayu Health Hospitals, Manipal Hospitals, Fortis Hospital, etc. The vaccine is made available in most private hospitals if a patient specifically requests it.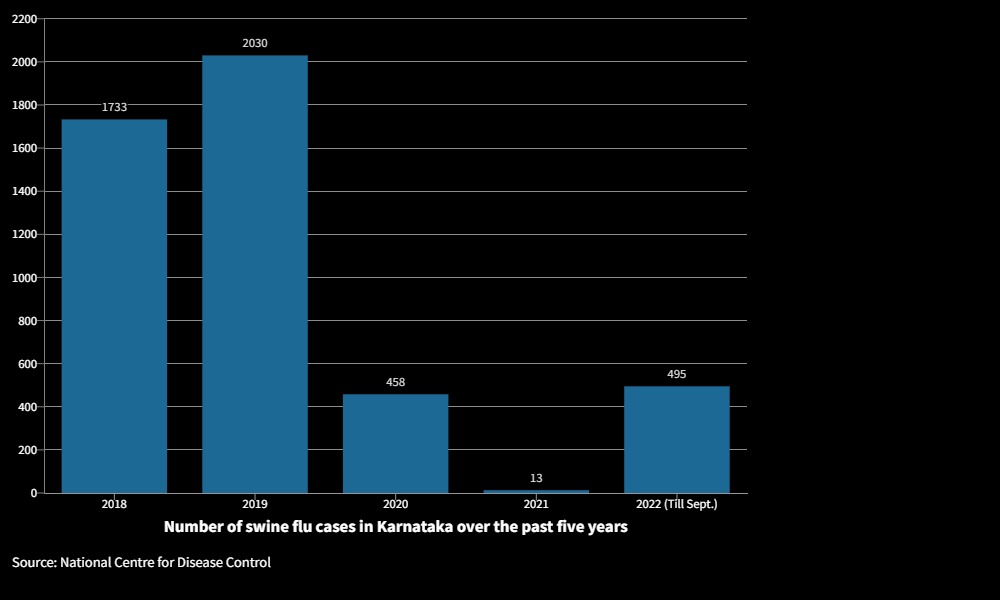 An official from Ayu Health Hospitals said that the vaccine costs around Rs. 1,400. He said that they do not keep stock of the vaccine. "If someone wants to get vaccinated, they have to call us first and make an appointment. We will then get the vaccine imported from the manufacturers," he said. He added that they have seen a spike in swine flu in the past few months.
Swetha (name changed), a nurse at the Primary Health Centre (PHC), K. Gollahalli, said that swine flu vaccine is not available at any PHC. "We only have Covishield and Covaxin available as of now." She added that they do not have access to any other vaccines like the dengue vaccine, either.
Dr. K. Vinod, a Consultant Pulmonologist practising at Rajarajeshwari Nagar, said that as there is a new strain of the swine flu virus every year, an updated version of the vaccine is released each time. This is why doctors recommend the public to get vaccinated every year. He said that people over 60 or people with other health issues like asthma, renal failure, etc., have to get vaccinated regularly as they are the most vulnerable to swine flu. He added, "Vaccination should be made mandatory for the core population who are drastically exposed to the virus, like doctors and nurses."
The number of swine flu cases has been increasing in the past few months. A report released by the National Centre for Disease Control (NCDC) states that 495 cases of swine flu have been reported in Karnataka as of September, 2022. Maharashtra has the highest number of cases, i.e. 3513, followed by Tamil Nadu (2036), Gujarat (2031), and West Bengal (629).
Dr. Vinod said that viral infections usually rise up during the winter season. It has been reported that swine flu cases suddenly went up to 495 in 2022, though only 13 cases were reported in 2021. Experts think that this is because people were following COVID-19 restrictions for the past two years which decreased the chances of swine flu spreading too. Since COVID-19 cases went down, people have stopped adhering to the restrictions, which may be causing the virus to spread easily.
Dr. Vaibhav, a public health consultant, said, "Since the pandemic, people started forgetting that there are other viruses that are just as harmful." He said that people from economically weaker sections are the most likely to get infected. They cannot afford to pay Rs. 1,400 for a single vaccine. He said that it is the government's responsibility to make sure all the essential vaccines are accessible to the public. He added, "There should also be awareness programs conducted regularly so that the public is aware of when and where to get all the necessary vaccinations."