Political parties of Karnataka are getting pumped up for assembly elections 2023 with new ways of developing their manifestos.
Major parties like the Bharatiya Janata Party (BJP), Indian National Congress (INC), Aam Aadmi Party (AAP), and Janata Dal are in the process of embracing manifestos with more participation of citizens.
New to the political foray in Karnataka, AAP are adopting a new method of making their manifesto called Nammoora Charche.
Mr. Kalai, AAP, BTM Assembly President, said, "This is the first time Karnataka is going to experience this method. Nammoora Charche is a method in which every Sunday, selected ward presidents have a meeting with their people. The day before, workers of AAP go to each and every house of that selected ward and distribute templates and ask people to write down their problems in the template."
He added, "Next day people have to submit those templates in the meeting. After that, we will collect all the templates and see what issue is very common among the public and come up with a powerful manifesto by the end of January. So, far, we are getting a very good response from this method."
Ms. Veena Serrao, an AAP aspirant ward member from Koramangala said, "With the help of this method our party also invites the people to a webinar to discuss the condition of roads, footpaths, and drains in Bengaluru."
She added that the party plans to discuss all the citizens' problems in the presence of an expert. This will ensure the citizen that, with good governance, any problem can be fixed.
Mr. Rajender, who had attended Nammoora Charcha said, "The experience of this new AAP meeting was very good. This is something I have experienced for the first time in Karnataka."
Mrs. Radha Nanjappa, Koramangala Ward President for the Party said, "After the good responses from the public, we are going to use this in local districts of Karnataka as well."
Ratan Kumar, Spokesperson of BJP's media team said that they are also coming up with a box system in all their assembly constituencies.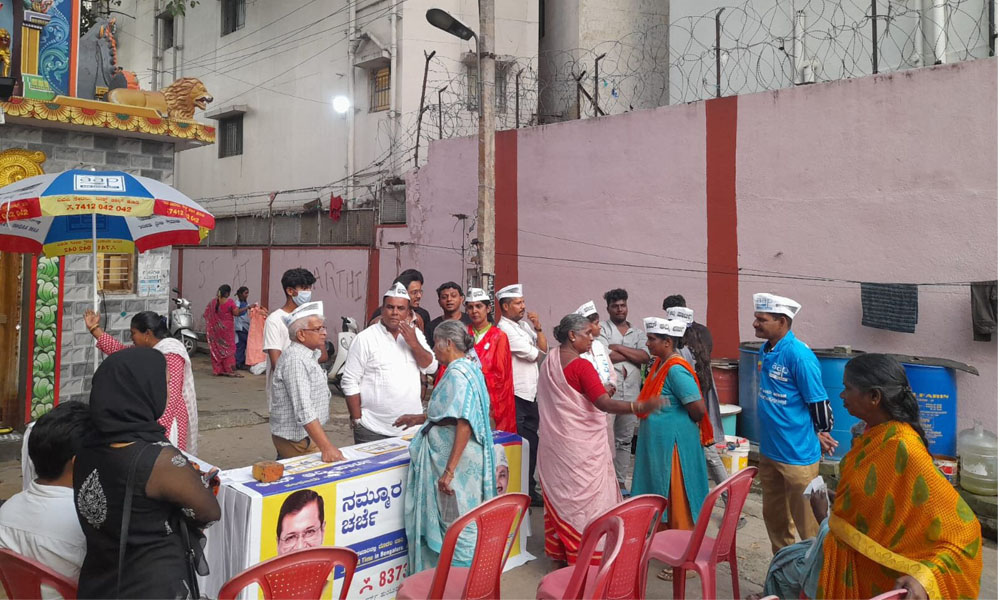 "We will be sending boxes and will schedule a time for people to come and drop their problems and ideas into that box. After collecting all the ideas from the box, we will be studying the needs of our citizens deeply and then will come up with our election manifestos," he said.
Another senior member of BJP said, "Difference between BJP and other political parties is that we consider emotions, ideas, and beliefs of our citizens. This is in the structure of the BJP and this is why we came up with these ideas of developing our manifesto. With the help of this we will be able to directly reach the problems of our citizens," he added.
A senior member of the INC said, "We have been very active in the process of making our manifesto for the assembly elections of 2023 and are targeting to come up with our manifesto by early next year. We have set up a big committee for our manifesto, policy and vision for the assembly elections."
He added, "With former Deputy Chief Minister, Dr. G Parameshwara as the chairperson, the committee will look for the aspirations of our citizens and their local needs."
Ravi Krishna Reddy, President of the Karnataka Rashtra Samiti (KRS) said, "We have already prepared our manifesto for the upcoming assembly elections in August this year. We actually made three types of manifestos, Mini manifesto for small districts, and manifesto for environment and students."
"With the help of this, we will be able to connect with more people of every sector. With the deep observation we have prepared our manifesto which will be quite similar to BJP because they have not done any work since they have come to the power," he added.
Whereas, Thippeswamy, Senior leader of JDS said, "We are still in the process of deciding our technique for the state election of 2023. But I am sure we will come up with the most effective and relevant manifesto of today's time."
Additional Chief Electoral Officer, Karee Gowda IAS said, "Parties are coming with a more structured way of deciding their manifestos for elections to create hype and publicity. This should not be new things as these methods should be very common because manifestos are always for the public and by the public. But now they have started doing this which is a very good sign for Karnataka's politics."
Dr.Harishikesh M Bevanur, a professor of political science and keen observer of the state's politics, said, "Every constituency is different and have regional imbalance so reaching out to people can be an effective way of developing a manifesto."
He added that every party should focus on the process of completing promises that they have made to the public and that parties should tell the public the plans they have made to solve these big problems in the city like potholes, roads, traffics, etc.