With the majority of the elderly population in the state taking unnecessary medications, polypharmacy constitutes a severe health risk.
Polypharmacy poses an increased health risk among Karnataka's elderly population as 84 percent of them practice it in the state. Experts say that this practice might potentially lead to harmful drug interaction and cognitive impairment among the elderly.
Polypharmacy is the practice of taking more than five medications a day for different conditions, and polytherapy is taking them for only one condition. Dr. Chanda Kulkarni, formerly a Senior Consultant & HOD – Clinical Pharmacology, Sakra World Hospital, Bengaluru, said that all the cases of polypharmacy may not lead to a negative impact, but including Potentially Inappropriate Medicine (PIM) will cause definite harm.
PIM is the medication that has adverse effects which may outweigh the clinical advantages of the drug. Studies show that 28 percent of the country's elderly population, and 32 percent of the South Indian population use PIM.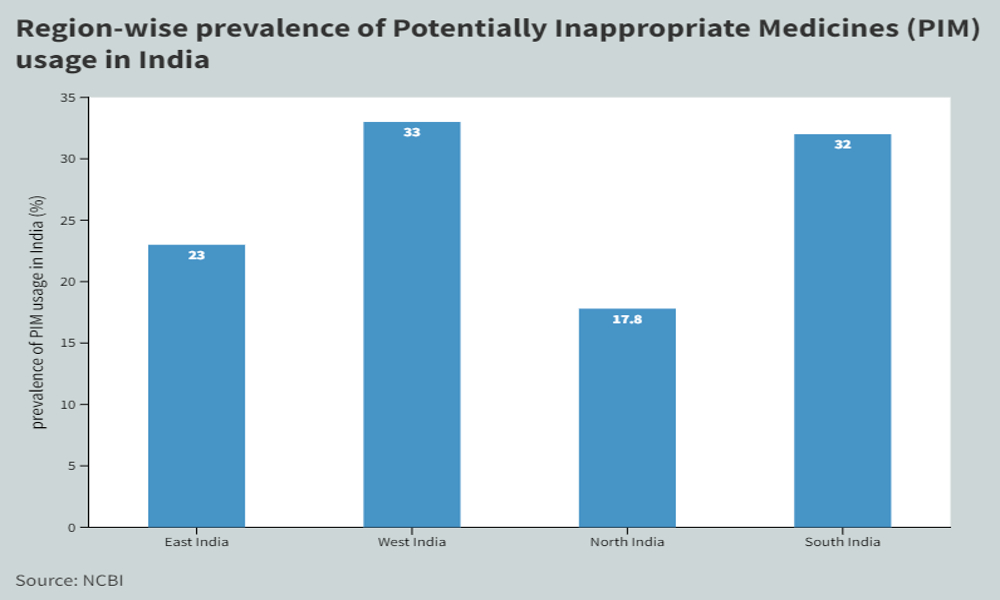 Arukamal, 73, said that she takes five medications; one for blood pressure, and four for asthma, daily, of which two were not recommended by her doctor. "Doctors told me not to use them as it would cause damage to my stomach and kidney in the future, but still I continue to use them as I feel better in the short term," she said. She added that she has no knowledge about the negative impacts of taking inappropriate drugs.
Ramaiah, 68, said that he consumes six tablets per day for various health problems. "After my heart surgery, doctors prescribed many medicines, and keep changing them and I take them as per their advice," he said. He is not aware of any negative health impacts and hopes what they say is helpful.
Dr. Kulkarni said that polypharmacy with PIM medications may add to the complexity of medication treatment regimens. This is leading to medication non-adherence, with the potential to increase adverse drug effects. "A medication prescribed to treat one condition may worsen another or may cause a new condition due to the combined effect of multiple medications, when they are taken," she added.
Kavitha R, a dermatologist said, "These drug interactions lead to organ failure, kidney issues, problems with skin, muscle, and induce cognitive impairment will set in with inappropriate polypharmacy practices."
Karnataka ranks second after Uttarakhand in the practice of polypharmacy. States like Telangana, Punjab, Jammu, and Kashmir have more than 50 percent of their elderly population exposed to polypharmacy practices. The person is considered to be elderly if they are aged above 60 as per the study.
A 2013 study by National Center for Biotechnology Information (NCBI) states that 37 percent of the out-patients knew the indication for the medications they were prescribed, and only three percent were aware of the prescribed dose.
Dr. Thelma Narayan, senior advisor with the Society for Community Health Awareness Research and Action (SOCHARA), a non-profit organization, said, with multiple systems of medicines i.e., AYUSH, followed in the country, there is a tendency to follow multiple practices by the people. She said that cross-practice by doctors is an increasing cause of polypharmacy. "To ensure the safety and efficacy of consuming medicines, the policy of cross-practice must be strongly regulated," she added.
Arukamal said that monthly expenditure for medicines alone comes to Rs. 800, which is very high for her. "Five years back my husband, 75, was taking 10 – 15 medicines a day, to reduce the impact of a sudden increase in white blood cell count. The doctors could not find the cause for the same," she said.
Dr. Narayan said that with the widespread commercialization of medicines, there is a possibility that a few doctors recommend tablets that are not necessary. But such practices are rare as there is a possibility of side effects, which would cause trouble for the doctors. "Patient education is growing these days, but more effort is needed to ensure that students in all streams are taught the basics of the human body and medications," Dr. Narayan added.
Dr. Kulkarni said that physicians should be encouraged to participate in Continuing Medical Education (CMEs) programs on a regular basis. "It should be to update and orient themselves on not only newer medications but also on the appropriate and compatible medication combinations for safe polypharmacy practices," she added.
"There is a need for coordinated efforts and healthy interactions between relevant stakeholders like the support from industries, the academia, and cooperation from consumers to achieve safe and appropriate polypharmacy practices," Dr. Kulkarni said