Kempegowda International Airport(KIA)will add more testing machines, manpower and will request for more operational space.
After Wednesday's chaos at the KIA, testing centres are planning to ramp up their services at the airport.
Tejasvini, a project manager at Auriga testing centre, KIA, said they will add about 100 more employees for  hassle-free testing of international passengers. She stated that currently they have 28 testing machines including an accula, robot rapid testing(RT) machine and a gene-expert. "Gene-xpert testing machines clear 16 samples per hour, and we just have one," she said. "We have 20 acula testing machines that generate one report every 35 minutes and seven robot RT machines that generate one report every 15 to 20 minutes," she added.
Tejasvini also said that they have requested more space inside and outside KIA to be able to cater to more passengers. "Now Reverse Transcription–Polymerase Chain Reaction (RT-PCR) is mandatory for all passengers flying in and out of Maharashtra despite them being fully vaccinated which has increased the workload," she said.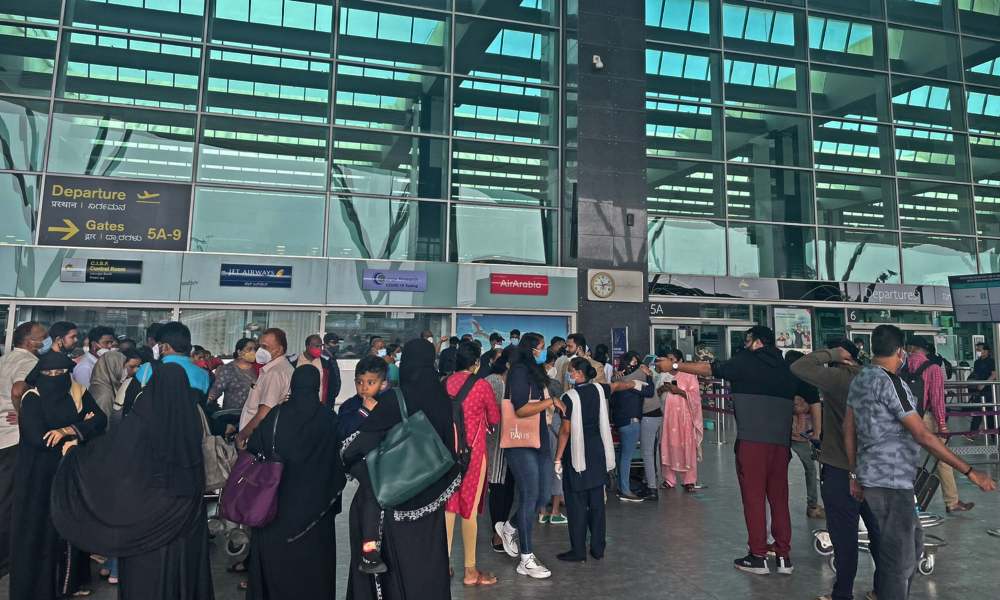 Avin, a passenger flying to Pune said, "I am fully vaccinated but I still had to stand in a long queue to get my RT-PCR."
On Wednesday, international passengers accused the testing centres of overcharging for the RT reports. "People don't understand the difference between RT-PCR and rapid testing," said Tejasvini. She said that rapid testing uses extensive technology and the cartridges used in the machines are expensive due to which the cost of rapid testing is more than RT-PCR.
Testing centres are waiting for the next lot of international arrivals that usually starts to post 11 p.m. at the KIA. No international flights have landed this morning, confirmed an Air India official.
There is two case of Omicron-positive as of now, confirmed by the Ministry of Health in a press meet this evening. A special ward has been set up at Bowring and Lady Curzon Hospital, Bengaluru for monitoring Omnicron suspected patients.
Karnataka Government has issued special guidelines regarding passengers flying from high-risk countries. European Union countries are the newest addition to the at-risk category of countries.