Leading brands are gaining a foothold in the market; women say cups are easier to use.
The sale of menstrual cups has soared in the last two years as women have found a new alternative to traditional sanitary napkins. Major brands recorded sales of 7000 to 8000 menstrual cups this year in Bangalore.
M. Venugopal, whose company distributes menstrual cups to multiple pharmacy stores said, "We sold about 8000 menstrual cups in the city this year and all over India we are selling about two lakh pieces per month. They are reusable making them eco-friendly as compared to sanitary napkins." According to Menstrual Health Alliance India, one sanitary pad could take 500 to 800 years to decompose as the plastic used is non-biodegradable and can lead to health and environmental hazards. One sanitary napkin is equivalent to four plastic bags.
Shoaib Pasha, an employee of a major retail pharmacy chain in the city said, "Earlier we used to sell five to six cups a month, but now we are selling five to six cups in a week in each store. The sales have increased in the last couple of years as people are becoming more aware of the product."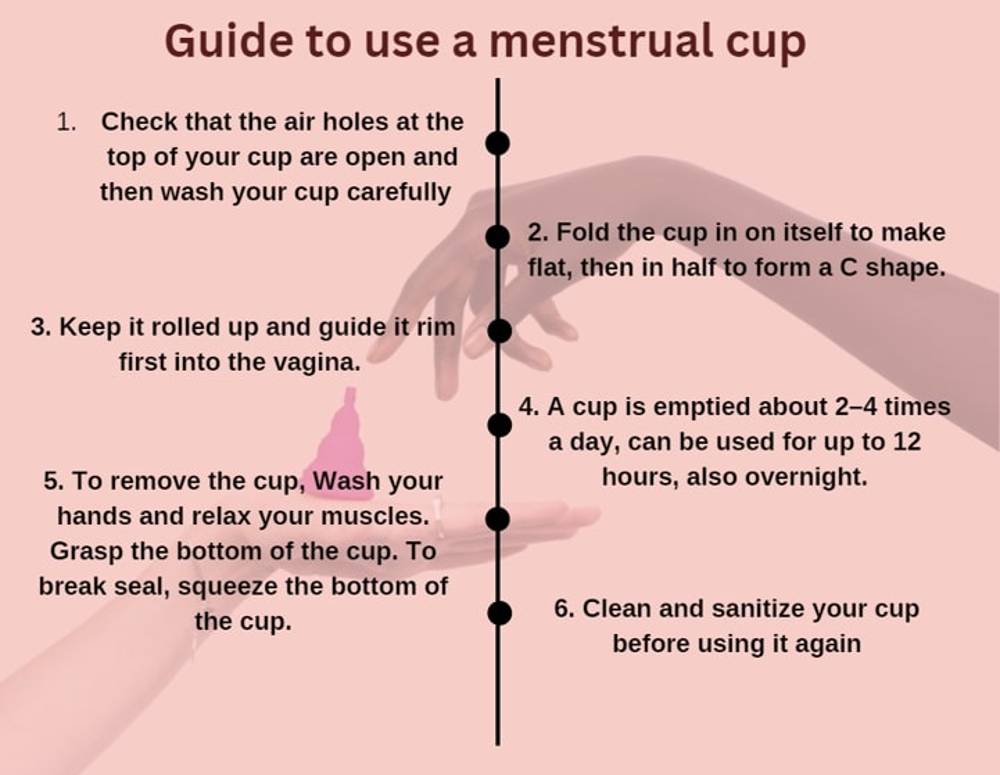 Karnataka government launched the Maitri Menstrual Cup scheme in two districts, Dakshina Kannada and Chamarajanagar this year mainly focusing on girls belonging to the tribal community. The state government made the declaration in the budget session in March considering the environmental advantages of using the cups over sanitary pads and other alternatives.
Prof. R. Indira, a sociologist, feminist thinker and activist said, "In a society still caught in the grip of norms governing notions of purity and pollution, so much negativity surrounds menstruation. It has been constantly used as a means of suppressing the freedom of mobility, both physical and social, for young girls. Even though sanitary napkins of various types have now come into the market to relieve girls from the monotony of treating menstruation as a burden, we cannot overlook the affordability dimension." She backed cost-effective menstrual cups for adolescent and younger girls, especially from the vulnerable groups as she believes "it would go a long way in helping them conquer the taboos and prejudices surrounding menstruation."
Women with heavy bleeding during menstruation prefer cups over pads as they say it saves them the trouble of changing the pad every three to four hours. Molly Saju, a 48-year-old housewife who has been using menstrual cups for the last 15 months said, "I have problems of heavy menstrual bleeding, so my sister-in-law, a doctor, suggested this. For the first three months, it was challenging for me to insert and remove it. But now I've found my way around it. Also, these are environment friendly, economical and the best choice for ones having heavy bleeding."
Tashmai Das, a 22-year-old MSc student strongly advocates for menstrual cups as she has Polycystic Ovarian Syndrome (PCOS) and says pads don't work for her. "Pads need to be changed every four hours but a cup can easily sustain for half a day. And I believe, it eases my menstrual cramps somehow." Dr. Suvarna Jyoti who is a gynaecologist asserted the safety of menstrual cups and called them the "sustainable way of menstrual hygiene".
"The usage has not gone up in the way it should have as even today only 0.3 percent of women use a menstrual cup. Cultural taboos, family restrictions, lack of awareness and also non-availability of the cups could be some of the reasons for its less usage," said Dr. Jyoti recommending more women to make the switch without hesitating.
According to the National Family Health Survey (NFHS-5), 64.4 percent of women aged 15-24 use sanitary napkins, 49.6 percent prefer cloth, 15 percent use locally prepared napkins and only 0.3 percent use menstrual cups.
Soni, a 21-year-old woman who recently started interning for a company said she was scared to use cups. "I don't know how to use them and there aren't many trusted sources that tell you how to. I tried a tampon once but my body didn't respond to it as it felt slightly painful. I feel pads are a safer option.'' Some women also said that their families didn't want them to use menstrual cups despite their will to do so. "My family asks me to use pads but I want to shift to cups," said Gleny Rozario, a 19-year-old B.Com student. Venugopal said his own wife and daughters preferred pads.
Many small chemist shops still don't keep menstrual cups. "Once a week someone buys them as women still prefer the traditional sanitary napkins," said Mohammed Salman, who owns a medical pharmacy in Jayanagar.
Prof. Indira termed menstrual cups as an empowering tool that gives young girls the freedom to make choices in life.