Pressure to deliver faster leads to accidents, say delivery partners.
Riders rush for faster delivery as the company builds pressure on them to deliver orders on time irrespective of the number of orders and delay they are already facing.
"I never rushed for faster food delivery even if there is too much delay. However, I have seen my co-workers rushing for delivering faster to meet the deadlines even when there is heavy traffic or delay from the restaurant," said Manoj Kumar, Whitefield-based delivery partner. He also said companies sometimes assign multiple orders to the delivery partners and they are expected to deliver all of them on time irrespective of the number of orders they already have.
 Data released by Bengaluru Traffic Police for 2022 state that as of August 2022 , 7,972 cases of reckless driving  were reported whereas in 2021 the number stood at 6,666. An official at the Bengaluru Traffic police station said that the food delivery partners have been fined Rs.14,000 since January this year. However, riders blame food delivery companies for most of the accidents.
A rider said, "Constant phone calls from customers and the company's support team creates a lot of distractions, especially while driving. Every time the orders are assigned, we get notifications in our phone which cannot be ignored unless we are offline."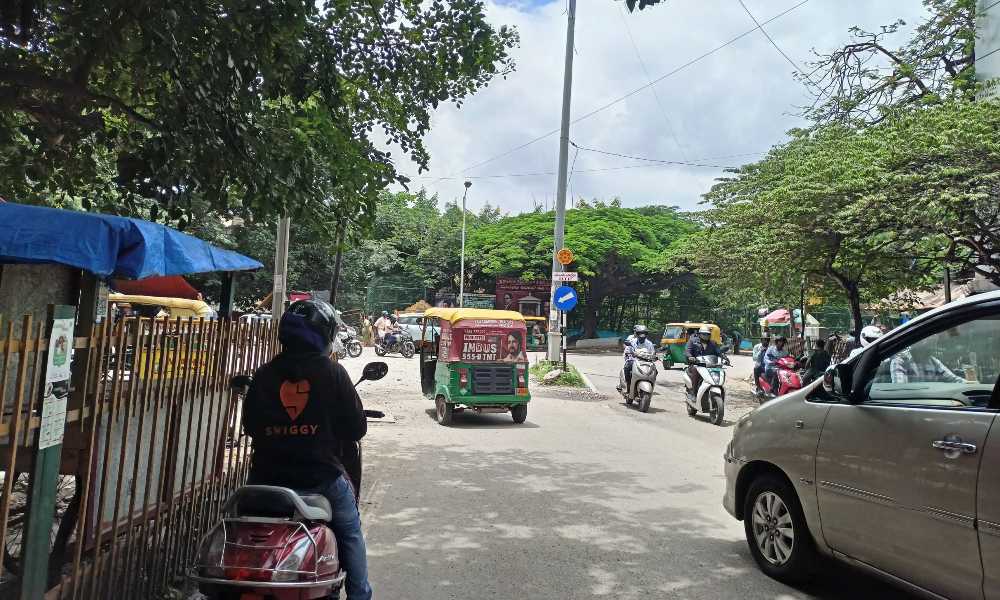 An official of the Ulsoor Traffic Police station said that they had booked delivery people for driving recklessly and not wearing helmets while driving. However, he said, "Most of the time delivery partners try taking shortcuts by violating right turn, left turn and riding against one way that's where they are fined."  He also said that the traffic department had to perform their duty and could not consider whether companies were putting pressure on them or that they had several orders to deal with.
Section 279 of the Indian Penal Code (IPC) says, "Any individual found guilty of rash or negligent driving, endangering human life, can be punished by law. Also, they can be imprisoned for a period of up to six months, and fined Rs. 1,000 or both."
A business analyst who worked with Rapido said, "All the companies, be it Zomato, Swiggy or any other have different types of work culture. Some companies may be forcing them to take multiple orders and asking them to deliver them timely, while sometimes it is from the rider's side who wants to take multiple orders so that he can earn more in a day. Secondly, there are chances that a single rider would be taking orders from multiple apps which forces him to drive rashly to make a timely delivery."
A senior operational manager from Swiggy said, "We do not impose penalties on delivery partners whether they are from Swiggy or any third party companies. In cases of delay in deliveries, the estimated time on the application also changes. So there is nothing like promised delivery time or target. Also we conduct training programmes for delivery partners regarding road safety and traffic rules."
Nikhil Sharma, a resident of Indiranagar, who often orders from food delivery platforms said, "Most of the time the order gets delayed. When I call the delivery partner the person says that he's having more orders and even though the order has been picked up, he has to wait for other orders. So the order never comes on time."  He also said, "Companies should be transparent with the customer and notify that the rider is having two or more orders. We often blame delivery persons when the company is at fault."