Karnataka Forest Department 2022 data shows the highest number of cases of human-wildlife conflict so far.
Karnataka has recorded its highest number of cases of human-wildlife conflict in 2021-22. Data from the Karnataka Forest Department shows that 36,982 cases of human-wildlife conflict were registered in 2021-22, while 28,559 cases were filed in 2020-21. This data includes the conflict between humans and big mammals like elephants, big cats, wild pigs, and leopards. It also includes reptiles like snakes, crocodiles, etc. There is a visible decrease in 2018-19 and 2019-2020, but a rapid increase has been recorded in recent years.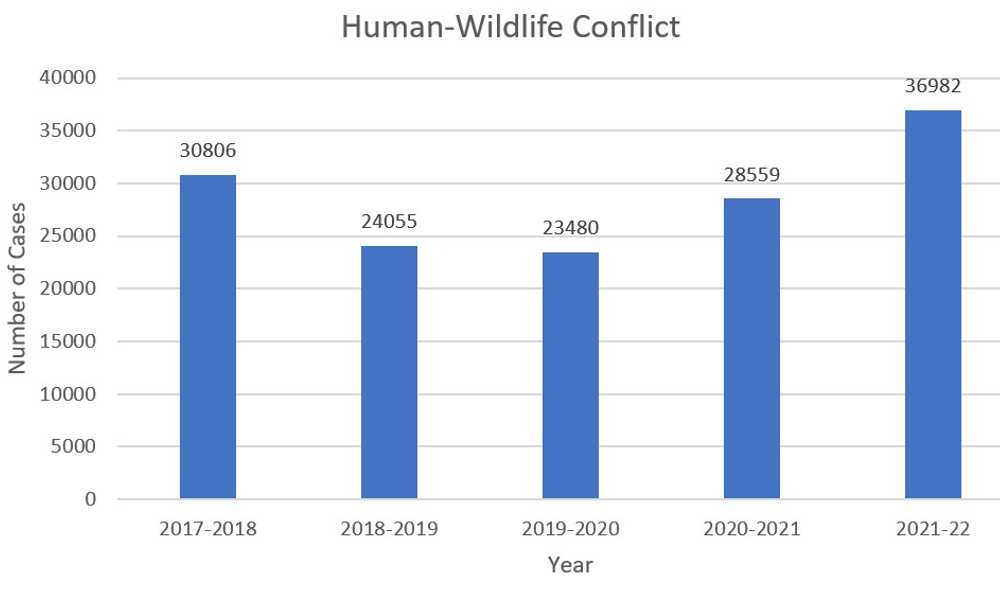 However, human deaths have gone down. Till March this year, 27 human deaths were recorded, while the numbers were 41 and 50 in 2020-21 and 2019-20, respectively. Mrs. Madhu Malti, Principal Chief Conservator of Forest (Wildlife), Karnataka Forest Department said that the increase in the number is due to habitat loss. Forest land is shrinking because of projects like building railway tracks, flyovers, etc which are not comprehensible by animals who tend to invade such areas. Change in cropping patterns is also a reason for such conflicts. Crops like sugarcane and paddy attract animals to farmlands. She said that farmers are growing more such crops for high yield and more money. Elephants are very smart animals they always find a way to trespass, destroy crops and cause harm to humans as well she said.
Mr. Ramesh Belagere, Managing Trustee from Foundation for Ecology and Education Development Trust explained, "human-wildlife conflicts existed from time immemorial but humans and animals learned to live in harmony and there was peaceful coexistence but then development activities like mining, building roads, hydroelectricity projects, and a lot more started coming up.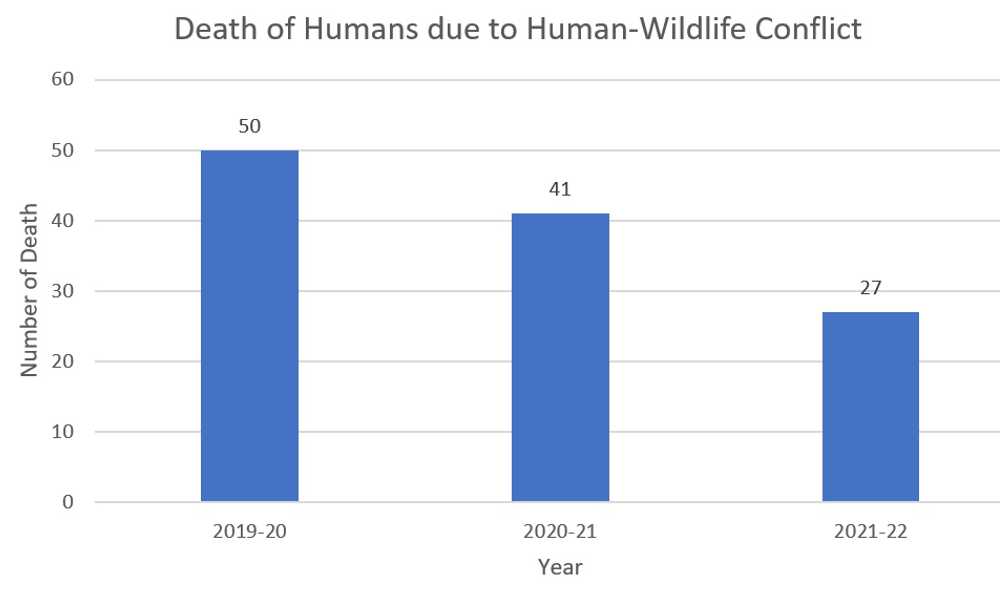 The huge amount of fragmentation and disconnection of habitat that is happening in eco-sensitive zones, forest reserves, and wildlife sanctuaries is the root cause of the human-wildlife conflict. The major consequence that we will see in the next five to seven years is that a few more species are going to be endangered or even extinct as these conflicts are more dangerous for animals rather than humans."
A veterinary doctor at People for Animal(PfA) Wildlife Rescue & Conservation Centre said, "human-wildlife conflict has a very dangerous impact on animals. We rescue 150 animals on average every month, who are injured in cases of human-animal conflicts. Thousands of animals are injured by electrocution across the country and most of them die. The few who survive either lose their limbs or suffer from fractures or muscle damage. The government should run awareness campaigns to reduce human-wildlife conflict and help NGOs work more effectively and save more animals."