Three out of seven waste processing plants of BBMP already been shut.
The closure of wet waste processing plants has forced Bruhat Bengaluru Mahanagar Palike (BBMP) to shift the waste to other plants and landfills. These plants in the city have been creating problems for hundreds of residents. There has been a constant opposition from local communities in the locality against them. Residents complain of bad smell, polluted leachate water, and pollution around the area.
"The foul stench makes it impossible to roam around in the area. And it is worse when it rains," said Prateek, a software engineer who works at Tata Consultancy Services (TCS), Electronic City. "The plant is only a kilometre away from my office and I live right in the Silicon Town, Electronic City. Not just smell but the underground water in our area is also polluted," added Prateek.
According to Mr. Venkatesh Murthy, Chief Executive of processing plants, BBMP, there are a total of seven wet waste processing plants in Bengaluru under BBMP. Out of these seven plants only four processing plants which are, KCDC (Kudlu Village), Chikkanamangala (Electronic city), Doddabidarakallu (Yashwanthpur) and Kannahalli (Magadi Road) are completely functional now as others face constant opposition from the residents. The process of waste management they use in these plants is of composting which creates a problem for the residents due to foul smell and pollution. According to BBMP an average of 1570 tones of wet waste is brought to these plants per day.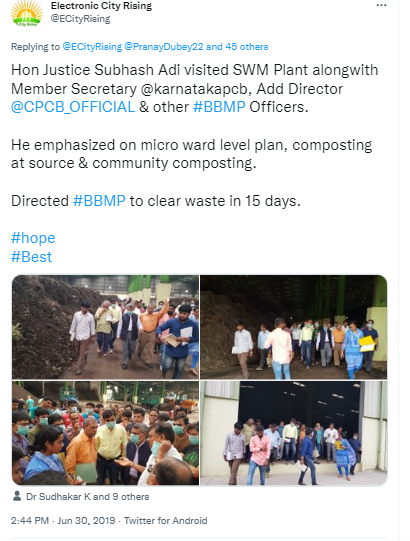 Pranay Dubey, an activist and the president of E-City rising, a residents welfare association (RWA) explained, the Chikkanamangla Plant, Electronic City uses composting as the method of waste processing. The residents started protesting against the plants in 2014. In 2016, a fire broke out in the plant after which it was closed and then it was reopened in April 2018. Many complaints have been filed with Karnataka State Pollution Control Department (KSPCB).
This plant receives 276 tonnes of wet waste from 44 wards per day, according to BBMP.
"The main problem is the foul stench that spreads for about four kilometers of area and it pollutes the ground water in the 10 km radius of the plant. The Chikkanamangla lake which is just behind it also gets polluted because of the plant. There are so many flies around the whole area. The plant is just 500 m away from the corporate offices," added Mr. Dubey.
The story of KCDC plant, Kudlu Village is not so different. Mr. Kamesh Rastogi, RWA member who along with other affected citizens have filed a Writ Petition (WP) against the plant said that, KSPCB has given order to close KCDC as it is not adhering to any pollution norms but KCDC still has not stopped the operations. They are getting complaints of stink continuously. "So, what actions KSPCB is here to take and why don't they comply? Isn't right to breathe our fundamental right?" he questioned.
"No real response from KSPCB and no action by anyone has been taken. The citizens in our area continue to inhale toxic air and dying slowly," added Mr. Rastogi.
Since 2014, the residents have been protesting against the plant. A Joint Action Team (JAT) was formed with KCDC, BBMP and KSPCB officials to look into the matter but no concrete action was taken by KCDC/BBMP & eventually JAT died down.
The plant in Chigaranahalli in Doddaballapur taluk which received 500 tones of daily garbage was closed in 2021. It was shut after the farmers in the area protested against the leachate flowing in their farmlands. Seegahalli and Lingadheerahalli plants were also ordered to shut due to similar reasons.
"Three plants have already been shut and we are struggling to manage the waste to different plants and landfills. Because of which they are getting overburdened. We are listening to the problems and trying to get to a solution," said Mr. Venkatesh from BBMP.
Mr. Dubey further said that BBMP has given no concrete assurances on whether how or when the condition of the area will get better. "Until BBMP will move into micro ward level planning which means each ward having its own composting plant the problem will not solve. This will also save crores of transportation costs."
According to Dr. Sandeep Anirudhan, an environmentalist, BBMP should replace composting based plants by bio-methanation plants to reduce pollution. Methanation plants work on anerobic digestion which happens in a tank and affects no one, thus there will be no smell outside and then the methane can be used as energy. "There are not many bio-methanation plants. Composting becomes a problem for the whole neighborhood," he said.