With the Lok Sabha elections coming closer, the voters still find it hard to understand the concept.
By Manasi Pawar
Bengaluru, April 8, 2019
After the introduction of "None of the above" (NOTA) in 2013, the coming Lok Sabha elections will be the second time the voters will be able to choose this option.
Doctor, SY Surendra Kumar, a political analyst commented, "NOTA was introduced after a lot of civil society struggle, finally the supreme court gave a verdict in favor of the activists who were fighting for it.  Personally, I think that NOTA is a good thing but it tends to be a negative vote, because, it was supposed to put pressure on the political parties if there were a majority of NOTA votes. "
The popularity of the option has definitely increased in recent years but the people are still a little skeptical about it, and more voters think that an option is merely just an option. According to Sankalp, a student at Bangalore University, "I think there is no importance of the votes cast for the "None of the Above option". What is the point if it is not even considered?"
The Election Commission of India states that, if there is a maximum number of votes cast for NOTA, then the next party that has the maximum number of votes would win the elections.
During the 2018 Karnataka Assembly elections, in Karnataka, constituencies like Badami, Gadag, and Maski were some of the places where NOTA vote was more than the victory margin.
[media-credit id=39 align="aligncenter" width="642″]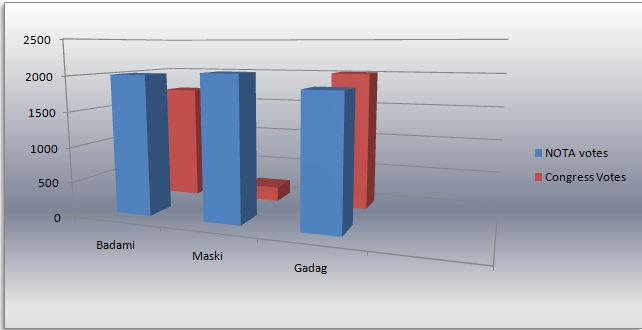 [/media-credit]
There is also a lack of awareness among the voters, another political Analyst, Shivraj Shinde argued, "The people don't go through all the manifestos of the parties.  The problem now has arisen that people only see major political parties, for example, if in Karnataka people don't like JD (S), Congress or BJP then they will press NOTA. Among tribal people, NOTA is very high like in Chhattisgarh. Many of the people are not aware of that option.  "
He added, "There are many independent parties whose intentions may be good. But here people think that if they are not happy with the three main parties, then they will go for NOTA. There are reserved constituencies where if the minorities don't want any political party to win, they will opt for NOTA."
People hesitate to vote for independent political parties, that is why most all the big parties are the ones that win elections
"Ultimately for NOTA to succeed there should be an option that, if more than 50% of the people select NOTA then re-elections should be held", said Abdul Razak, a voter from Bangalore.