An independent survey reports that the global sports analytics market would grow to a market size of $5.2 billion by 2024.
Bengaluru: Indian data analysts are increasingly looking for a career in sports as sports technology companies are witnessing significant growth in recent years.
"Data has become an integral part of the game," said Sriram Somayajula, the former lead data analyst of the Indian Premier League (IPL) franchise Delhi Capitals. "Even in domestic competitions such as the Ranji trophy, coaches are demanding us to present various matchups (to describe the strength and weaknesses of two competing players or teams) to plan for fixtures," he added.
Somayajula mentioned that the concept of matchups was foreign to many Indian players and coaches before the advent of IPL. The role of data was limited in the initial few editions of the IPL. The analysts had only a few excel sheets worth of data and visual charts that show the scoring areas of a batsman. Now they have data from hundreds of matches from different T20 leagues from around the world to plan for matchups accordingly.
"For example, Shimron Heytmyer had not batted much in the lower order but backed by data, we convinced the management to send him to finish games for us and it worked," Somayajula added.
Batting in the lower order, Heytmyer had helped his team to win many games during IPL 2021. It included a win over the Chennai Super Kings that helped his side finish on top of the league table.
Apart from showing matchups between players, data analysts have also helped to identify domestic talents. Joy Bhattacharya, the former team director of the Kolkata Knight Riders (KKR) said that Indian cricketer Surya Kumar Yadav was picked by the franchise in 2014 because his shot playing resembled former Indian batsman Virendra Sehwag. Yadav went on to join Mumbai Indians in 2018 and later he became part of the Indian national team.
Bhattacharya added that data has become a ubiquitous part of the game and Indian players and coaches rely a lot on it.
However, the situation was quite different two decades ago. Somayajula said that earlier Indian coaches were a bit skeptical about analysts as they believed that analysts would expose their weaknesses. "Now each team keeps analysts with them for entire tournaments, it just shows how the outlook towards data has changed over the years," he remarked.
Since he started his career as an analyst in 2005, Somayajula said that he has mostly seen an upward trend in the industry. Not only cricket, now data is heavily used in other sports as well. "I have worked with Olympic associations from several countries. Since India is the information technology hub of the world, athletes and teams from all over the world are partnering with Indian companies," he added.
A report published in January 2020 stated that the sports analytics market is expected to grow at a compound annual growth rate of 22% till 2024. The estimated size of the market was $1.9 billion in 2019 and it is projected to exceed $5 billion in the next three years.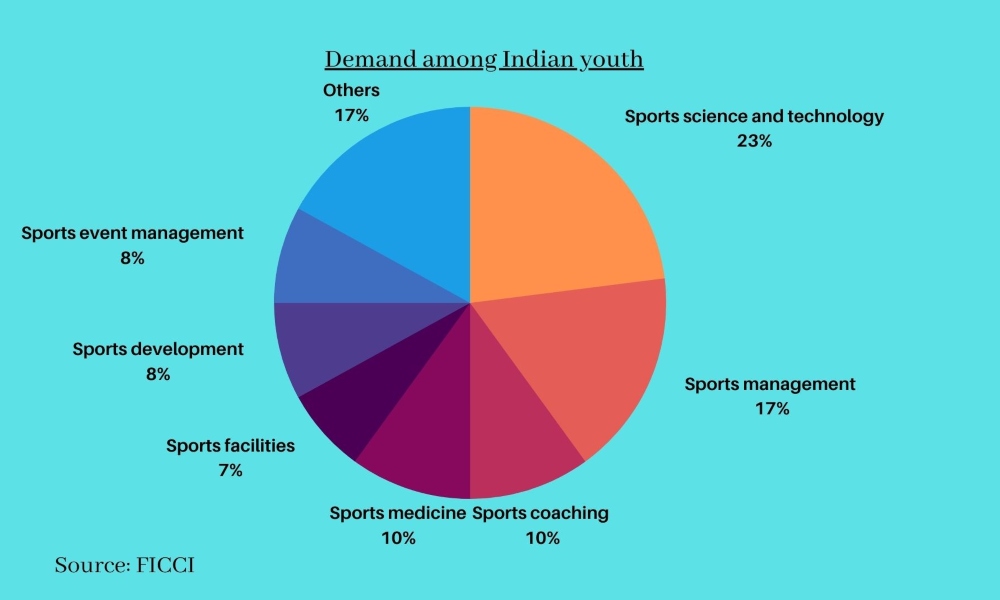 In addition to professionals, sports enthusiasts are also learning about data analytics to keep themselves informed. Currently, several organizations are running online workshops to cater the sports enthusiasts. Mad about Sports is one such entity. David Gladson, a data scientist runs weekly courses there.
"We have seen children from fifth or sixth standards as well as retired professionals participate in our workshops," Gladson said.
However, there is still some debate about the importance of data among former players. Prasun Banerjee, a member of parliament and former captain of the Indian National Football Team said that he appreciates the role data has played in sports in recent years but he still feels that once a player enters the field anything can change in an instant. "Everybody made plans about a specific player in my days as well, but there are several other factors that can have an impact on a game. Crowd support, motivation from coaches can work wonders for players. I remember my colleague and former footballer Shyam Thapa scoring with an overhead kick in a final. He had never done it before as it was pure instinct. Something that data could not have predicted," Banerjee said.