Special educators in schools employed under contracts are overburdened with work due to delay in recruitment of trained teachers.
Fewer special educators are willing to teach in mainstream schools because the contracts they are issued are not attractive enough. This has reduced the opportunities for inclusivity in these schools. The number of special educators in every taluk is less than the required numbers.
"Most special education teachers that work at our school work on a contract basis," said Srinivasa Reddy, a special educator who works at a government school. While regular teachers are paid more than Rs 50,000, special educators are paid around Rs 15,000 – Rs 20,000 only, he added. "There is no job security. Only when there is security, we can concentrate on our profession," he said.
The Sarva Shiksha Abhiyan (SSA) of the Central Government aims to provide inclusive education for Children with Special Needs (CWSN). Under this abhiyan, the Samagra Shiksha scheme provided financial support for 15,909 resource teachers/special educators for 2018-19. The trainers are placed in the schools through an agency that is taken from a tender that is floated by Samagra Shiksha scheme, said Srilatha Korematt, Programme Officer of the SSA in Karnataka.
Currently under this scheme, around 22,000 special education teachers have been recruited on a contractual basis across the country, said Kalpagiri, national convener at Special Educators' Forum India. "However, the situation is bleak as there is no uniform payment of salaries and no timely recruitment," he added. Even if teachers are recruited, they are mostly appointed under contract-based jobs, he said.
However, Srilatha said that they don't call the teachers as contract labourers as they are appointed on an outsource basis for a period of 11 months. "We engage them for only this much time as the whole system is like this and we can't change it," she added.
Additionally, special educators are meant to obtain a degree in B. Ed Special Education to teach special children. However, there is no other employment opportunity once this contract ends, said L Shiva Prakash, a special educator. "I studied the special course and now I do not have any other option to get a job anywhere else," he added.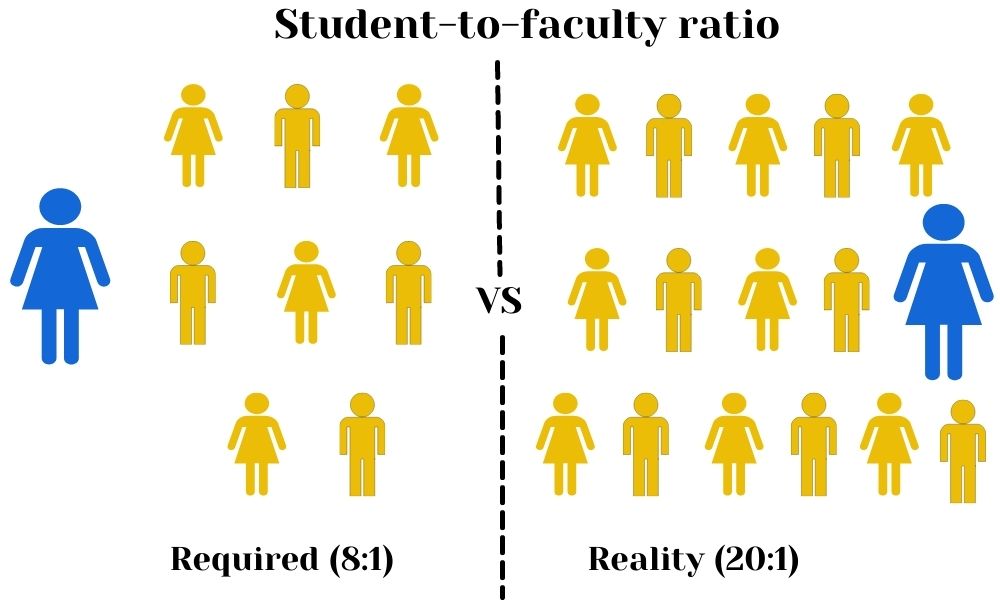 While special educators are employed on a contract basis, they are also overburdened with work due to shortage of trained educators. "There is a lot of work as there are only four special education teachers that work on a contract basis, per taluk in Bangalore and each taluk has minimum 350 special children," said Shivaprakash. To teach all the special children in a taluk equally, the special educators visit schools on a rotating basis. However, due to shortage of trained teachers, they can meet every child only once in 10-11 days which would impact their education, he added. This indicates that the Pupil-Teacher Ratio (PTR) is around 80:4, he said. "How will this help the child if I can meet them for such a short time," he added.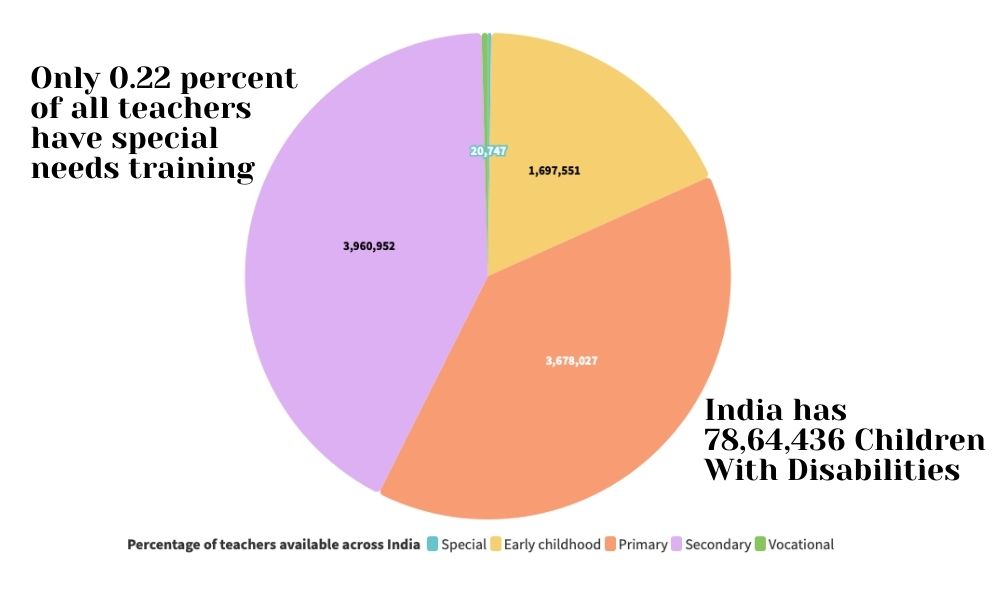 In fact, the Supreme Court in 2019 had recommended that the number of special education teachers trained in a particular disability should be determined on the basis of the generally-accepted PTR of 8:1 for children with cerebral palsy. The central government was asked to issue norms forthwith with regards to PTR in general schools. However, a report by the United Nations Educational, Scientific and Cultural Organization (UNESCO) in 2019 highlighted that only 0.22 percent of teachers across India have special needs education training.
Due to shortage of special educators, general teachers, who have no knowledge about special education are given the responsibility of teaching these special children, said Geetha, a special educator at Samarthanam NGO for the Disabled. This is a barrier for education to children with special needs, she added. "The teaching methodologies for such students are entirely different," she said. In fact, studies show that lack of inclusive education has led to around 12 percent of children with disabilities dropping out of school in the country in 2019.
The main problem is with the implementation agency, said Kalpagiri. "Those who are in charge of inclusive education at the state level do not have a special education background," he added.
Additionally, special educators have to obtain a license from the Rehabilitation Council of India (RCI) to teach special children. "However, there is no vigilance from the RCI side as well," he said. There should be more sensitization towards implementation of inclusive education across the state and India as well, he added.
Changes need to be made at the policy level, said Jayanti Bhatia, an education consultant. "The job of special educators needs to be made into a more respectable job given that some of their work might focus on the well-being of children," she added. The hiring policy needs to address teacher pay as it plays a big role to attract the right talent, she said.
To address the issue, the Supreme Court, in its judgment delivered on October 28, 2021, has directed states to create permanent posts for special educators by March 2022, to ensure that the number of such trained teachers prescribed by the competent authority are duly maintained.