The Kadlikai Parishe in Bangalore is majorly driven by non-local traders.
Of the nearly 50 groundnut traders in the Kadlekai Parishe near the Bull Temple area, 40 were from Tamil Nadu. Many of these have begun attending the fair in the previous ten years. Most of these are farmers who bring their produce to the fair, while the ones from Karnataka are mainly traders who have bought the groundnuts from middlemen, not from farmers directly.
Thimmappa, a farmer, said, "Farmers in Karnataka sell the ground nuts to the wholesalers as they do not attend the fairs. The people of Tami Nadu, on the other hand, have been here since the beginning."
Gommati from Banashankari agrees that this is the case. She said,, "Because they grow it in large numbers there, they sell it here at a lower price. We purchase from local markets and wholesalers, and hence we have to either sell at a higher price or face losses." She added that the people from Tamil Nadu who live here order the ground nuts from Tamil Nadu itself.
Palanni, a trader from Tamil Nadu who has been coming every year, for the past 20 years, said, "We used to sell in front of the temple. When I initially started we were just four brothers. Now, with their wives, we are eight of us and we have spread out and are selling in various locations."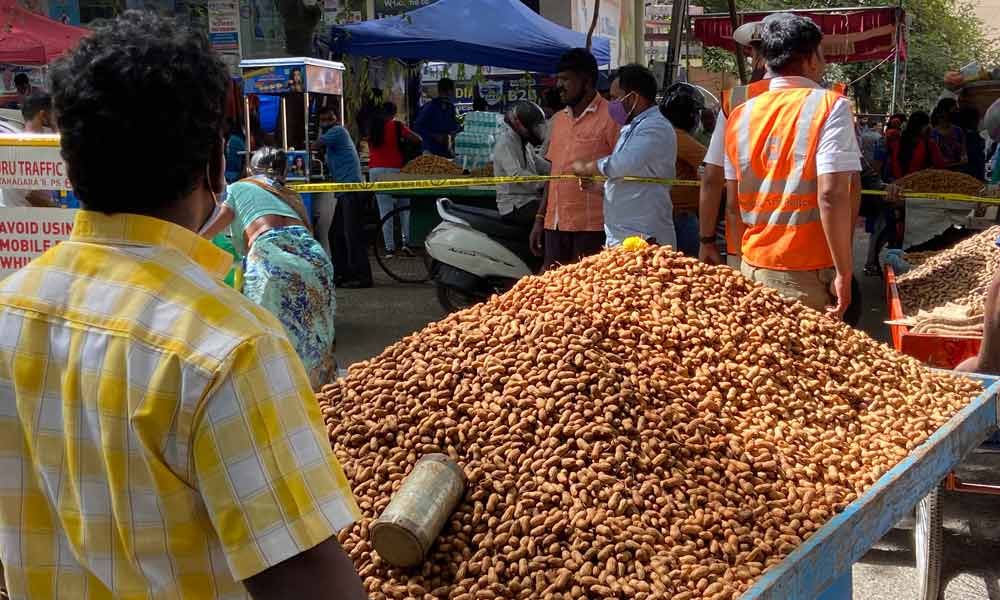 Pili, a vendor from Tamil Nadu, said that it was her first year at the market. Many people in Tamil Nadu did not buy ground nuts, so she chose to come here and sell it.
Kalpana, one of the few sellers from Bangalore, Karnataka, explained that sellers from TamiNadu have been coming for years and that this has caused sales problems. She further said that, "three-fourths of the people selling groundnuts here are from Tamil Nadu, and that our sales are suffering as a result." She stated that this is an additional issue with COVID, which has already impacted their sales. She bought Rs 20,600 worth of groundnuts from a local market and only sold Rs 5000 worth of groundnuts.
Thimmappa, said, "With the majority of the players from Tamil Nadu, it's difficult for the few Karnataka dealers to expect good sales at this parishe."
Maramma said that there are no such fairs conducted in Tamil Nadu due to which they have to come here. She said that they enjoy good sales here.
Munniyappa a seller from Bangalore said , "Over the years, we have developed a mutual understanding and they do not bother us or hinder our sales."
Data show that in 2019-20 Tamil Nadu produced 1033 thousand tonnes groundnuts and was the third largest producer with an overall share of 10.38 percent. Karnataka stood at the fifth position with 502.81 thousand tonnes. On the flip side according to the state wise area under groundnut cultivation Karnataka tops the list with the area coverage of 1.28 lakh ha while Tamil Nadu was in the third position with a area coverage of 0.48 ha.