Funding and research hinder the real impact and implementation of the NEP in Karnataka.
Karnataka Minister of Higher Education and Information Technology CN Ashwath Narayan said the state's National Education Policy (NEP) 2020 faces a funding shortfall to encourage research in government and private universities.
Narayan addressing the "Challenges and Opportunities of Educational Institutions" conference in Bengaluru said that if we want to be the best in the world, we need to spend more on education and explore more.
"Education leads to the growth of people, which leads to the growth of the society. Providing quality education is the need of the hour," he added.
Focusing on the need for a global approach, he said that without innovations and transforming ideas, we cannot move forward with the world. "Today we are running a knowledge-driven economy. We have to understand where we stand and where we want to be in the coming years, and the only way to do that is through education," he added.
Dr Varun Nagaraj, dean of the SP Jain Institute of Management & Research (SPJIMR), Mumbai, said that research funding grants are not targeted only towards public institutions. "Anyone can apply for research grants from funding institutions. But many private educational institutions often complain that government institutions apply for more grants as they have the time and resources to conduct on-ground research.
Private institutions have to cope with their financial costs, and hence, they cannot allot more resources towards research. This is where the importance of grants and funding comes in," he said.
"Collaboration among students of technology and fine arts will lay down the path to a new way of innovation," said Dr. Mangesh T. Karad, Vice Chancellor, MIT Art, Design and Technology University. Explaining the need for more funding, he added that India has the capability to compete with China and every other country. "If we focus more on funding, research, and training, we can build a robust society," he said.
Dr CS Mala, dean of BMS Institute of Technology and Management said that, support and motivation from all sides towards proper research is a must. "Most of the time, research oriented results are only for publication purposes, and their results and impact do not lead to the upliftment of the students," she added.
In the 2021-22 National Budget, Rs 93,224.31 crore was set aside for education of which Rs. 38,350.65 crore was allocated for higher education.
In September 2021, the Higher Education Department requested additional funds from the central government for the implementation of the NEP for the current academic year. Other than that, demand for an additional fund of Rs 98 crore was put forward to convert 6,000 classrooms into smart classrooms under the NEP.\
"Affordable and quality education is a big challenge, particularly with the financial cost involved. Whatever flexibility can be brought in to make use of the technology and provide all the facilities, it can only be done with more spending," said Narayan.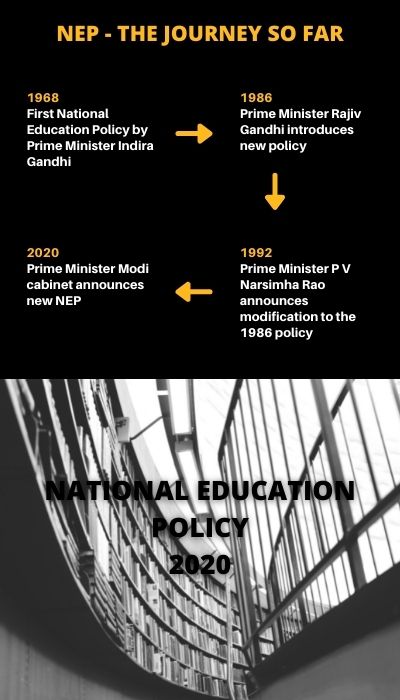 He added that an institution cannot be run solely on the basis of tuition fees, explaining the need for public resources and education sensitization."We want people to do philanthropy in the education sector. The real empowerment in society can only happen through education," he added.
"The NEP is a major policy initiative, and like many other key initiatives, it has inadequate preparation and resource mobilization. There does not seem to be a time-bound preparation and goal settlement. NEP with many positive changes is being implemented at a speed that's harmful to the objectives. There's a need for clarity, and detailed planning at every level of education," said V Pradeep Kumar, an author and senior management professional based in Bengaluru.
Explaining the issues related to funding, he said that the Karnataka government, in its enthusiasm to implement NEP is trying to implement it with inadequate preparation. "There's no clarity on many fundamental issues, nor there is clarity on the timing and funding of it. Many things remain unanswered," he added.
Congress leader and member of the legislative council, B Chandrashekar said that over the years, nothing was done about the policies surrounding education. "The picture that the government is showing about the NEP is totally opposite of what the condition is on the ground," he said.