Tobacco vendors in the city are unaware that sale of loose cigarettes is banned.
Bengaluru: Many vendors and tea stall owners across the city sell loose cigarettes even though the Karnataka Government had banned the sale from September 2017.
Chandrashekar, a tea stall owner outside KSR Railway Station, said, "I did not know that selling loose cigarettes is against the law, I have never been fined before by anyone." None of his customers buy a whole pack of cigarettes, most of them buy one or two cigarettes, he said.
Neelkanta, a vendor at Malleshwaram, said that although he sells buns, biscuits, chips, and other confectioneries, his major income is from the sale of tea and loose cigarettes. He said, "If I stop selling loose cigarettes, I will lose my customers."
A survey by the Indian Journal of Community Health, released in June 2020, shows that 95 percent of tobacco vendors in Karnataka continued to sell loose cigarettes despite the ban. The ban was known by 49.7 percent of the sellers, and 53.5 percent of them knew it was a punishable offence. The report mentions that the vendors stated that if the ban is strictly enforced, with many checks regularly, they will stop selling loose cigarettes.
Department of Health and Family Welfare mandates that selling loose cigarettes, beedis, and chewing tobacco is against Sections 7, 8, and 9 of the Cigarettes and Other Tobacco Products (Prohibition of Advertisement and Regulation of Trade and Commerce, Production, Supply and Distribution) Act (COTPA).
Violations of the ban are punishable under COTPA which mandates a sentence of up to one year in prison or a fine of up to Rs 1,000, or both, in the case of first conviction. A repeat offence carries a sentence of up to two years in jail and a fine of up to Rs 3,000.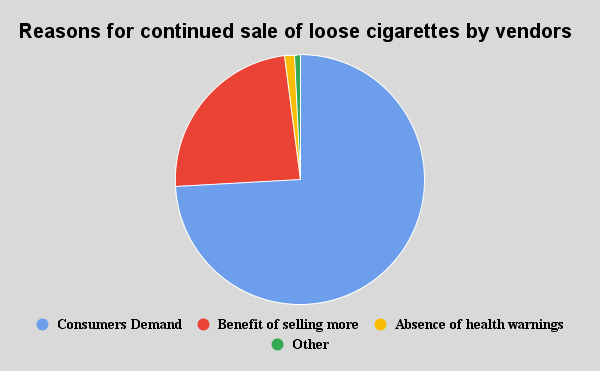 Only three FIRs have been filed in 2021 for the sale of loose cigarettes at Upparpete Police Station. Data obtained from ACP West Division shows that Rs. 651,400 has been collected as fines for violation of the COTPA Act this year till October. However, only Rs. 9,000 has been collected for the violation of selling loose cigarettes, while the rest is collected for smoking in public places.
Umesh MS, a head constable said that the police fine people for public smoking and vendors for selling it to them whenever they witness it happening. "Whenever we are around, vendors do not do it, but as soon as we leave, the sale of cigarettes and public smoking starts again. But, obviously, it is not possible for us to monitor them the whole time, so that's how it is." he adds.
Pradeep, a constable at Upparpete Police Station, said that the police is very alert around school and college premises. "We restrict and impose fines on vendors from selling cigarettes irrespective of a pack or loose around school premises as it has a negative impact on small children." However, in other areas the sale of loose cigarettes is prevalent, he added.
Sathya Chander, founding member of Consortium For Tobacco Free Karnataka, said that even though there is a law banning the sale of loose cigarettes, there is no effective implementation for it. Even if there was effective enforcement, the fine charged for the violation is less. Another challenge is that there is no cooperation from the public as smoking is socially accepted and people are ok with it, he added.
Section 7 of the COTPA Act states that, no person shall directly or indirectly, produce, supply or distribute cigarettes or any other tobacco products unless every package of cigarettes or any other tobacco products produced, supplied or distributed by him bears thereon, or on its label specified warning including a pictorial warning as may be prescribed.
Global Adult Tobacco Survey – 2 shows that warnings on tobacco packs are effective. In 2009-10, 38 percent adults thought of quitting because of warnings on cigarette packs, during 2016-17, 61.9 percent adults thought of quitting smoking.
Akash D, a student who is a regular smoker said that, although he doesn't buy a whole pack of cigarettes, he buys five to six so most times he gets the box along with it. "Whenever I get a box, I do look at the pictorial warning and get a momentary feeling that I should maybe quit or reduce because I could be that person in the image someday, but then I forget about it and continue smoking," he said.
Ravi Kumar, an auto driver who smokes regularly said that every day he buys and smokes three cigarettes. He said buying a whole pack would increase his tobacco consumption. "If there is a pack of cigarettes in my pocket, I would pull one up every time I feel like smoking and finish the whole pack in a day," he added.
Dr. Chandrakiran, District Consultant at Anti-Tobacco Cell, said that the sale of loose cigarettes is banned because it is sold without pictorial warning and was brought to prevent minors from smoking. "A kid would easily buy a cigarette for Rs. 20, but won't be able to buy a pack costing Rs. 200." he said.
Many departments such as health, police, and BBMP have fine vendors for violation. There is only so much that can be done as police can't always monitor just this, he said. There is a need for support from the public as this violation has become common, he added.
The government has been hiking the tax on cigarettes consistently. It is promoting farmers to shift from tobacco farming by giving them subsidies and incentives, in order to reduce tobacco consumption, he explained.