An increase in the number of young donors is helping blood banks in the city restore their blood bank supplies.
More young people are donating blood, as blood banks are coming up with campaigns to encourage blood donation post-Covid.
"There has been a 30-45 percent rise in the number of young people donating blood among the age group of 18-25 years," said Deepak Suman, Lions Blood Bank coordinator. "Two-bedded tempo vehicles stationed near malls and other public spaces had led to a good response in collection of blood and because of this we have upgraded to four-bedded ambulances," he added.
A city based volunteer group supplied 10,800 units of blood in May 2021. Rajesh Padmar, a trustee at Samartha Bharata organization said that many vaccinated people in the 18-35 age group were unable to donate blood as they had to wait for 56 days after the jab. There was also the fear of Covid. "This is why we started the campaign to encourage youngsters to overcome the fear and donate blood, which received an overwhelming response," he added.
Suman said that blood donation saw a dip from December 2019 where they could only collect 400-500 units. He added, "During a regular month, an average of 3000 units used to be collected. But recently in Kanakapura, we were able to collect around 4000 units of blood in a day, and distribute them to every blood bank in the city. Of this, 40-50 percent of the donors were young volunteers."
Ashok H M, Quality Manager, Indian Red Cross Society said, "We could not organize blood donation camps in colleges and IT companies as they were closed during Covid-19 and this was when the public camps came into action. Almost 70-80 percent of the donation comes from the youngsters in the 20-30 age group, he added. Ashok said that the blood collection decreased from more than 35,000 units in 2019 to 22,000 units in 2020. "On National Volunteers Blood Donation day on October 1st, we tried to facilitate and honor the work of good volunteers to encourage more participation this year," he added.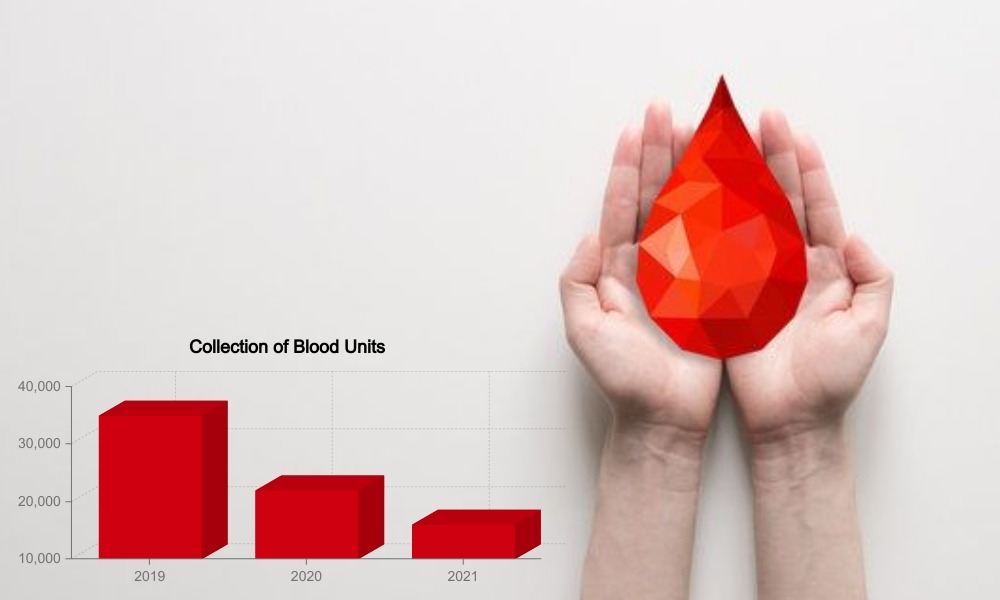 The guidelines under the National Blood Transfusion Council (NBTC) issued by National AIDS Control Organization (NACO) directed that blood should be accepted only from voluntary, low- risk, safe and healthy donors. The guidelines state that the efforts should be directed towards encouraging and retaining an adequate number of young healthy regular donors; donors should be appropriately recognized and thanked for their contribution.
Dr. Soumee Banerjee, Blood Center Medical Officer of the Red Cross Society said that there are two major categories of donors – voluntary and replacement. "We focus on more voluntary contribution between the age group of 18-25 years as they are safest, and can be done only through spreading awareness and educating the youth about the importance of blood donation and its benefits," she added.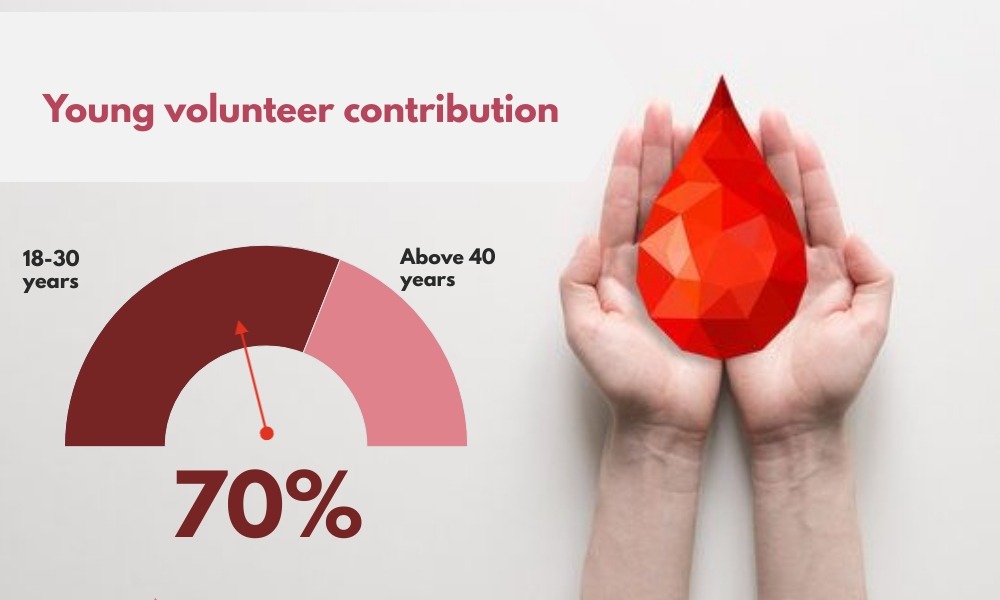 Priya, a 21-year-old donor said, "I have donated in camps and hospitals because I really like the process of donation, and have attended many Non-Governmental Organization (NGO) meetings where they discuss blood donation, eye donation and many more which persuaded me to donate."
Parmar, a 23 -year-old donor, said, "I had a relative who was hospitalized for three months and that is when I realized how important blood stock is in the hospital. I visit hospitals and camps in my locality to donate blood." Just like Parmar, Madeline, a young donor, said that she donated for a social cause, through a camp organized in her college.
Associate Minister of Health and Family Welfare, Harish Nalawade said that the Karnataka Government will setup four Centers of Excellence (CoE), a facility that aims to strengthen the connection of blood banks, in Bangalore, Hubli, Bellari and Mangalore, to increase collection, maintain and ensure quality standards prescribed.
"Crowd sourcing can increase the number of young volunteers to contribute blood just like in blood camps that is a private player such as Red Cross Society or platforms like GiveIndia, etc can launch an app where it will alert the blood donors to contribute whenever the collection is reduced. It will motivate regular donors, new donors, as well as donors of rare blood group," he added.
Ashok said that the solution to shortage of blood is regular donors. "There are only 10 percent regular donors and therefore once you donate, it should be done on a regular basis," he said.