Children of government schools in the villages of Ramanagara district are still waiting for their textbooks and notebooks.
Students rejoice going back to school as classes for first to fifth grades resumed from Oct. 25, 2021. One thing that hinders their excitement for learning is —a shortage of notebooks and textbooks.
"I am happy, I am going back to my school but I don't have my textbooks," said Akash, a fifth-class student from Government Higher Primary School (GHPS) Bidadi colony.
"During Covid-19, government schools in Bidadi, Vajarahalli, and Kethiganahalli villages used to have combined lectures, and kids used to share textbooks," said Radha M, the headmistress of GHPS Bidadi Colony. She added that children used to fully utilize their notebooks and they could not buy new ones as there were restrictions on movement and no local shops were selling books.
"We had online classes for two months during Covid-19 and many students had completely used their notebooks, so we could not give them work after the completion of the two months of classes," said Vijaylaskhmi T, a teacher at GHPS Vajarahalli Colony.
"I spent some of my money to give textbooks to students in my school," said Vasanta Kumari, a teacher at the Government Lower Primary School (GLPS) in Kethiganahalli. She added that now she gives the students some files, papers and worksheets on which they write and draw.
The Karnataka Textbook Society's (KTBS) textbook tender document for the academic year 2021-22 mentions the requirement of 6.25 lakh textbooks for government-run schools in the Magadi division of Ramanagara district.
"There were talks of some reduction or addition in the learning portions of some subjects and due to that, there was a delay in printing the textbooks," said Dr. Shashikala RN, senior assistant director at KTBS.
The KTBS in a report said that around 86 per cent of school textbook distribution for the academic year 2021-22 was completed.
"Since schools for students of class first to fifth have opened now, we will work on distributing the books soon," said Kathyayini H, first division officer at the Block Education Office, Ramanagara. "During Covid-19, we were informed about the shortage of books in some schools but due to restrictions in the movement, we could only provide some books to those schools," she added.
Usha, the Ramanagara district education officer said that due to the closure of many printing presses, they could not provide books to the students. "There is a website where students can access some subjects' textbooks and refer to their studies," she said.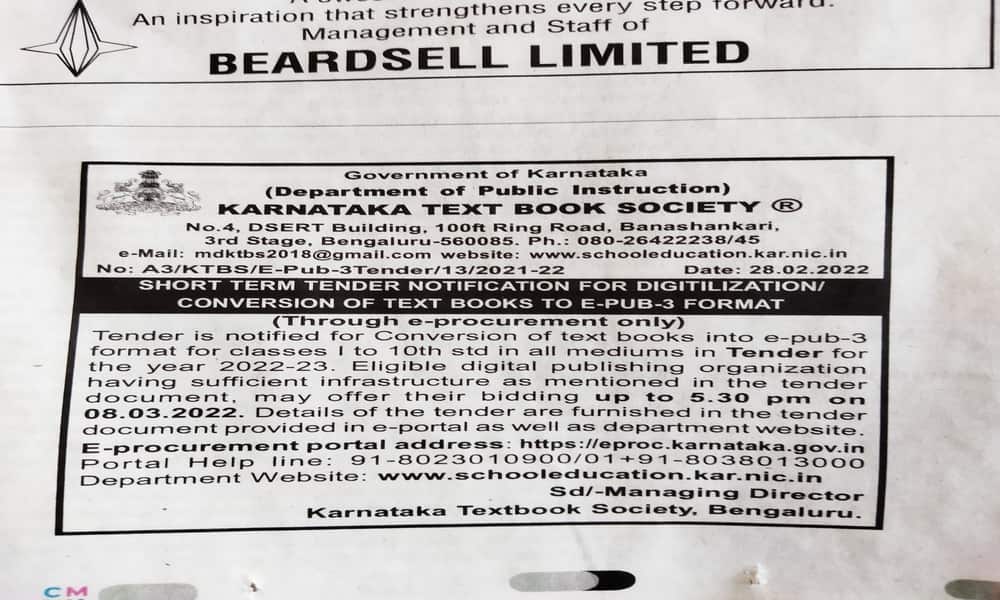 "I feel the announcements of government schools reopening were done in a hurry and without talking to the local officers of the district," said V. Pradeep Kumar, an author and senior management professional based out of Bengaluru. He added that the shortage of textbooks and notebooks will postpone the students' learning and this can disturb their study pattern. "Despite knowing the problems in the rural areas of the Ramanagara district, the shortage of books is very sad," he added.