Hand-held ATMs are becoming popular in rural areas where banks are rare.
Bengaluru: India has seen an increase in the number of micro ATMs (m-ATMs) since September last year. The number of m-ATMs has gone up by 61 percent from 3,07,173 to 4,94,408, statistics released by the Reserve Bank of India (RBI) show.
Further, the volume of transactions through such devices in the last 12 months has increased by 224 million or 30 percent .
The value of transactions made during the same period has also increased by 56 percent, rising from Rs. 1,704.71 billion to Rs. 2664.34 billion.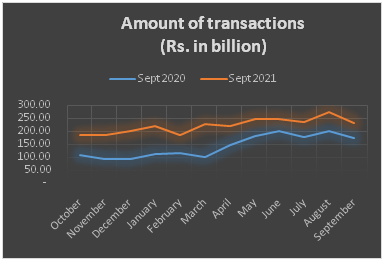 FINO Payments Bank has been the leader with a 50 percent increase of 83,912 m-ATMs as compared to last year. The company contributes 45 percent to the total increase of 187,235 m-ATMs. Another significant player is State Bank of Mauritius , which is the first foreign bank to start m-ATMs in India with 57,261 devices. Amongst the private banks, Yes Bank has the highest number of devices, with 15,758 devices in the current year as compared to 21 in the previous year.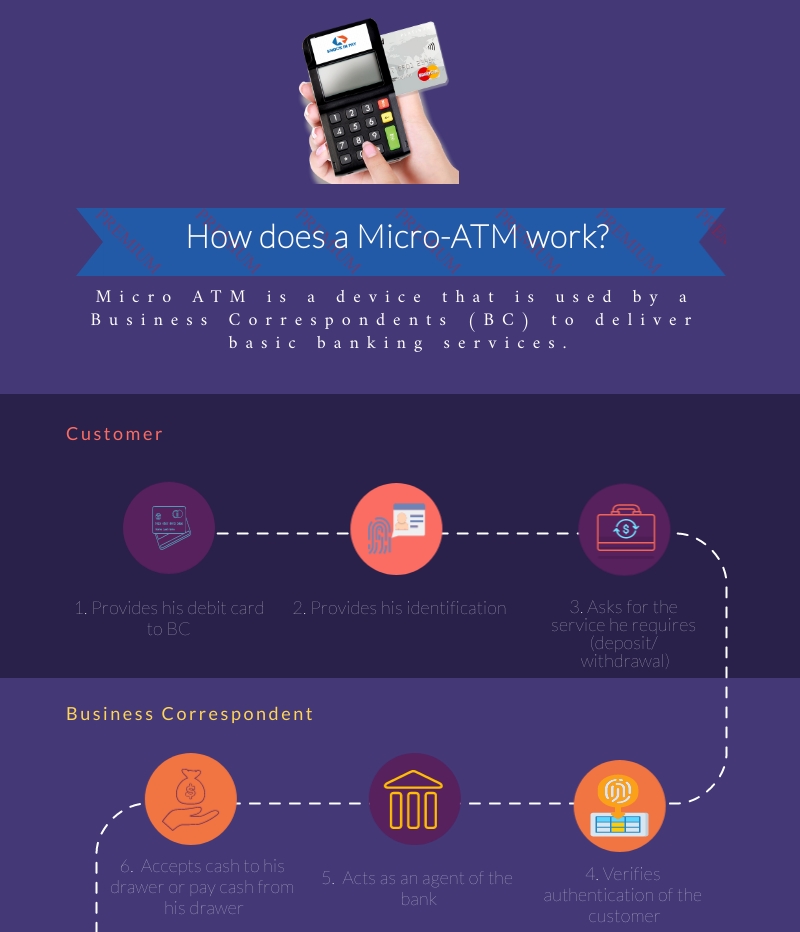 Meshach Manohar, Chief Business and Strategy Officer at Accupayd Tech Private Limited (a Fintech startup) said, "There are several reasons behind such an increase in m-ATMs. In 2018, regular ATMs started to prove very expensive due to their older operating system. Installation of newer operating system (Microsoft's Windows 10) was very expensive for banks. On the other hand, the RBI was pushing banks to tighten ATM security protocols. And there were also several frauds witnessed in regular ATMs due to economic slowdown during 2020."
The Ministry of Home Affairs established strict guidelines for cash replenishment at ATMs in 2016. Previously, the Cash Replenishment Agencies (CRAs) would fill up the cassettes at the ATM's location. But based on the new guidelines, the banks were required to refill the ATM cassettes at bank branches. Manohar explained, "This led to further increase in cost of maintaining an ATM for banks, as they were required to maintain two sets of cassettes. All such reasons propelled the infusion of m-ATMs in the economy."
Rural areas have benefited a lot from the infusion of m-ATMs. Manohar explained, "Micro-ATMs are mostly prevalent in rural areas. The people in such areas are averse to the use of technology for financial transactions. Even when they use ATMs to withdraw cash, they ask for help from people around them or the security guard. They don't trust the machines. Hence, when a correspondent helps them through the entire transaction on an m-ATM, it gives them a lot more confidence."
Ravikumar, a resident of Gollahalli (a rural area in the outskirts of Bangalore), confirms such a notion. "Even if there was an ATM nearby, I would continue to use m-ATM. I can make him [correspondent] a phone call and ask him to withdraw cash for me. He is a friend and it makes banking comfortable."
Dr. Satyajit Deshpande, PhD. in economics and principal at J. G. College of Commerce also believes that m-ATMs are beneficial. "Bank branches are less in rural areas, so it makes more sense to have m-ATMs. It helps the customers as they can easily withdraw or deposit money through m-ATMs and it also helps the business correspondents to earn commission."
Shekhar, a business correspondent in Gollahalli, is also happy being a business correspondent. "The transactions through my m-ATM are around ₹ one lakh of withdrawals and deposits each per day. I earn approximately ₹ 10,000 per month. The nearest ATM is around 3 KMs away and hence, the villagers come to me [for their banking needs]. It has been very beneficial [for me as well as the villagers]."
However, in contrast to such an increase in m-ATMs, the number of m-ATMs installed by public sector banks has largely remained constant. Furthermore, a decline can be seen in the number of m-ATMs by State Bank of India (SBI), the largest nationalized bank in India.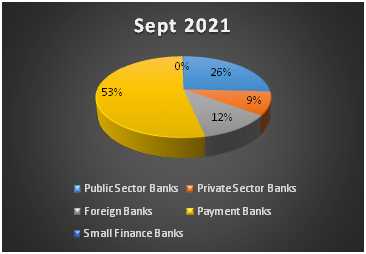 No. of m-ATMs in Sept 2021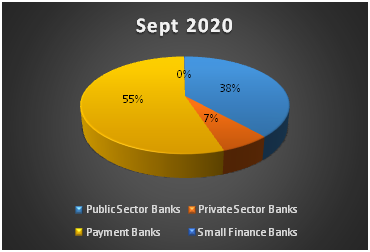 No. of m-ATMs in Sept 2020
Swatee Suman, Deputy Manager in the Financial Inclusion department at SBI explained, "It was a business strategy. SBI determined that several m-ATM devices were over three years old and needed repairs and maintenance that would cost more than half the price of a new device. Hence, the bank decided to withdraw these devices from the market. The bank has further decided to roll out a new device similar to m-ATM as a substitute. These devices are currently rolled out on a sample basis and maybe rolled out within next two to three months, to all the business correspondents."
Public sector banks contribute only five percent to the rise in number of m-ATMs. Deshpande suggests that this happens in all businesses. "Initially, when there is a new concept, there is one player who is the market entrant and it gets the maximum advantage. Gradually, others will follow. Other players, however, know that even if they make the investment and efforts, they will have to find something different from the first entrant. They might be developing a new strategy so that they can beat the initial entrant when they enter the market."
Though there has been an increase in the number of m-ATMs, there is still a need for awareness around these new devices. Deshpande said, "In my experience, very few people know the difference between devices at Point of Sales (PoS) and m-ATMs. So there is a need for greater awareness. Also, as the awareness increases, the [use of] devices will spread. Previously, people were skeptical about digital wallets as well. But now they are so popular. A similar trend will happen with micro-ATMs and we will see a lot of m-ATMs in next five years or so in rural as well as urban areas."