Despite providing no incentives to customers, Karnataka has the second highest sales of electric vehicles.
Karnataka does not provide purchase incentives to the people who switch to electric vehicles (EV), despite that it sells more EVs than most other states in the country.
Karnataka's Electric Vehicle and Energy Storage Policy (KEVESP), focuses on providing various subsidies and incentives to the manufacturers and investors. According to research, it has the second highest sales in the country along with Bihar, followed by Uttar Pradesh in the Financial Year (FY) 2021.
"In the past few weeks, the central government's Faster Adoption and manufacturing of Hybrid and Electric Vehicle II (FAME-II) revisions have further reduced the prices of all-electric two-wheelers, with a 50 percent increase in the subsidy to manufacturers. Also, the Karnataka government has waived the registration fee and road tax for electric two-wheelers," said Vishal, Media Communications Executive at Ather Energy.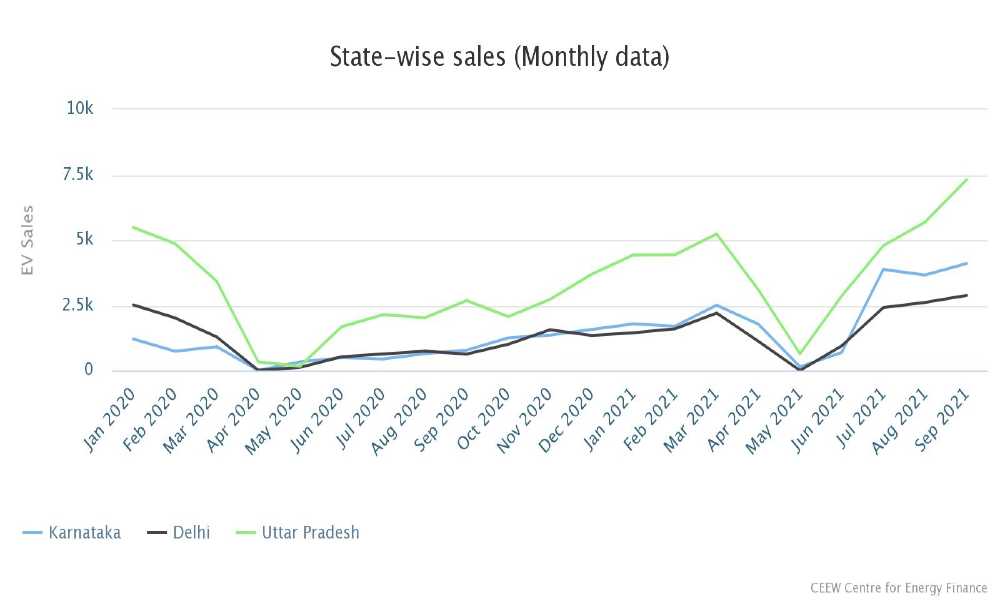 Uttar Pradesh being the highest seller of EV sold 13936 units of EV in the FY22 contributing to 11 percent of India's total EV sales. The state also does not provide any incentives to the consumers. Like Karnataka it also offers road tax exemption and has waived the registration fee. Uttar Pradesh however, does not provide any capital subsidies to the manufacturers too, according to a report by center of energy finance.
However, the report further said, Delhi which contributed  only four percent of India's sales in FY22 has various incentives for consumers according to the battery used in the vehicles. It provides Rs. 5,000 per kilowatt hours of battery consumption up to Rs. 30,000 for two-wheelers. For four-wheelers Rs. 10,000 per kilowatt hours of battery consumption up to Rs. 1.5 lakh along with road tax redemption and registration fees.
Vishal further said that the subsidies provided to the manufacturers are transferred to the customer as reduced prices. "We have got a price reduction due to state subsidies; the new ex-showroom price of Ather 450X is Rs. 144,500 and Rs. 125,490 for the Ather 450 plus in Bengaluru. Considering the total cost of ownership of comparable 125cc scooter, EV owners can now breakeven their investment in 18-24 months and will begin to save nearly Rs. 2 per kilometer in the years after." In Delhi however, the same Ather scooters are priced between Rs. 1.13 – 1.32 lakh.
Customers in Bengaluru are happy. Santhosh an electric scooter owner said, "I am a fan of Elon Musk's Tesla so when they launched E-scooter in India, I really wanted to buy it and experience it. Since then I am using it from a year now. I think the quality and the features they provide, it's worth the price."
According to a Study on the Adoption of Electric Vehicles in India, the initial price to buy an EV is higher but the cost of running and maintenance is relatively low in comparison to the regular vehicles that have a higher running cost.
The shift towards EVs in India is imperative in the near future, though not imminent. Several cities are victims of unplanned urbanization and high pollution. They suffer unqualified degradation, with vehicular emission as the primary source. EVs have shallow adoption in India, and most people lack the experience of handling EVs", the study further added.