Unregulated pricing of N95 masks has led to people adopting unhygienic measures like reusing disposable masks.
Poor people keep reusing disposable masks as N95 masks are expensive. Moreover, the price of N95 masks is not regulated.
People from underprivileged backgrounds and the migrant laborers use disposable masks for seven days or more as they are not aware about safety and other concerns, said Braja Kishore Pradhan, Vice-President of the Aahwahan foundation, a non-government organization (NGO) which provides masks and other Covid relief items to people in rural areas. Since N95 masks are unaffordable for people in rural areas, they wash and use the disposable masks again, he added.
The High Court of Karnataka last year had advised the government to regulate the price of the masks when it decided to leave it open to market dynamics. However, Dr. Appa Saheba M. Naratti, Directorate, Health and Family Welfare Services Arogya Soudha, said that there is no regulation of the pricing of masks in the market.
Why are N95 masks expensive?
These masks consist of five layers. Two layers are made of melt-blown material which allows only minute nano-micron particles to pass and the other three layers are of non-woven fabric which prevent the passage of moisture, said Dr. Chandra Shekar, team leader at the Institute of Public Health.
N95 masks are available in different price ranges. The mask available at Rs. 20 does not have the layers made of melt-blown material which explains its low pricing. The typical five-layered mask would cost somewhere around Rs.100 to Rs. 200, he further said.
Another drawback of using N95 masks is that they can be used for maximum two to three times, whereas the homemade ones can be reused after washing, Dr. Shekar added.
Are they really necessary?
According to an Indian Institute of Science study on "Fluid Dynamics on homemade facemasks", the researchers compared the N95 mask with the homemade three-layered cotton mask. They found out that the latter was as efficient as N95 masks. There is no need to hype the N95 masks because other options are good enough too, said Dr. Dipshikha Chakravortty, professor, Department of Microbiology and Cell Biology, Indian Institute of Science (IISc) and researcher for the study.
"There are people who can't afford N95 masks in India and it is a common view among people that one needs to buy N95 masks necessarily," she added. She said three-layered masks can function efficiently up to 70 wash cycles, unlike N95 masks.
Dr. Saptarshi Basu, professor, Department of Mechanical Engineering and researcher, IISc said that when people are talking or coughing, a lot of droplets are generated. The risk increases when these droplets break down into smaller ones causing aerosolization. These smaller droplets hang in the airstream for a long time. Hence it increases the chance of other people catching the virus due to aerosolization transmission. A three-layered mask would suppress such aerosolization effectively.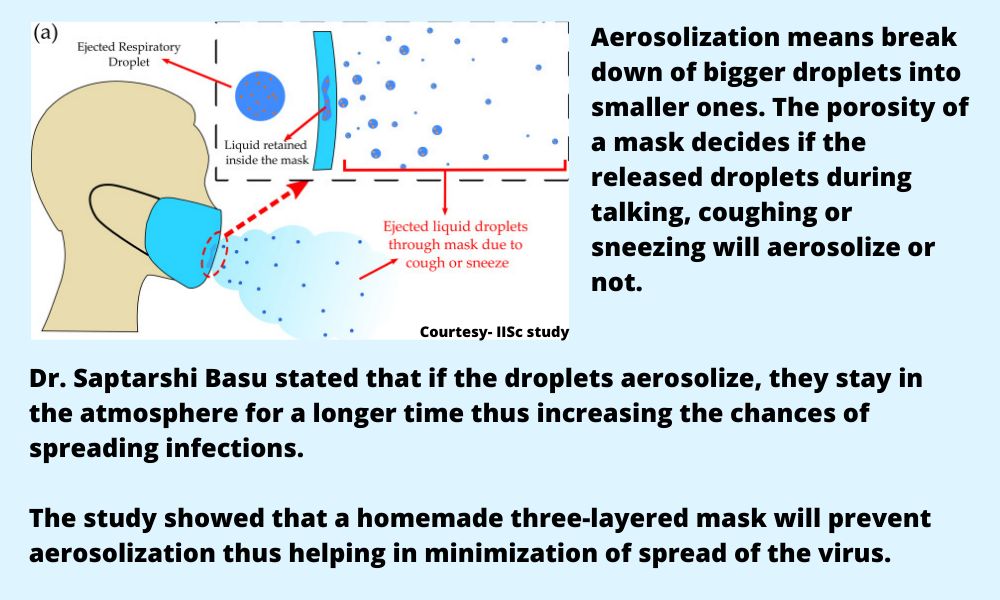 "Three-layered cotton masks will be sufficient for the general public given they wear it properly," Dr. Shekar added. "People often wear their masks below the nose or hang it down to their chin which increases the risk of them catching the infection. They should make use of the full utility of the mask by wearing it appropriately," he said.
N95 masks are recommended in hospitals for health workers who are exposed to aerosol procedures and not for the general public, said Dr. Narendra, pulmonologist at the Bangalore Institute of Respiratory Diseases and Sleep Disorders (BIRDS). Homemade masks work better for them, he added.