The Karnataka State Pollution Committee Board (KSPCB) aimed to make one million turmeric Ganesha idols during Ganesha Chathurthi.
Only 60,000 pictures of idols of Ganesha made from turmeric were uploaded on the Turmeric Ganesha Campaign's website. This was short of the target of one million to claim a world record before the campaign closed on Sept. 14.
The KPSCB that ran the campaign with the Rotary Club believes it was quite a success. Public Relation Officer (PRO) of KSPCB, S Madhusudan, said, "The campaign went well and we invited popular figures to promote the campaign better. It is good to see that people are uploading pictures even till today because we haven't closed the option, although it is not being counted."
Poornima Jogi, a resident from Kuvempu Nagar Rotary Club said the information about this campaign did not reach all the Rotary clubs and only a few were able to participate.
She said, "Around a hundred students from two major institutions of Bengaluru participated in the campaign. The Koramangala Rotary even went to orphanages and trained students to make these idols and gave gifts to them. Maximum participation also came from National Service Scheme (NSS)."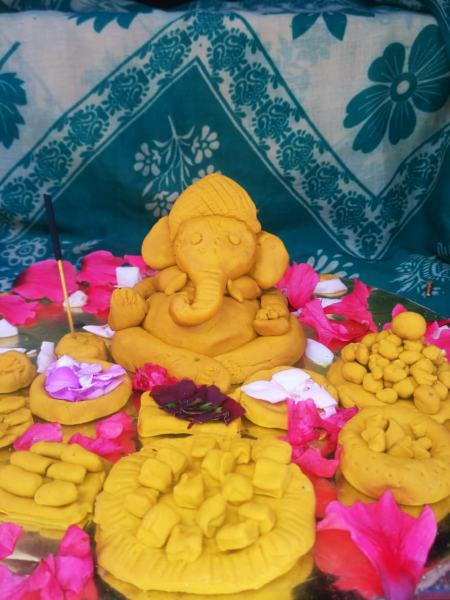 Although people from all religions participated in the campaign, a few students could not participate, Poornima said. She pointed out that a few blind beliefs came in the way of their participation. For instance, girls who were menstruating on the day they were supposed to create the idol and people who had ate non-vegetarian food the previous day did not join in.
Harshitha Srinivas, a member of South East Rotary Club said that they saw the most participation from government schools.
Karishma Ramesh, student of Narayana Group of Schools and an active participant in the campaign sayid she enjoyed the process of making turmeric Ganesha and even encouraged her friends to do so. She is awaiting her participation certificate from the KSPCB.
The campaign was not just limited to Bengaluru; the KSPCB of Belgaum also organized a similar campaign for the city. Karnataka Rajya Vijnana Parishat (KRVP) was their community partner and the campaign was called 'Arishina Ganapathi'. A member of the KRVP, Rajshekhar Patil said they used newspaper and television advertisements for promotion and 50 students from 20 different schools have uploaded their turmeric idols on the website. A cash price of Rs. 2000 has been given to 10 students, he added.
Mohammad Tasleem, a researcher in Environmental Management and Studies from Indian Institute of Science (IISc) said that, "As per my knowledge; if the product is organic, biodegradable and safe for humans, and it is good, especially in the case of turmeric idols. These types of campaigns should be encouraged." He further added that these idols easily dissolve in water.
A report said that this turmeric can be used for sanitization. "It is true that turmeric acts as a repellant for many insects. It is a good immunity booster and can be used as a disinfectant in the powder as well as in dissolved forms."