Many food outlets in Bengaluru have diversified their menu by including plant-based delicacies.
Apart from McDonalds, Starbucks and Dominos, non-veg restaurants and food joints in Bangalore have introduced vegan food items in their menu.
"There are many restaurants which have started giving vegan options or differentiating existing vegan products from the current menu so people can take a better decision," said Sagar Mehta, founder and partner at Vegan Dukan, an online platform that sells vegan products.
Biggies Burger, which is a meat focused food chain have now introduced vegetarian burgers with mock meats in their menu. They also have an exclusive vegan food business plan in their pipeline.
"During Covid-19, people have been learning a lot about food and their impact on health. This reflected on our business as it improved 30 percent during this period and it has been growing ever since. We receive and fulfill orders coming across the country and we do see the demand is a bit more widespread than only being centered towards metros," Sagar further added.
Madhukar Shetty, secretary of the Karnataka Pradesh Hotel-Restaurant Association said that, during Covid-19 around 10-15 percent of non-veg restaurants in Bangalore have introduced vegan items in their menu. "Due to Covid-19, footfall of customers at these restaurants is low but orders of vegan food items on Swiggy and Zomato have increased," he further added.
Mansi Shah, owner of Aloha Drinking Chocolate started with a cloud-kitchen and later expanded her business by setting up an outlet. "It was in December 2020 when I decided to start an outlet," she said. "In the beginning, it was not great but we soon got the response," she added. "During lockdown, the business was tough but we soon recovered and in every 100 drinks we sold, 70 were non-vegan but at times, our vegan items were more on the sales than our non-vegan items," she further added.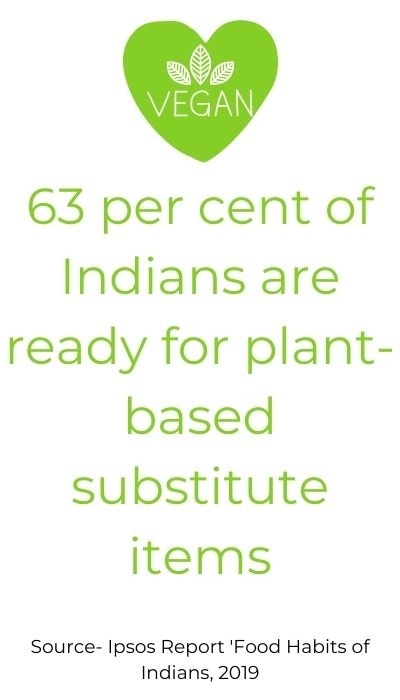 In March 2021, the popular ice cream chain Baskin Robbins started selling vegan ice-creams. "We started selling vegan ice cream and we introduced Mississippi Mud, Alphonso Mango and Raspberry Sorbet in vegan variations," says Anbu, a worker at Indira Nagar outlet.
Infinitea Tea Room and Tea Store, which serves over 50 variations of tea, introduced vegan dishes and items in their menu. "We started vegan food dishes in late 2020," says Sachin, a worker at the cafe. He further added that, other than vegan dishes, they also sell vegan breads, dips and sauces.
Ipsos, a research and data supplier, in a 2019 report titled 'Food Habits of Indians' revealed that 63 per cent of Indians are ready to shift to plant-based diets. The report stated that, "Indians love their food and crave for dishes like tandoori chicken, fish and mutton but 63 per cent of them are ready for plant-based substitute items."
"During the lockdown, business was down and we decided to focus more on vegan baked items as they were in demand," says Akai, chief of staff at Nuage Pâtisserie and Cafe which has had a vegan menu from the day of its establishment.