Art galleries of Odisha are facing losses as exhibitions have moved online due to the pandemic.
Cuttack: Odisha Modern Art Gallery, which used to host at least one or two shows every month before the pandemic, has conducted only one show in more than a year. Subrat Mohanty, in charge of the gallery, said, "The loss has been huge. Along with one or two shows every month, we used to host one mega event in December that used to attract a lot of audiences." He further added that they have hosted only one show on Mother's Day since March last year and due to various covid safety protocols, the crowd that showed up was less than expected.
While private art galleries are burdened with financial loss, the scenario of government-run art galleries is different. A worker at the government-run Lalita Kala Academy said that the gallery has not hosted any show for a year. Before the pandemic, two or more shows used to be conducted. He further said, "There is not much financial stress on the gallery as the government has been sanctioning the required amount for the maintenance of the gallery throughout the pandemic.
The decrease in art exhibitions has affected the parallel business of art materials, as well. Harish of IV Showroom that deals with art materials supply said, "The business has completely stopped as of now. Just when the business was picking up a bit, the second wave of COVID-19 hit the country."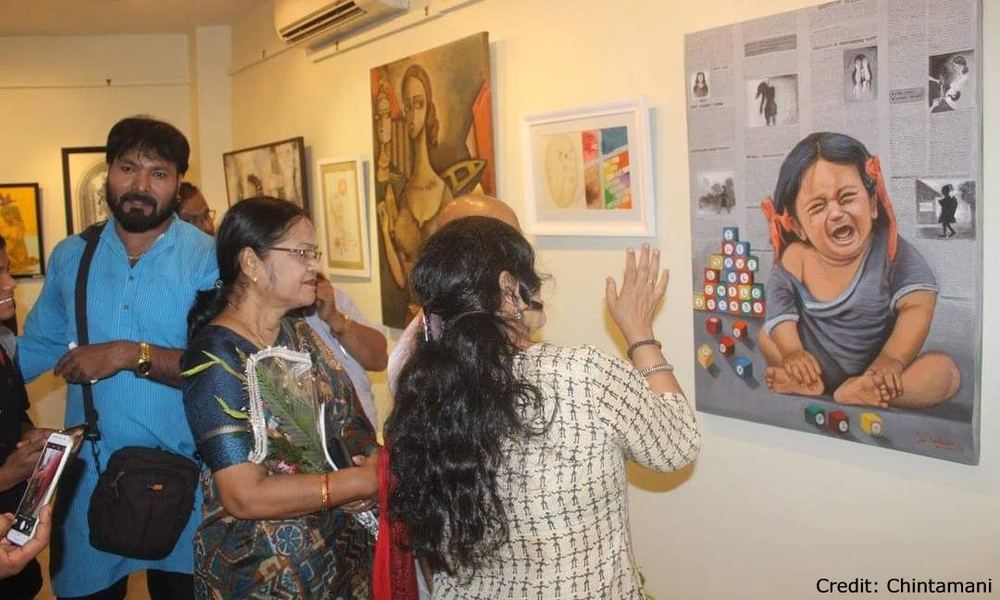 As most art shows have been shifted to virtual medium, artists feel the message and intention behind a painting is not properly conveyed. Chintamani, an artist from Odisha said, "I used to host many shows in a year in the state but since March last year, I have hosted only one virtual show." He further added that an artist's paintings might get likes and comments on social media but the experience of an art gallery is different, buyers can understand a painting better when they see it for real.
An art gallery is important for the sale of paintings of various artists. Artist Brahmananda Rout said that as shows are not being conducted in art galleries, it has definitely affected the income of the artists. He further added, "Just when we were thinking of conducting shows, the state was hit by the second wave of coronavirus, and another lockdown was announced."
Virtual art shows have reduced the expenditure of artists. Menaketan, President of the Odisha Artist Association, said many galleries have now opened their own Youtube channel as physical shows are not possible. This change in the mode of operation has reduced the cost factor as artists don't have to spend on catalogs and booking galleries. He further added, "Though the sanction to the government aided galleries has decreased, the private galleries are at a major loss."
Ms. Alaka Tripathy, an arts and craft teacher said that since people cannot afford to go to art galleries during the pandemic, going virtual is a good idea. She said, "Government should support artists by conducting walk-in art exhibitions at these galleries."