The Indore municipal corporation has been unable to prevent street vendors from violating the corona guideline.
In Indore Madhya Pradesh, CM Shivraj Singh Chouhan declared today that a full lockdown, termed "strict Janta Curfew," will be enforced in the state starting from May 6 and will last until May 15. Only from 7 a.m. to 12 p.m. Street vendors are permitted to sell vegetables and fruits.
Despite this, many vendors have been caught disobeying the state's corona guidelines. Which can cause a hike in corona cases in the city.
Arjun Karosia ( Vegetable seller) said," I have a family of five people, and I am the primary earner; we don't have any other source of income, so I am putting my life on the line just to feed my children and wife." We asked him what steps the municipal government is taking to address this problem. He mentioned,'' Many time vegetables have been confiscated, and I have been fined.
Tinu Mehta, Assistant bill collector, (IMC) said," This is an issue that we are currently attempting to resolve; we have already confiscated 27 weighing scales and fined several street vendors, but they continue to sell. It's messy when we seize their things, and many of them trigger a nuisance. It's difficult for us, too, because we understand how difficult it is for them to live without money, but we have to do our job."
Mayank Jain, Revenue officer(ARO) (IMC) said," We started by giving them a warning first and we are trying not to charge fine on them but no one is ready is listen, According to the situation taking 200 rs penalty. He added there is no sanitisation and social distancing when they sell on streets we have to take care of this in this time of pandemic this can create a bad image of Indore city. And to break the chain of transmission of corona in the state we have to completely shut everything till May 15."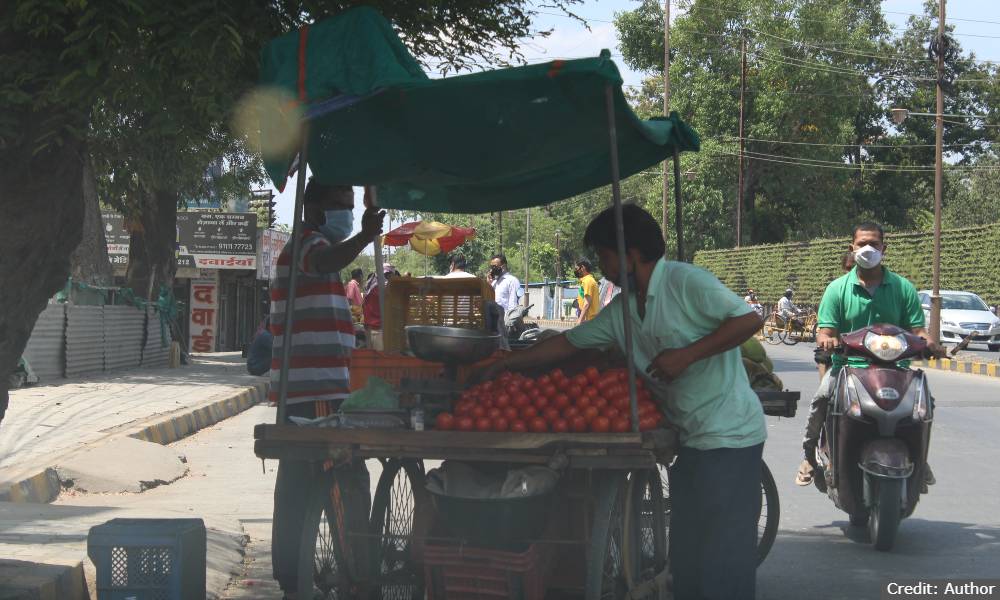 Sanju Mourya, a fruit vendor, said, "What will we do if we don't sell?" and "What will our family eat if we don't sell?" The government should do something for us because many of us do not have the opportunity to earn money other than selling fruits and do not have the means to live a healthy lifestyle by staying at home, so we must work. That is the final option.
"The active cases number has increased in May because the district is still registering new positive cases at a positivity rate that is in double digits and almost equal to the level of April," said Dr Anil Dongre