More than 20 countries have come forward to send medical supplies to India for its fight against the second wave of COVID-19.
New Delhi: India, in the last few weeks, has been receiving aid from all over the world in an effort to fight the devastating second wave that has hit the country. The country is currently going through one of the worst Covid-19 waves in the entire world; registering four lakh cases in a day. Crates of oxygen concentrators and ventilators along with other emergency medical supplies like PPE kits have arrived from the US, the UK and many other countries all over the world.
The Distribution Plan
With the country receiving tonnes of medical supplies in the form of aid, questions are being raised on how the supplies will be distributed. In the last five days, the Delhi Airport has received 300 tonnes of Medical supply. However, in the last two days, hospitals in Delhi have issued SOS calls on Twitter for depleting oxygen supply.
Saket Gokhale, RTI activist has filed an RTI today with the Ministry of Health to give details on how much of the foreign aid received has been disbursed to the States. The Government of India has to respond within 48 hours. The Finance Ministry has announced that once the consignment reaches the airport, it is handed over to the Indian Red Cross Society, which receives all supplies on behalf of the government, according to reports.
India Today and many other networks are trying to access information on the distribution of the aid but there is no clarity yet. The government has not provided a website or platform to access any relevant information.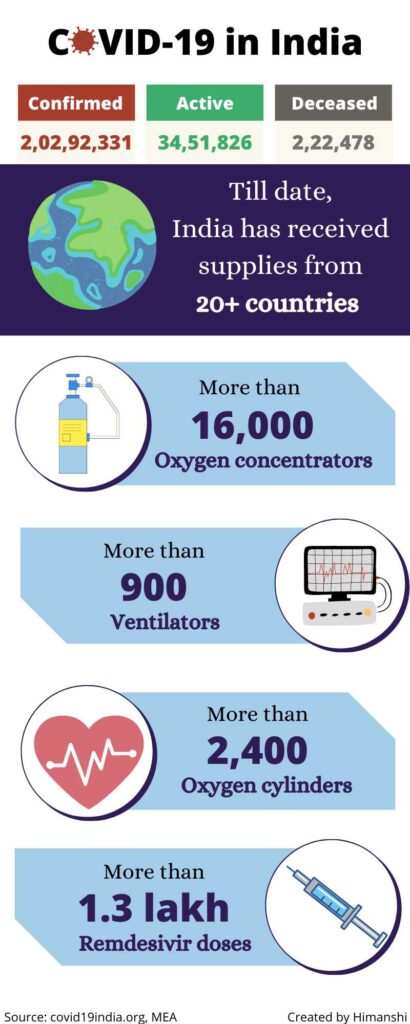 Here is a list of supplies India has so far received or is about to receive in the coming week
The United States has been at the forefront of sending foreign aid to India. India has so far received five emergency shipments with the following:
500+ oxygen concentrators
960,000 rapid diagnostic tests
100,000+ N95 masks.
125,000 vials of the antiviral drug Remdesivir
over 1000 oxygen cylinders, regulators & other medical equipment
The United Kingdom has pledged to send over 1000 oxygen cylinders and 200 boxes of oxygen concentrators as well as 3 oxygen generation units. So far the country has received
450 oxygen cylinders
260 ventilators
280 oxygen concentrators
120 oxygen concentrators
100 ventilators & 95 oxygen concentrators
723 oxygen concentrators (through donations)
1st consignment with 1.5 lakh doses of Sputnik-V vaccine
Two Russian flights carrying 20 oxygen concentrators, 75 ventilators, 150 bedside monitors, and medicines totalling 22 MT
The European Union
The EU has activated its EU Civil Protection Mechanism to help India in its fight against the second wave of the Covid-19. Several member nations have sent aid to India with many more like Spain and Denmark announcing fresh aid.
France– 28 tons of medical equipment worth more than 17 crore rupees with 28 ventilators and 200 electric syringe pushers.
Romania- 80 oxygen concentrators and 75 oxygen cylinders
Germany- 120 ventilators and a team of 13 medical experts reached India Saturday.
Ireland- 700 units of oxygen concentrators and 365 ventilators
Belgium – 9000 vials of Remdesivir.
Italy- an oxygen production plant & 20 ventilators along with a team of experts
Denmark is sending to India 53 ventilators, while Spain is supplying 119 oxygen concentrators and 145 ventilators, according to reports.
The Gulf Countries
Bahrain-40 MT of liquid oxygen
Kuwait- 282 oxygen cylinders, 60 oxygen concentrators, ventilators and other medical supplies.
Qatar- 300t medical aid-ventilators, concentrators, PPE, 200 O2 cylinders and 43 O2 concentrators
UAE- 7 ISO tankers with 20 MT Liquid Medical Oxygen (LMO), 157 ventilators, 480 BiPAPs and other medical supplies
Asian countries and Neighbouring States
Singapore has sent a consignment of 256 oxygen cylinders 7511 concentrators, 516 BiPAPs and 8 tanks
Thailand has sent 15 oxygen concentrators and pledged to send 100 more.
Taiwan- 50 oxygen concentrators and 500 oxygen cylinders
China- 12 ISO containers procured commercially by an Indian company 4 transporting Liquid Medical Oxygen.
Hong Kong- 800 oxygen concentrators
Data is obtained from the Ministry of External Affairs
With inputs from Pooja Das and Himanshi Akhand