Migrant workers have no choice but to adapt to the situation and survive the second wave of mutated Covid-19.
Bengaluru: Chotu Kumar from Bihar, who is a helper at a restaurant in Bengaluru, has started working on alternate days after the Karnataka government imposed restrictions on restaurants and hotels.
"I have to adjust to the new restrictions because there is not much that I can do. The restaurant owners provide us with food," said Chotu, who had just returned after sending money to his parents back home in Bihar. Only takeaways are allowed in restaurants under the new restrictions, so there is no need for helpers now.
He is not sure how much he will earn now, as he is working on alternative days, he might get half of his current salary of Rs.9, 500. "I came here in February after celebrating Saraswati Puja, and if the government imposes lockdown or any strict restrictions, I will go back definitely. I don't have a choice," Chotu said doubtfully.
Karnataka government has said that they have not thought of extending any help to migrant workers after the new restrictions.
The problem is not just with the state not providing provisions, but also with the situation going on in the country. Aamir Khan, who came to Bengaluru from Agra 10 days ago after celebrating Holi, had to change his profession from selling cotton candy to selling Chunari (Dupatta) because nobody is buying cotton candies anymore.
He only has a limited stock of chunaries that will last for the next 10 days. "We got the stock from Delhi 10 days ago, while coming here, and now the Delhi government has imposed a lockdown, so we don't know how we will survive," said Aamir.
While he is not sure about his survival in the present conditions, he believes he will go back to his hometown in Agra. "As soon as the government imposes lockdown, I will catch a train and return," he said.
Prabhat Sarkar, a construction worker, who came from West Bengal a month ago to work here, said that he is not doing any work now, as the government has imposed the lockdown, but he is not sure for how many days the government has imposed the lockdown. "If the government will extend the lockdown, then I will go back, but till that time, I will sit and wait here," said Sarkar. Last year, he reached home by bicycle.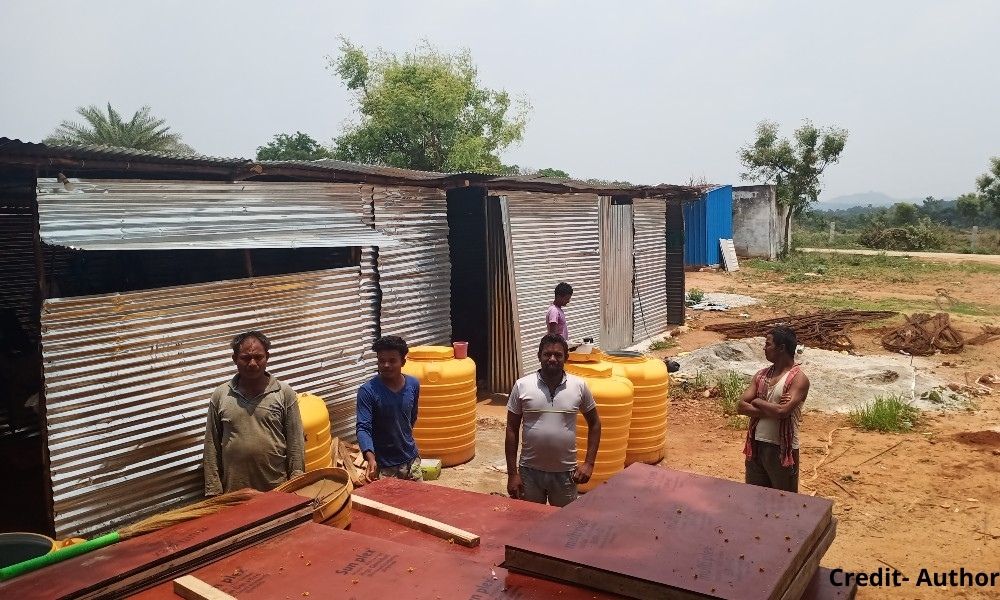 Last year, after Prime Minister Modi announced a nationwide lockdown in March 2020, hundreds of thousands of migrant workers started going back home. When the center and the states failed to provide buses and trains for their travel, they (migrants) walked to their hometowns. Several migrant workers died before they reached their homes; of which the government has no data. In the monsoon session of the Lok Sabha, the Ministry of Labour and Employment. accepted that they don't have data on the assistance provided to migrant workers.
Experts say that the government should have taken better decisions to handle migrant workers' safety. They (migrants) started coming back to cities in January. It was evident in February that the second wave of Covid-19 was likely to happen. "This is not an earthquake-like crisis which happens all of a sudden, this is an ongoing crisis so the government should have taken necessary measures given that it already knew what happened last year with the migrants," said Dr. Jagdish Chandra Mehta, a sociologist.
He added that labour ministry is responsible for taking care of labourers (mostly migrants). "If the ministry will not come forward to help migrants and take care of their safety, then what is the point of having them in the first place?" asked Dr. Jagdish.
However, human rights organizations or NGOs working for the unorganized sector can come forward to help migrants in such crises, he added. There is another way which is not very fruitful, filing a Public Interest Litigation (PIL) in the courts. "The second wave will get over but we will not receive the result of that PIL, as we know the delayed mechanism of PILs in India," said Dr. Jagdish.
Migrant workers are a part of unorganized sector and create a great part of economy, especially of the State in which they work. It is the responsibility of the State to take care of the migrant workers. If the migrant workers go back to their native places, the work stops, the industry stalls and the economy goes down, said Sourya, legal consultant working with public policies.
If the migrant workers go back to their native places, that State has the responsibility to create employment opportunities for them under Mahatma Gandhi National Rural Employment Guarantee Act (MGNREGA). But, it is not possible in a situation when there is mass movement, he said.
The lack of communication between the central and state government led to the mass movement last year.
Venkata Lakshmi, an economist, said that if there will be another mass movement like last year, it will add fuel to the already worsened Indian economy.
There is a law which protects them from exploitation by their employers, but there is no such law or internal provision to protect the lives and livelihood of the workers during a mass movement. "No government ever thought that there will be a situation like mass movement of migrant workers, thus there is no law," said Sourya.
"India has no central registry of migrant workers, despite the existence of the Inter-State Migrant Workmen Act, 1979, under which a central registry was supposed to be created," he added.