A study suggests that women end up paying more taxes than men for similar products.
Bengaluru: Pastel colours, bright packaging and attractive fragrances add up to increasing prices of personal care products. While men pay less for products that are deemed to look dull, women pay more just because the same products look pretty.
The cheapest razor for women is priced at Rs. 75 whereas for men it's Rs. 20. If you go for a higher price range, it costs Rs. 65 for Gillette Vector. For women, the price jumps from Rs. 75 to Rs. 220, an increase of Rs. 145.
Pratikshya Mitra, a young woman who uses such products like body washes, perfumes, shaving gels etc. She said, "They cost me around Rs. 600 a month. Body washes and perfumes last for at least two or three months but products like sanitary pads, shaving gel, and razors don't last more than a month."
The gender-based price discrimination is due to what has been called a pink tax, where women consumers are made to pay more than men for nearly identical products. These products are marketed especially towards women, in pink or light purple packaging with dashes of glitter.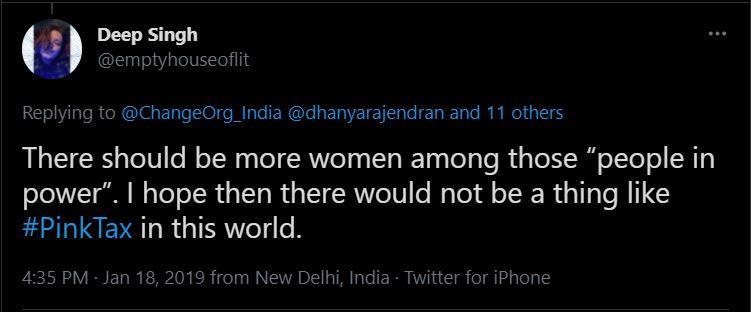 Pink Tax is not an actual tax in India, but women-centric items are more expensive than those used by men. The idea of the pink tax emerged in the United States in the 1990s. In 1996, the California Assembly Office of Research found that five major cities in the state charged a higher price to wash and dry clean women's clothes compared to men's.
The then governor of California, Pete Wilson implemented the Gender Tax Repeal Act to stop the discrimination for services. In 2019, Congresswoman Jackie Speier reintroduced Pink Tax Repeal Tax but the bill has not passed.
According to this report by New York City's Department of Consumer Affairs, women's products cost nearly seven percent more than that of men's. The difference in price widens to 13 percent when dealing with personal care products.
Christina Kantharaj, professor at Centre for Women Studies in Mysore University, said, "This issue is very much about gender and class. Men, from every strata of society, use these products; whereas, for women, only a section can use them." She further mentioned that a tag of femininity is responsible for making these items so expensive.
Prashant Rout, a retired Divisional Sales Manager of Cadila Healthcare, said, "Most of the personal care things that women use are not that old in the Indian market. It is still a concept that sellers are trying to sell. It is not in common use as not many female consumers purchase them." We need more competitors in the market to bring a change in the price.