After the government announced a 50 percent capacity in gyms, the gym owners have experienced losses, while people are uncertain of their membership fees.
Bengaluru: Soumya Rao, the owner of Socio Fitness, had been successfully running her business for the past 12 years, till the two waves of the Covid-19 pandemic handicapped her earning capacity. The owner of this gym in Jayanagar is not sure when she would start making money again.
"We have lost the business because of the pandemic. Around 70-75 per cent of our regular gym-goers have stopped coming after the announcement. The situation is terrible," she said.
Gym owners, already under immense pressure, are experiencing extreme losses after the Karnataka government announced that gyms should function with 50 per cent capacity.
Soumya added that gyms were one of the first ones to close down, and the last ones to open. "We thought the situation was finally getting better in January when the cases started going down, but with an increase in the number of cases again, we have gone back to square one," she said.
Issued on April 2, 2021, the Karnataka government's first guidelines, had ordered that all gyms should be closed. But after gym owners and trainers appealed for the guidelines to be slightly changed keeping in mind their livelihood, the government announced that all gyms could operate but with only 50 per cent capacity.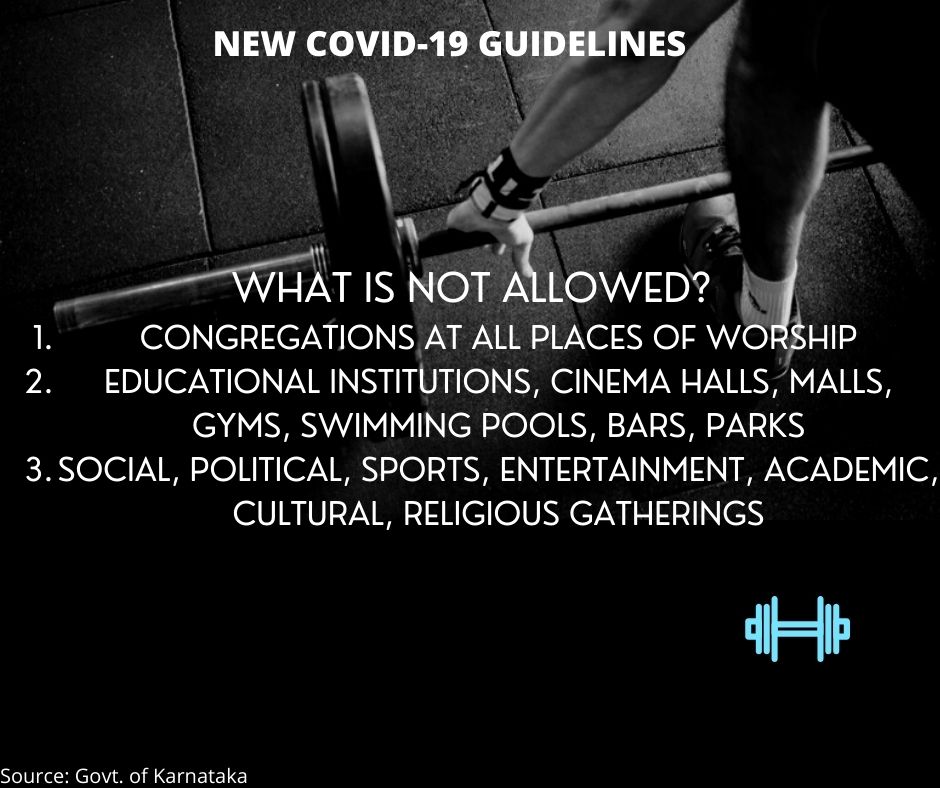 "Before we had around 200 people come to our gym every day, but now it's hardly 50. We are sanitizing and taking all precautionary measures but to no avail," said Soumya S, the manager at Iconic Fitness, BTM Layout. She said that many members are also freezing their accounts.
While this is a major problem in itself, many gym-goers who have their long-term memberships do not know what is in store for them. Kanwalpreet Kaur, a regular gym-goer is livid as she has paid Rs 7,500 as membership fee and the gym is closed now.
"Last year, during the lockdown, a similar thing happened, I had gone only for three months and the gym closed, and after it opened, they only extended it (membership) for one month, but I had paid for six months, I lost two months' worth of membership fee," she said.
She fears that a similar situation may be repeated this time too. Aditya Rathod, another regular gym-goer stopped going to the gym because of the steady rise in cases. "I do not know how the membership will work out now, we should wait for the Covid-19 cases to go down," he said.
"I don't know if I should freeze the membership now or keep it open. We're going on a break from tomorrow because of the rising cases," said Soumya Rao from Socio Fitness
AV Ravi, the President of Karnataka Gyms and Fitness Owners Association said that the lockdown and the subsequent 50 per cent guidelines have affected the gyms very badly.
"It's unscientific (sic) to blame the government, but gyms have been affected pretty badly too," he said.
Uncertainty caused due to the pandemic is universal. "I have been going to Socio Fitness for a decade now. My entire family goes there. I had to stop going last week because of the rising cases; I have been petrified ever since," said Rohit Devatha, a regular gym-goer in Bengaluru.
He has already paid his annual member ship fees and has asked the gym management to freeze his account until the situation is better. He thinks that this is the ideal way for any gym to operate and function during this crisis.
Ebenezer Kumar, a Gym and Business Consultant said that major gym chains are going to sustain, but the individual ones are going to suffer.
"The gym industry is not organised in India. Individual gym owners have operational costs, they have to pay the rent, and salaries to the staff. That's why many of them have closed down now," he said.
He also suggested that the government should provide a support system, but believes they won't since it does not affect the government.