With the recent emergence of new and varied online thrift stores, people have started to look at fashion that's sustainable.
Bengaluru: It's time to combat fast fashion.
Fashion is one of the most polluting industries in the world. "The fashion industry produces 10 percent of all humanity's carbon emissions", states a World Economic Forum report.
Additionally, thredUp's Annual 2020 Resale Report mentions that "64 percent of the 32 billion garments produced each year end up in landfill."
But with a recent increase in thrift/second hand shopping, fashion's retail market has seen a downward trend. What seems to blossom here is the scope of sustainable fashion.
Minnie, the founder of indiathriftreviews— an online platform for navigating thrift stores, readied herself to find a path to sustainable fashion in September 2020 — when she created her Instagram thrift page.
"I've thrifted for years in person in small stores," she said. "But I only discovered their presence online (Instagram) this past summer with @bombayclosetcleanse, and it was an absolute rabbit hole after that."
She added that the growth of thrift was exponential during lockdown. "The thrift store business scene (especially on Instagram and otherwise online) absolutely exploded during lockdown," she said. "In just six months of starting this page, we've gained more than 7,000 followers. If you searched YouTube for online thrifting in India last fall, you'd come up with only three videos; now the hashtag #thriftindia — which seems to be the most popular in the community — has grown from 15 thousand to over 1 lakh posts. Now that's growth."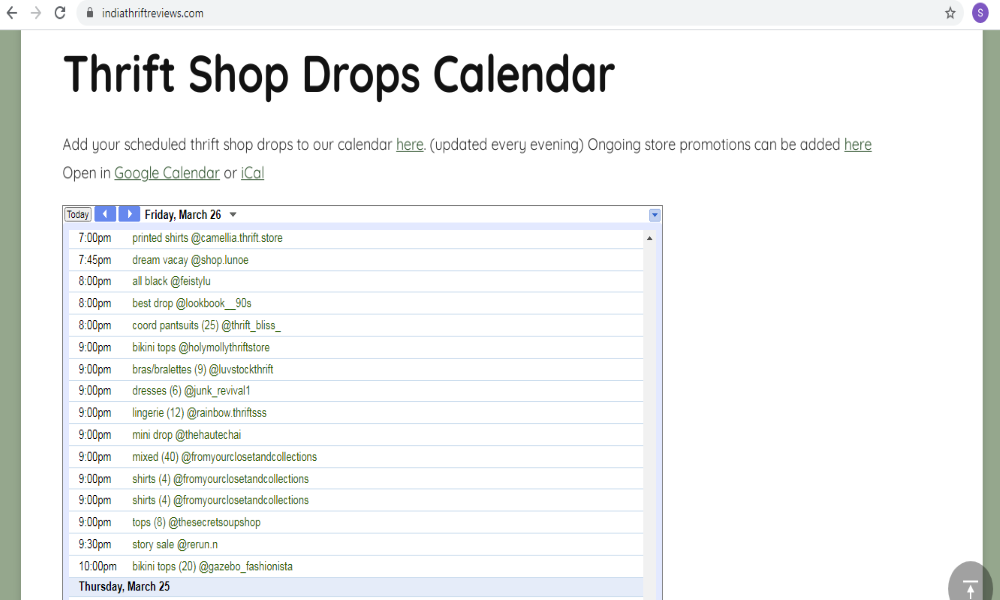 With sustainable fashion as their primary focus, Minnie also directs her page to be community-oriented. "Our community model has grown to several hundred stores joining our 'drop calendar' which is one among the ways we're trying to foster community involvement, cooperation, and growth," she said.
A Bangalore-based online thrift store, @exchangeroomshop, said that although there were only a handful of thrift stores pre-pandemic, the reality is vastly different now. "Necessity is the mother of invention right?" they began. "We took our platform online during the pandemic and swappers loved our curation; we now have a profitable access to Pan India." "Thrifting has been quite popular in the west and we feel really happy to see this culture substantially take off and become slightly more mainstream in India," they said.
Resale has paved its way in the face of crisis, and is now expected to overtake the traditional donation segment by 2024.
Kick-started by the broader COVID-19 retail slump, online thrifting is "set to grow 69 percent between 2019 and 2021", according to thredUp's annual 2020 resale report. While 88 percent of consumers adopted a new thrifty hobby during Covid that they plan to continue post-Covid, as per the same report.
Sustain the Thrift
As the new thrift wave challenges the fast fashion industry, the garment waste seems to decline. Four million fast fashion items have been re-circulated by thredUP, saving 2.5 kilograms of waste, according to its annual report.
"Thrift stores are a definite part of sustainable fashion," said Yashasvi, a fashion student at National Institute of Fashion Technology, Gujarat. "We are basically reusing the same clothes and accessories and circulating fashion in a sustained way." She added, "This helps contribute to the zero-waste approach of shopping reusable."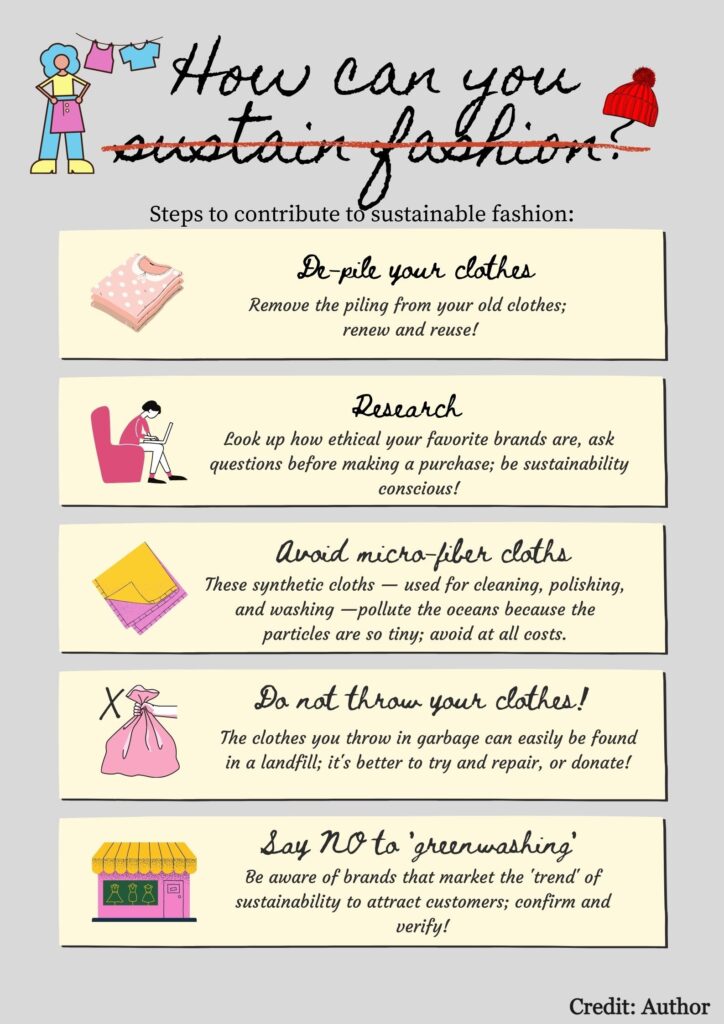 Yashasvi further emphasized on the role of awareness in sustaining fashion. "There are several other steps one can take to contribute to sustainable fashion," she said. "To begin with, avoid clothes with micro-fibers as they pollute the environment."
"Invisible particles from products such as synthetic clothing are major sources of microplastics in the ocean", found a 2017 report from the International Union for Conservation of Nature (IUCN).
She continued, "Support small-scale thrift businesses, and donate clothes whenever you can."
Many thrift stores (@thedogpilethrift on Instagram, for example) engage in donation drives, or direct their proceeds to social causes like, say, animal shelters.
However, the growing popularity of thrifting has rather made it a trend, believes Khushi, a media student at University of Delhi. "Many people have started engaging with thrift shopping not because it's good for the environment but because it has become such a trend now," she said.
"In my experience, many thrift stores are run by rich owners," she continued. "When they source their material from the same fast fashion brands that thrift stores aim to counter, the whole point gets defeated. Several thrift stores have now adopted this trend. They sell these products at the same original fast fashion prices — ranging from Rs. 1000 to Rs. 2000 — that are simply not affordable for the target consumers."
She further said, "To be better conscious of sustainable fashion, affordability is a must. You cannot sustain fashion if you do not make it affordable."
thrift stores were created to make clothes more affordable for the working class. the reason they exist is because fast fashion is too expensive for the poor. yet, UC rich kids have hijacked this and now sell shein dresses at Rs.800/1k in their "thrift stores"

— Kai (@thelordhateskai) March 24, 2021
Not to mention how people are now "addicted" to buying stuff from thrift stores. The whole point of sustainability is to not consume too much. Doesn't matter if you're consuming from a thrift store. It's soon gonna be capitalised upon to the extent that sustainability does a bye

— sj (@potaythoe) September 6, 2020
"If thrift stores get increasingly associated with the mainstream brand of 'online influencers', the sustainable aspect of thrift stores is bound to economically fail in the near future," said Mohit, a Delhi-based business consultant.
Conscious consumerism
Ritika, a Mumbai-based environmentalist said that she recently shifted to thrifting because she absolutely loved the idea behind it: the circulation and usage of second-hand products with one another. "What's old for you may be a completely renewed piece for another," she said. She added, "Moreover, being aware of fast fashion's damaging impact on the environment; along with the industry's harassing treatment of their workers made me incorporate sustainability into my everyday life."
She shared, "I recently got a jean jacket that I'd always wanted from a thrift store, @bombayclosetcleanse. I am aware of the environmental impact of manufacturing denim jeans, and hence decided to thrift rather than retail."
"Sustainability has recently become an important new driver in consumers' purchasing decisions," informs a 2020 research paper. It highlights that consumers are increasingly expecting transparency while making purchases. It says, "They want to have more information about the source of goods and the quality of materials used."
"Sustainability is all about balance really. It's about using available resources in the widest way possible so that it becomes a lifestyle rather than a trend," said Bangalore-based Asha Scariya, Chief Creative Officer of People Kraft, in a podcast, "Bare Thoughts by Bare Necessities" — hosted by Sahar Mansoor, founder and CEO; and Mehul Manjeshwar, Bare Necessities, a Bangalore-based environmental enterprise.