The Bruhat Bengaluru Mahanagara Palike (BBMP) in its 2021-22 budget announced that they are planning to build 67 new public toilets in the city.
Bengaluru: Shabeer Ahmed, an auto driver, travelled to two areas in the city looking for a public toilet. "We don't have many, that is why you can't find any easily," he said. Ahmed finally found one in Shanti Nagar. People in the area said it's one of the oldest public toilets in the city.
Kumar, a tender coconut seller, just outside the public toilet, is depended on it throughout the day. "It's not easy when it's not properly maintained because we don't want to defecate on the road."
While Bruhat Bengaluru Mahangara Palike (BBMP) ordered public toilets to be built in Yelahanka ward, the data states that no new toilets have been built. Yelahanka is just a microscopic representation of a bigger problem. Many wards in the city have not more than one public toilet.
According to the data by the BBMP, Bengaluru has 478 public toilets. Given the population of the city to be approximately 1.2 crores, there is one public toilet for 25,000 people. The Swachh Bharat Mission (Urban) guidelines, however, state that there should be one public toilet for every 100 men, and two for every 100 women. A research paper published by The Institute for Social and Economic Change stated that according to 2011 census, there were 19 public toilets for 1,02,000 inhabitants.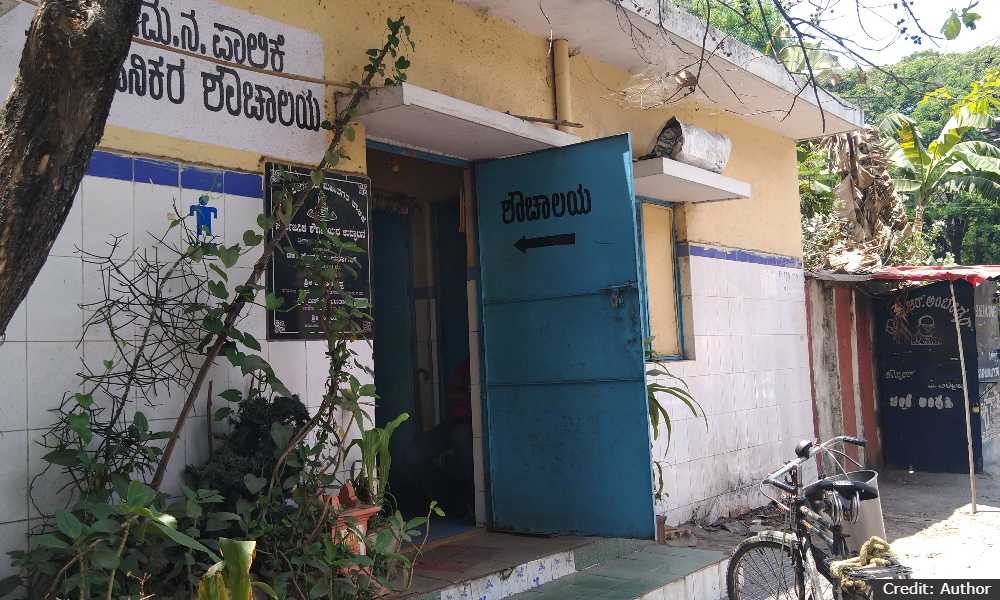 Maintenance workers of public toilets are suffering too
Chandrappa has been looking after another public toilet in Shanti Nagar for over five years now. He does not get paid anything. "I have to pay electricity bills with the money I make, it's barely anything. I don't make enough to take home, let alone maintain the toilet," he said. "They don't conduct regular visits; I have hardly seen any officials come."
Things are not too favourable for Gowri as well. She manages another public toilet at Shanti Nagar and sleeps inside the compound in a makeshift tent. "It was closed for almost 10-12 days, and it caused a lot of inconvenience to everybody, we all heaved a sigh of relief when the BBMP opened it yesterday," she said. The BBMP closed the toilet to renovate it as there was an inspection; until then they had not bothered about it.
"Pourakarmikas and construction workers depend on this toilet every day and when the BBMP closed it without any prior notice, it caused a lot of issues," she added. She continued, "It's especially hard for women because if they're menstruating and there is an emergency, it's difficult to manage."
Hygienic toilets are nowhere to be found
There is a public toilet in Sumanahalli on which Vasanth depends on. He runs a tea stall nearby. "The public toilet is not great, but I have to make do with it. We can't expect a lot from the government, can we?" he said. But public toilets are not one of the first choices for many people.
Pragna L Krupa, a reporter at The Bangalore Mirror said she does not use public toilets when she has to go out for reporting for the whole day. "I was never comfortable using public toilets; I would rather walk into a café or a restaurant to use the washroom."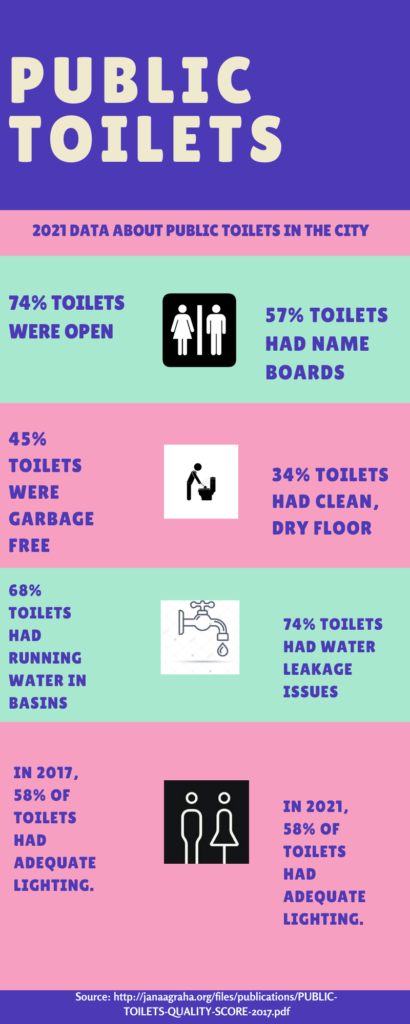 Information shared by Janaagraha, an NGO that deals with civic governance, reported that only 74 per cent of the toilets were open during a random survey conducted in January 2021.
"There has to be one public toilet every seven kilometres in the city," said Tanima Dubey of Janaagraha. "Whatever Swachh Bharat cess that BBMP collects does not help the maintenance of public toilets in the city." A survey by the same NGO says that there is one public toilet every 24 kilometers in the city.
Vishwanath, BBMP Chief Engineer who is associated with public toilets said that the reason they are building only 67 toilets is because of the lack of space in the city. "BBMP has money, but Bengaluru does not have space. People, especially who belong to the elite class don't want public toilets constructed near their homes," he said.
Mahesh, a cab driver who travels across the city, said that the one in HSR Layout is relatively clean. "Not many locals use this public toilet, because HSR Layout is relatively a posh area. The only people who use it are auto and cab drivers like us," he said.
Sahana Goswami, Manager, Water Sustainable Cities, World Resources India (WRI) India said that the problem is layered. "Building more toilets will not solve anything; the BBMP should make sure to what kind of people the toilets cater to. We should talk about if there are enough changing rooms for men and women, if there are disabled-friendly toilets and if the existing ones actually benefit women. There should be inclusive, comprehensive citizen participation," she said.
The BBMP, in collaboration with Janaagraha also conducted a public campaign, 'MyCityMyBudget' and one of the issues that was focused on eliminating public urination, and improving the condition of existing public toilets. Out of 9706 budget inputs received, 4925 were for improving public toilets.