Many people complain of not receiving LPG (cooking gas) subsidies or direct bank transfers even with prices constantly climbing in the last three months.
Bengaluru– Neelamma, a domestic helper working in Bengaluru, had lost most of her savings during the lockdown. Her husband had lost his job and she had no work. In the last few months, the constant rise in LPG prices with no subsidies has again put a strain on her pocket.
"We are not getting any subsidies since the last four to five months," she said. "We do not want to shift back to kerosene. Right now, I have taken an advance from my employer but if prices keep rising, we might not have an option," she added.
Neelamma is not the only one facing this problem.
Pushpa, owner of a small kirana store in Kumbalgodu, said, "We are not getting any subsidies. We pay around Rs. 830 for a cylinder. They even charge us extra Rs. 70 for auto delivery which brings the total to Rs. 900." She said it was easier when LPG was around Rs. 630. Now, it is getting difficult for her to manage the household. As of March 1, 2021, the price of one 14.2 kg LPG gas cylinder is Rs. 822 in Bengaluru.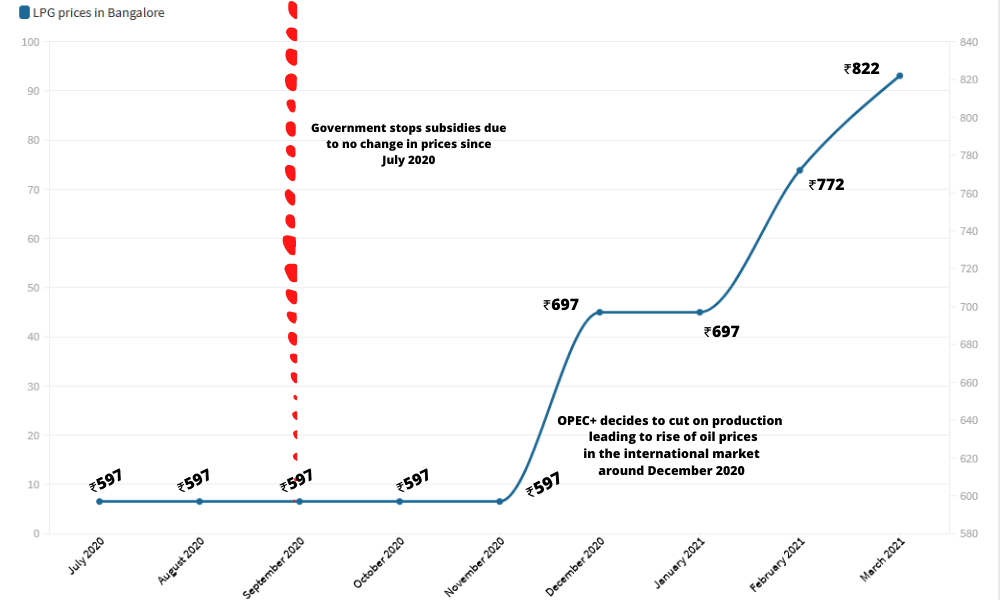 SNS Indane Distributors supply LPG in Pushpa's area. They reiterated that they are no longer giving any subsidies. "We have no clarity on when they will start again," one of the distributors said.
The central government had started the Direct Benefit Transfer of LPG (DBTL) or PAHAL (Pratyaksh Hanstantrit Labh) scheme in 2015. Under this scheme, the LPG consumers could directly receive the subsidy amount through a bank transfer. In the same year that the scheme was launched, the government stopped subsidies for tax payers who had an annual income of more than Rs. 10 lakh. The aim was to reach the poorer sections of the society directly.  
The bigger picture
Pushpa, like many others, has not received subsidies since the last five months. The reason is linked to the fluctuating international prices of crude oil. Usually, the prices of LPG are revised every month according to the international prices. However, pandemic induced lockdowns in various countries changed everything. Demand for oil plunged internationally due to a collapse in the demand for energy worldwide.
Professor Kaustuva Barik, Professor of Economics, School of Social Sciences, IGNOU, said, "In September, or even before that, the global crude oil prices were declining. So, the base price for domestic LPG also reached around Rs. 500-Rs. 600."
"The government, then, used the logic that the subsidy is no longer required because the selling price of LPG came closer to its market price," he added.
Meanwhile, the Organization of the Petroleum Exporting Countries (OPEC) and non-OPEC partners (OPEC+), in order to stabilize the petroleum prices, decided to cut their production of crude oil by some 9.7 million barrels per day in April 2020.
 "The market began to stabilize around November. As a result, the increase in demand of oil and lack of its supply in the market led to an increase of international petroleum prices and subsequently affected the LPG prices," Prof. Barik explained.
Prof. Barik further said that stopping the subsidies made sense only at the time when the prices had gone down, however, the government should restart it now.
The official grievance redressal platform of the Ministry of Petroleum and Natural Gas, MoPNG e-Seva, does not seem to have an answer to the queries of many people asking for clarity on Twitter. To one of the queries submitted on February 26, 2021, MoPNG e-Seva has replied, "Fall in non-subsidized price and rise in rate of subsidized gas reduced the subsidy to 'zero'. Subsidy for the month of May'20 to January'21 is Zero." Non-subsidized prices started rising around December 2020.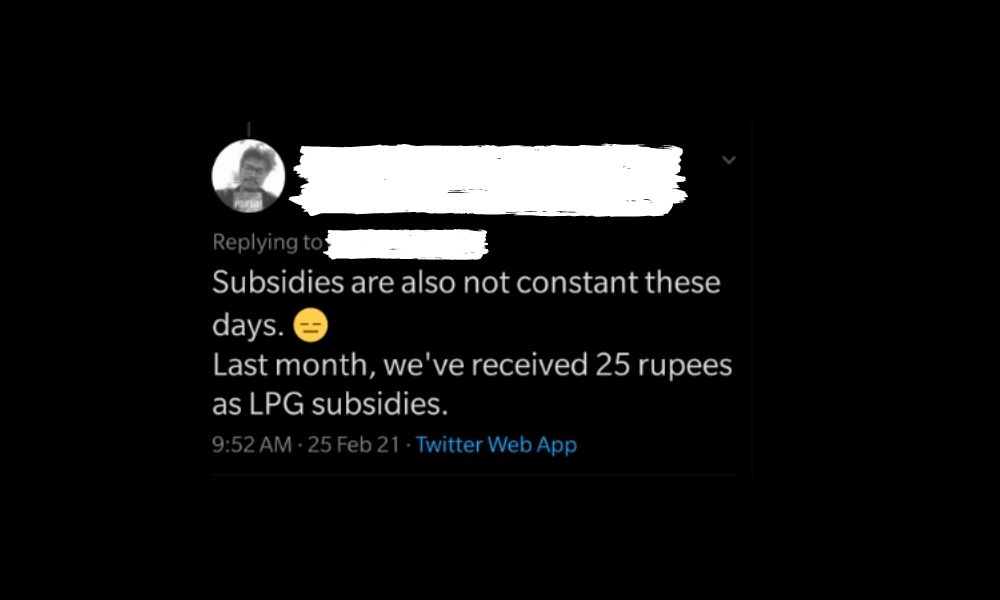 While government's position on subsidy remains unclear, the Union Budget 2021 has reduced allocation for petroleum subsidy, from Rs. 40,915 crore 2019-20 to Rs. 12,995 crore for 2021-22.
Pushpa, in the process of cooking for her customers lamented, "One cylinder lasts for only 15 days. How will I manage two cylinders every month at such a high rate?"
No one seems to have an answer to her question for now.