Metro commuters in the city are seen crowding up three times more than the allowed limit during peak hours.
Bengaluru: Although, the Union Government is yet to a give green signal to the Bangalore Metro Rail Corporation Limited (BMRCL) for operating the metro in full occupancy, people hardly care to wait. Weeks before even the proposal for operating metros in full occupancy was moved, people were already seen crowding in the metros.
One of the reasons for increased footfall and over-crowding is the re-opening of schools and colleges according to this report.
Kritika, a second year student of B.com in Malleshwaram Ladies Association First Grade College for women, said that she usually avoids travelling on the metro since it is mostly crowded. "I prefer travelling by buses and other means of public transport as there is enough ventilation. The only time I use the metro is when I have to reach a place urgently and I can't stay stuck in the traffic," she said.
According to the existing Standard Operating Procedure issued by the union government, one train should be occupied by 400 people at a time. The commuters should maintain a distance of two meters and sit on alternative seats. Masks are mandatory as well.
"There are around 1000-1500 people in a metro train at a time. The maximum occupancy is between 4:30 and 8:30 in the evening," said Kanta, who works as the platform security guard at Kempegowda Majestic Metro Station.
She said that she has been observing people crowding in metros on a daily basis. "The safety guidelines are repeatedly announced inside the train, there are signs stating alternative seating. But people still occupy those seats at their own risk."
Mr. T.L. Ravi Prakash, the Senior Manager (PR), BMRCL, said, "We have been constantly trying to educate people regarding the safety measures and protocols that they should follow in order to stay safe. When passengers from different stations keep adding up and the existing commuters don't get off the train, you would see overcrowding. This is bound to happen during the peak hours."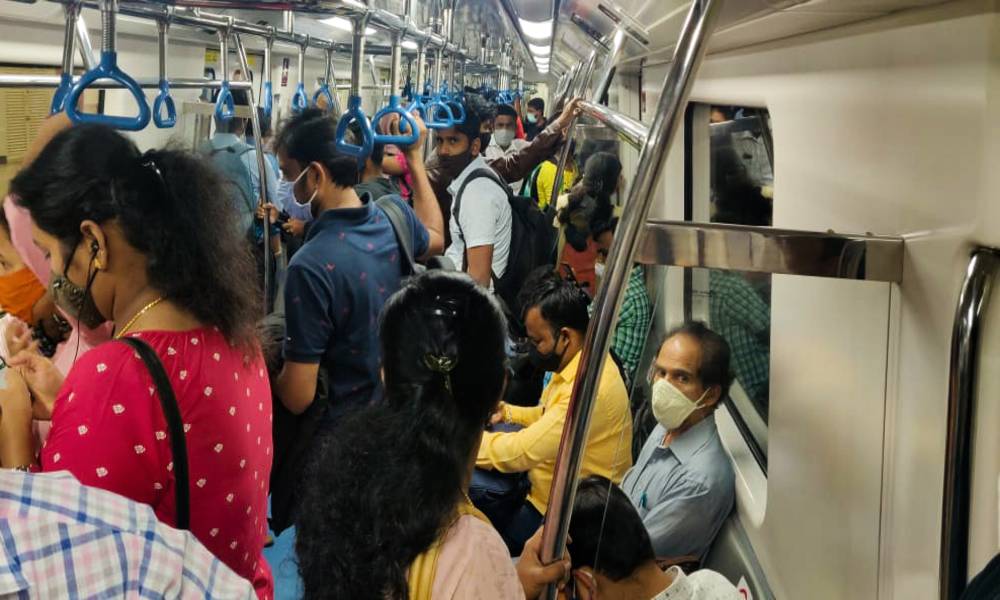 "The safety guards can only educate and inform people on what they should do. But, ultimately it's every individual's own responsibility to stay safe. We are trying our best to ensure as much safety as we can, thermal checking and sanitization does take place at every metro station. But unless people cooperate with us, we won't be in a position to maintain distance inside the trains," he added.
Dr. Kimi Madaan, a practicing physician said, "The graph of Covid-19 cases seems to be going down but that doesn't imply that we stop being cautious. People still need to follow the safety protocols especially while travelling in a public transport. Our safety is in our own hands."
"I think even after the government agrees to full occupancy in metro trains, people should even then be cautious and ensure distancing as much as possible" Kimi added.