Despite the city's attempts to make public transport smart by introducing Intelligent Transport system (ITS), passengers are issued paper tickets.
By Savyata Mishra
Anil Kumar boards the bus from Majestic bus station to Uttarahalli every day after work by paying Rs 22. A few months ago, he was being issued one electronically generated ticket of the same amount, which also bore his boarding and drop location. But now, it is back to square one with the conductor handing him two paper slips of Rs 17 and Rs 5 each.
Another passenger, Mr. Jaffar Ali, a senior citizen, gets three slips of Rs 13, each time he boards the bus. In the absence of a mobile-based payment system, he said he forgets to collect his change back and mostly ends up paying Rs 20.
The experience of Mr. Anil and Mr. Jaffar is a telling picture of how Bengaluru Metropolitan Transport Corporation's (BMTC) Intelligent Transport System (ITS) has been unsuccessful in providing the ease and efficiency that it promised to its riders during the launch of this ambitious project in 2016.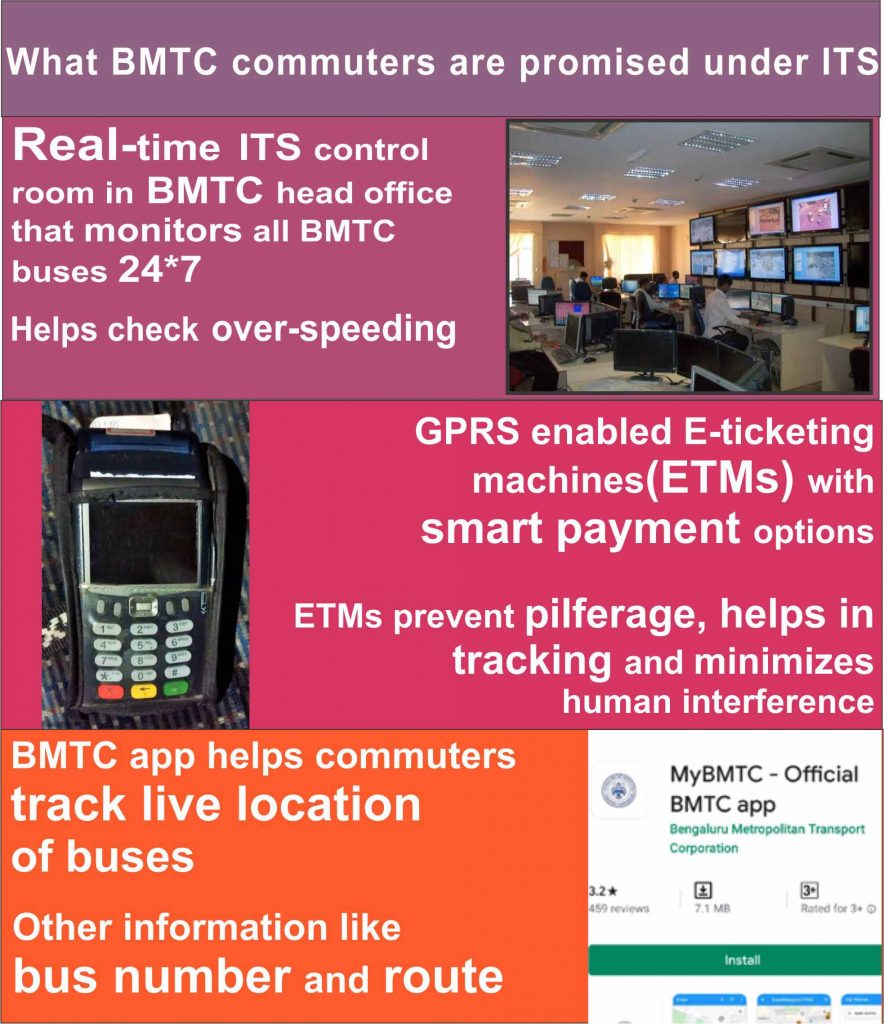 Even with an estimated 50 lakh passengers boarding the public transport daily and with 6,500 plus buses, BMTC has a dearth of functional Electronic Ticketing Machines (ETMs). These machines are supposed to issue tickets for the exact amount as well as be equipped with a smart payment system to protect customers like Mr. Jaffar.
Apart from not being enough in numbers, the available machines with the conductors also have a lot of technical faults.
Bus conductors said that sometimes the machine prints out blank tickets or gets stuck, which blots the paper with pink ink. They also said that sometimes their machines have run out of charge or paper roll, after which they are forced to issue manual tickets. If they don't have manual slips, they will have to write out tickets to passengers.
Out of every 10 conductors, surveyed by the Softcopy at Majestic bus terminal, four had an ETM while the other six issued tickets manually. Many ETMs have been withdrawn from service due to technical glitch and haven't been refurbished.
Manjula, a conductor on route number 242, said that she received a machine a few months ago, but before she could get used to it, the machine stopped working and had to be sent for repair. She now manually issues tickets and has to keep a record of all the information. "It becomes quite tedious and tiresome, especially in a 12-hour shift," she said.
As opposed to the manual tickets, the machines have a pre-loaded template that requires the conductor to feed data like the boarding point and the drop location, to generate the ticket automatically. It also transmits the data to the ITS server every five minutes.
Sushmita, a college student, is distraught with repeated instances of conductors not returning the change to her while deboarding. On other days, she is issued a Rs 10 ticket and asked to pay Rs 15 by the conductor. She feels that if there is a digitisation of the public transport system, these petty instances of theft will reduce drastically.
When BMTC launched its ambitious Intelligent Transport System (ITS) in 2016, reports suggest that it had equipped almost 80 per cent of the fleet with General Packet Radio Services (GPRS) enabled ETMs. "This was to ensure that the ETMs function not just as a ticket vending machine but also track the distance covered by a bus, the number of passengers using the service, running time, the number of tickets disbursed, etc.," the report said. ETMs also aimed to reduce pilferage by the conductors.
Marigowda, a bus conductor, said that with the machine, he is now able to issue tickets faster even during rush hours. Although it has made his life easier, not all have had this luxury. He said that only a few depots and a particular time shift had been issued machines.
Ms. Nayana, the Divisional Transport Officer of BMTC, said that the company that supplied these machines ran into financial trouble because of which the work on refurbishing the machines and introducing new machines has been tardy. "However, we are currently trying to rope in new companies to improve our services," she added.
M N Sreehari, a transport expert, said, "The idea behind ETMs is to reduce human interference and maximize automation. Both the time as well as the number of tickets (which add to the printing cost) issued can be reduced by properly functioning ETMs. The pickup and drop location is important so as to prevent overcharging by the bus conductors. Thus, BMTC should look to improve its services and adopt the smart way to boost ridership."
Some conductors like Anu feel comfortable with any means of issuing tickets. She said, "One can have a machine and still be slow to give tickets. I feel more comfortable tearing out slips than punching numbers."
Efficiency depends on the abilities of the conductor and not on the machine, she added.