Traditional paddy varieties being cultivated in Tamil Nadu do not have government procurement policies. Farmers who cultivate them often face losses.
October 30, 2020 | Written by Shivaane Srinivasan
Karur: There are no Direct Procurement Centers (DPCs), Minimum Support Price (MSP), or subsidies given for marketing traditional paddy varieties in Tamil Nadu.
As the demand for traditional paddy varieties is slightly increasing amongst the public due to their health benefits, the main concern for those who are farming traditional paddy varieties is finding a market after harvest.
Mostly, the farmers who are growing indigenous paddy varieties are big farmers (farmland of more than four hectares). Mr Raj Kumar, a big farmer said: " We want subsidies to avoid risk from weather and to cover the total investment on the seeds itself, as the seeds of traditional paddy varieties are expensive."
" The big farmers are dependent on external sources for all their farming inputs including seeds. They depend wholly upon the seed companies for their requirements and NGOs for marketing," Kumar added.
There are several NGOs that serve as seed banks of indigenous paddy varieties. Indigenous varieties are not accessible from the cold storage seed banks conserved by research institutes and agricultural universities. These are available in limited quantities and not accessible by farmers. It is only meant for researchers and scientists. Some NGOs support buying rare indigenous varieties, which can be multiplied and made available to the needy farmers and in turn to the needy public.
Mr Baskaran, Joint Director (JD) of Agriculture Department, Karur said, "There are no government procurement policies and Minimum Support Price (MSP) for the marketing of traditional paddy varieties."
"Government procurement policies can be implemented and given allowance if the demand for traditional paddy species increases," he added. He also said that policies are implemented and grants are given only to the cultivation of hybrid paddy species developed recently and have more demand since they are new.
The traditional paddy variety yields up to 20 bags (60kg each) which are 40 per cent less than the hybrid variety, per acre.
Hybrid paddy varieties yield 3,000 kgs to an acre and traditional paddy varieties yield 1,200 kgs. Total 42,000 acres of traditional paddy varieties and 2.9 lakh acres of hybrid paddy varieties are grown in delta districts. The delta districts include Trichy, Thanjavur, Tiruvarur, Nagapattinam.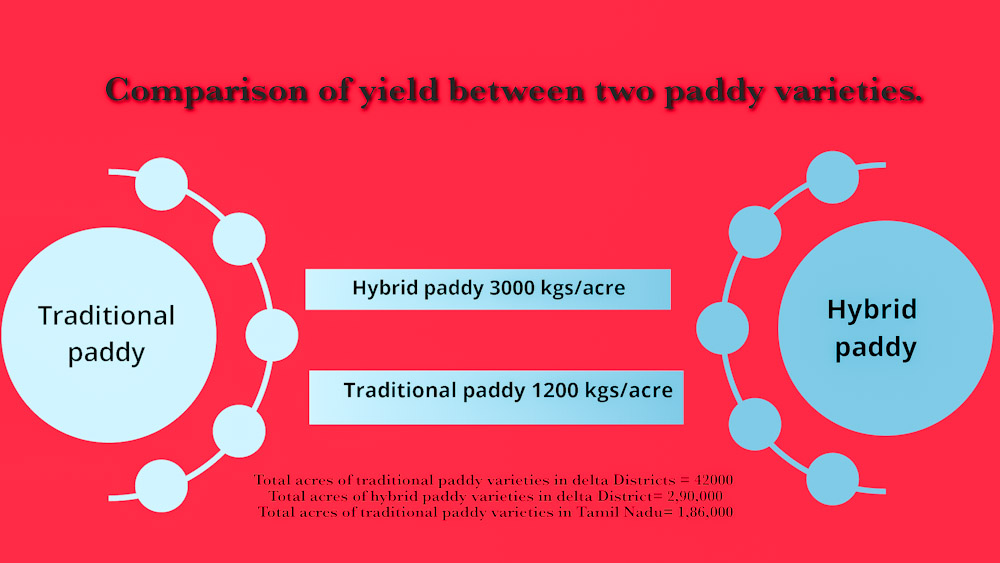 Associate professor M. Raju, Department of Agronomy, Tamil Nadu Rice Research Institute, said that subsidies are provided only for the paddy varieties that were released within the past ten years and that were created in the Tamil Nadu Agricultural University (TNAU), Coimbatore. He also said that there are no DPCs for the marketing of traditional paddy varieties instead of NGOs, and private organizations help in trading.
To avoid loss, these farmers also grow hybrid paddy varieties on part of their land to make their profit stable.