Marathons for social causes are becoming increasingly popular in the city. Even when there is no noble cause in mind, participants find them to be good form of recreation.
By Shubhangi Mathur
Some people are running away from taking up the responsibility of climate crisis, while some are running for it.
Many groups and NGOs (Non-Governmental Organizations) are organizing marathons for creating awareness about issues like water conservation, pollution control, women empowerment and the like.
People from all age-groups take part in the marathons — from young school students to old people like the 86-year-old Raghunath Janardan.
Manoj Balram, spokesperson for ABC Fit, which is organizing a marathon on March 8 for awareness about wildlife, said, "We aim to create awareness about the significance of wildlife to humans and the simple steps an individual can take to conserve wildlife. We will also educate them on the do's and don'ts while visiting wildlife areas. These marathons are taking small steps in creating awareness among the people."
"We are expecting around 800 participants for the marathon and the fund raised will be used to buy a drone for the Nagarhole Tiger Reserve," he added.
Another marathon organized by the Ekal group in September last year focused on education of tribal children. Vaibhav Gupta, Secretary of Karnataka, Ekal Group said, "We organized the marathon for the welfare and education of tribal and rural children. The fund raised was forwarded to an NGO which runs schools for tribal children."
"Approximately 1000 people participated in the marathon. While some participate for a cause, others participate for recreational purposes," he added.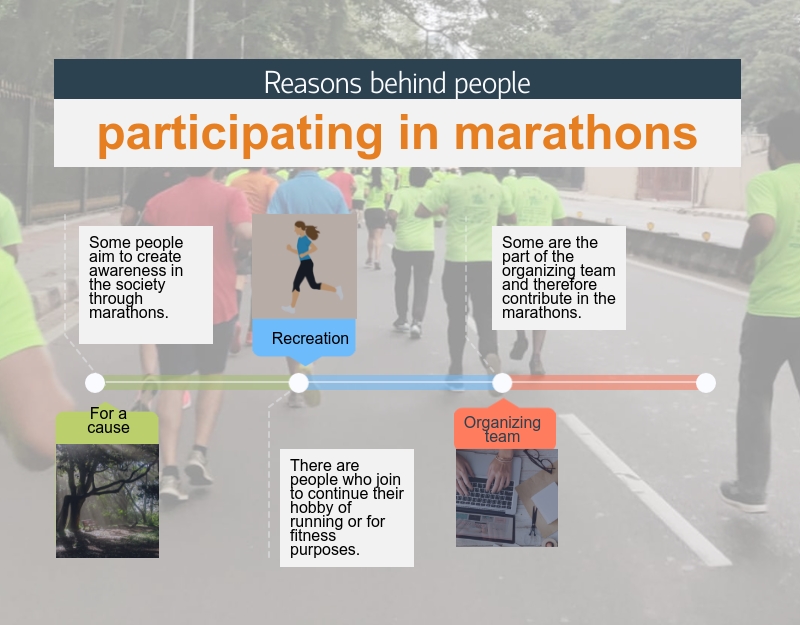 Others find it an opportunity to continue their hobby. Astha Jagetia, who frequently takes part in marathons conducted in the city, feels contented for running for a cause. "Running is my hobby. But when I do it for a cause, it gives me immense happiness and satisfaction. Bengaluru offers many chances for runners by conducting several marathons," she said.
Experts argue that the process of creating awareness would be better if the participants can engage in field work as well. Akshay Heblikar, Director, Eco-Watch said, "The marathons have been successful in creating awareness to some extent. But instead of the marathon it would be better to involve these participants in direct work for the environment like tree planting, waste segregation, cleaning lakes and also helping children understand environmental issues in a better way. This would be a more productive use of the money spent on marathons."