In a separate protest at Gandhi Bhavan, supporters of freedom fighter, Doreswamy, resolved to submit a memorandum against BJP MLA Yatnal
Bengaluru police have arrested 40 students who were a part of a rally that marched to Raj Bhawan to meet the governor. They were part of a 70-100 students group belonging to the Campus Front of India (CFI) and were protesting against the recent violence in Delhi regarding the Citizenship Amendment Act (CAA).
Police lathi-charged the student protestors who had formed a human chain and were shouting slogans against the Delhi police and Amit Shah. Advocate Roshan Nawaz, State Committee, said, "The protests are going around all over the country. Central police along with the Rashtriya Swayamsevak Sangh (RSS) are creating havoc across different religious groups. They are breaking into the mosques and killing Muslims. In a democratic and secular country, this is dangerous."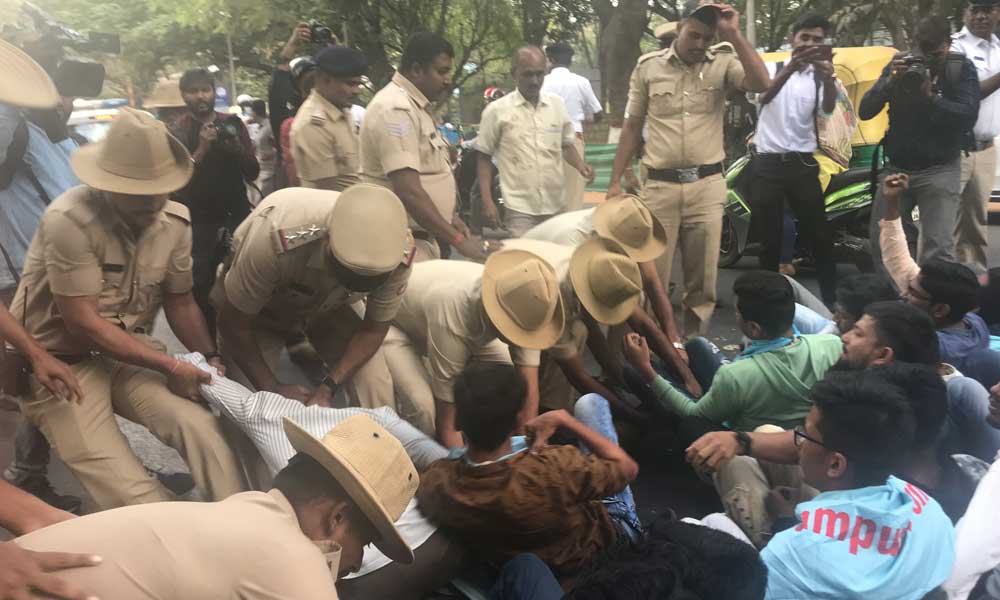 One of the student protestors, Riyaz, stated, "Modi and Amit Shah are responsible for what is happening in the country. They are attacking protestors and Muslims. Nobody is telling us exactly how many people have lost their lives in the Delhi violence. We are fighting for our rights."
In a separate incident, various leaders of the opposition party, family members of freedom fighters and activists gathered at the Gandhi Bhavan in Bengaluru and decided to submit a memorandum against BJP MLA Basanagouda Patil Yatnal. This was decided in the protest against the MLA after he refused to take back his comments on the freedom fighter H S Doreswamy.
Ex MLC, Mukhya Mantri Chandru who was present at the meeting, said, "Yatnal is just a coin used by people with high power in the country. He is not uneducated and knows what sacrifices Doreswamy has done for the country. If common people make such statements they are jailed while their own party leaders are only warned." Chandru asked the Chief Minister through the media if he supported what his party member did.
MLA Bhojaraj Ramchandrappa Patil, Ex MLC Fernandes were also present in the meeting and demanded the police to take action against the MLA.
"Government is sowing the seed of communal trouble. This is a danger to our future," said Kannada poet SG Siddaramaiah.
B.T Lalitha Nayak, who is a politician, writer, and social activist, said, "Yatnal has the audacity to say that he won't take back the statement he made on Doreswamy. This shows the confidence he has on the people behind him." She also said that the statements made by people like Yatnal, Ananth Kumar Hegde, Renukacharya, V. Sommanna are a threat to our constitution.
H.S Doreswamy, on whom such comments were made, said that he doesn't wish to go to the courts even though he has the legal right to take action against Yatnal. He recited Raghavanka's poem as a reaction to BJP MLA's statement.
Dr. M P Nadagouda, ex MLC, said, "This is not the first time base comments are being made against prominent people of our country. As of now, we still don't know if the CM is going to take any actions against this. But submitting the memorandum is just a part of our protest and we won't stop until justice is served."
Kodihalli Chandrashekhar, Karnataka State farmers association's president said, "This behavior is unforgivable and we strongly recommend our CM to take action against this. If he doesn't, it'll be evident that he supports Yatnal."
The Karnataka MLA triggered controversy when he labeled freedom fighter H S Doreswamy as an "agent of Pakistan" while speaking to reporters on Tuesday. He also said that Doreswamy was a 'fake freedom fighter'.
C H Jairam, former political science professor of Bangalore University said, "Such statements cannot hamper personalities like Doreswamy. It only reflects on the party's ideology who know exactly what Doreswamy did for the country."
He called for political parties to take strict action against their members who make such statements.