Unregistered pharmacy attendants dispense medicines at medical stores violating the Pharmacy Act and putting the lives of many at risk.
By Shalu Chowrasia,
Bengaluru: The Karnataka State Pharmacy Council has been attempting to keep a check on the number of unregistered pharmacy attendants dispensing drugs without the supervision of a registered pharmacist.
The council has been sending notices to pharmacies that are managed by attendants who do not have a degree or formal education in pharmacy.
Registrar of the Council, Prof. B. G. Shivananda, explained that all licensed pharmacies are supposed to be physically supervised by at least one registered pharmacist at all times.
Pharmacy students after graduation become eligible for a certificate from the council that allows them to either open their own pharmacy or work at a licensed pharmacy as an attendant.
Section 42 of the Pharmacy Act, 1948, states that no person other than a registered pharmacist shall compound, prepare, mix or dispense any medicine on the prescription of a medical practitioner.
However, Sameer*, who has been working as a pharmacy attendant for over five years now has a bachelor's degree in English from Belgaum University. When The Softcopy visited the store in Vijayanagar where Sameer works, he said that after completing his degree, he was employed as a 'helper' at a medical store by a family relative. "I worked there without any salary for one year and gained knowledge about medicines. Though I do not have any degree, I do not think I have ever dispensed a medicine which has caused harm to anyone," he added.
Though the store Sameer works at is licensed under a registered pharmacist's name, he was not physically present. Sameer said, "He is the owner of the store, he leaves the shop for me to manage if he has to go somewhere."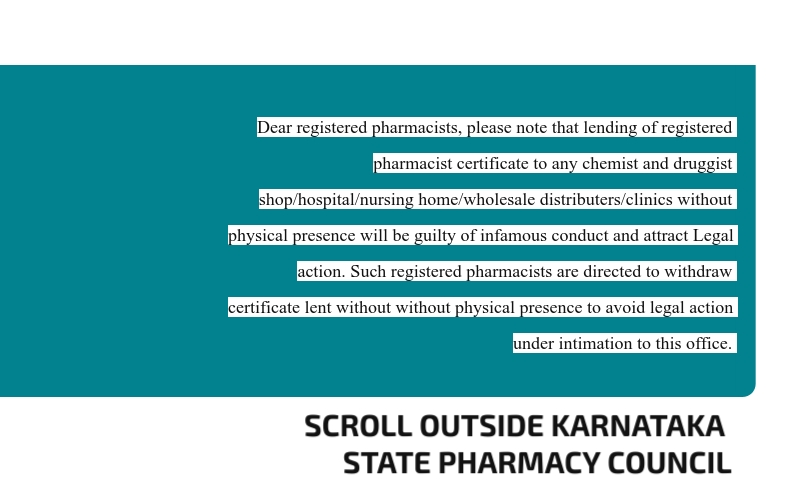 In an inspection by the enforcement wing of the Drugs Control Department of Karnataka in 2016-17, out of the 25,859 inspections carried out on drug retailers, 1,330 stores were suspended and licenses of 763 stores were cancelled because they did not meet the eligibility criteria.
Tripti, who has been living in KR Puram, Bangalore for over two years says that she has never bothered to check the eligibility of the pharmacist to dispense medicines. "When I fall sick, I visit the pharmacy and explain my symptoms based on which the attendant gives me medicines," she said.
Tripti thinks that the government should ensure that untrained or unregistered pharmacist is not employed at a pharmacy.
The guidelines for consumers buying medicines from a pharmacy state that drugs should only be purchased from licensed dealers and that the licenses are prominently displayed by chemists and druggists in their shops. The guidelines also mention that the purchase of drugs without prescription and consumption of medicines without consulting a doctor should be avoided at all costs. It reads, 'It is dangerous to indulge in self-medication'.
Currently, there are 14,442 registered pharmacists in Karnataka, according to the Renewed Pharmacists List.
The Principal of Government College of Pharmacy, M.S.Niranjan informed The Softcopy that pharmacy students, to clear their diploma course have to do a compulsory training at a medical store recognized by the Pharmacy Council of India.
Prakash Sirvi, who is from Maharashtra and is pursuing his diploma degree in Pharmacy in Bangalore feels that students like him are being robbed of employment opportunities because of unauthorized people running medicine stores. "We have to study so hard to complete the course and get a degree and these people are working without any education," he added.
Mr. Niranjan said that the situation is the same all over India. "The Karnataka State Pharmacy Council and the Drugs Control Department has been trying to make the situation better here. Hopefully, we will reach there," he added.
Recently, the Bihar Chemists and Druggists Association (BCDA) had announced a shut-down from 22 January to 24 January in protest against suspension of licenses of drugstores during inspections. News reports said that there are 35,000 drug stores in Bihar, compared to which, only 7,500 trained and licensed pharmacists, therefore making it impossible for all the drug stores to have trained and licensed pharmacists to dispense medicines.
V Hari Krishnan, President of The Bangalore District Chemists & Druggists Association, stressed that a clear distinction between a supervisor and a practitioner should be drawn. He said, "For dispensing non-prescription drugs, the presence of a registered pharmacist is not essential, but prescription drugs have to be sold under the supervision of a qualified person, who has a degree in Pharmacy."
*Name changed