The state only has two burn units to deal with third-degree burns for a population of over 6.7 crores.
By Ishika Dangayach
A decade ago, the city was stunned by horrific scenarios of dark smoke and flames gushing out of a tower on HAL Airport Road, as vulnerable people jumped to death in a quest to avoid suffocation.
Ever since the February 2010 Carlton Towers' fire, the victims, as well as the family members of those who had lost their lives, have been living in the horror of the incident.
Uday Vijayan, who had lost his son in the Carlton Towers fire accident on February 23, 2010, had established the first fire safety community of the country just one month after the accident. This community has been fighting for the fire safety of the city ever since.
Recently, on February 18 they submitted a memorandum to the Deputy Chief Minister Dr Ashwath Narayan for setting up of a burn ward in every government hospital in the state and direct every private hospital in the state to have a dedicated burns unit to provide emergency care. It suggests setting up skin banks across the state to assist the treatment of serious burn injuries, expediting the utilisation of the National Programme for Prevention, and Management of Burn Injuries (NPPMBI) budget for setting up burns wards, formulating a training programme for healthcare service providers to treat such injuries, and ensure the availability of trained healthcare professionals across the state.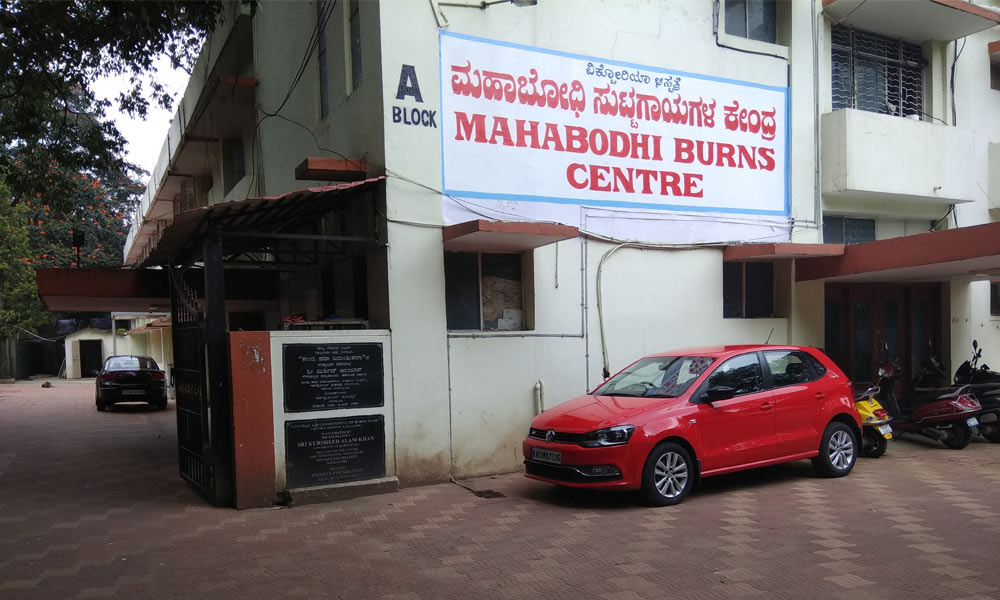 Vasanthi Hariprakash, a member of the Beyond Carlton said, "While we are delighted that Karnataka has established a skin bank, we are also aware that an only skin bank can not address the entire state's healthcare needs. Therefore, in every district of the government hospital, it is necessary to have a burn ward, so that the entire burden does not fall upon just one or two hospitals in the state."
Nonetheless, even after appealing to the government, the city has just two burns' centres namely the Mahabodhi Burns Centre at Victoria Hospital, Kalasipalya, and St John's Medical College Hospital, Sarjapur Road, to tackle grievous fire casualties.  The Mahabodhi Burns Centre at Victoria Hospital Kalasipalya bears the maximum burden of treating burn injuries from the city as well as across the state.   
The Mahabodhi Burn Centre admits 180-200 patients a month, each with burn injuries of more than 30 per cent. The rate of morbidity is at 50 per cent. Every day, Mahabodhi oversees five admits with a small team that includes plastics consultants, postgraduate students, and interns.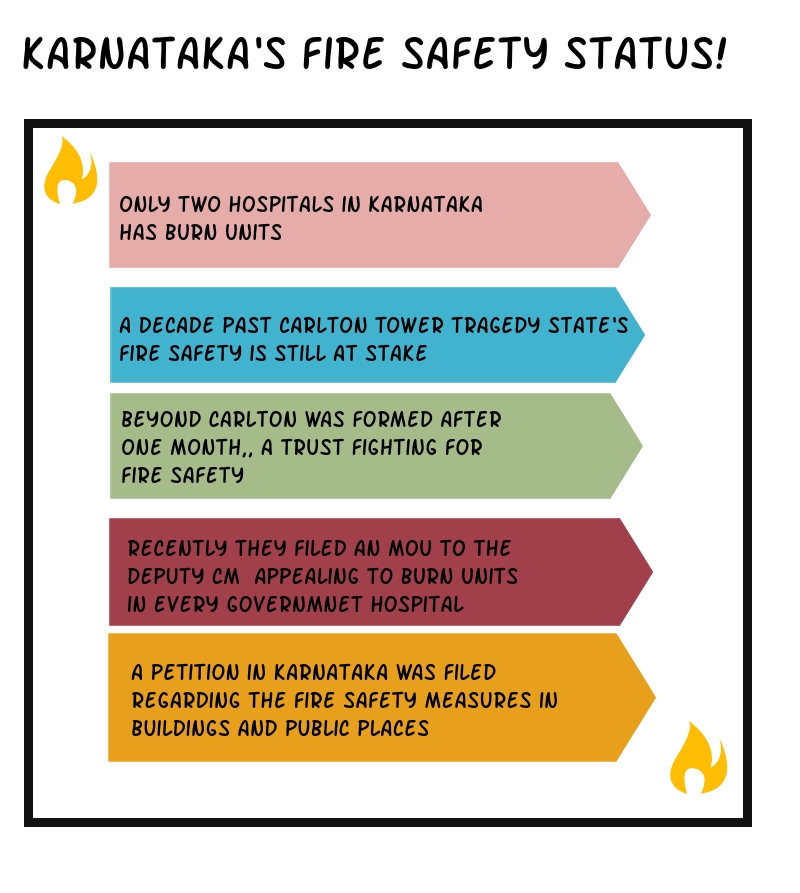 We have very limited rooms and beds but we are planning to expand the service. This is a government hospital and we cannot deny treating our patients," said Dr K T Ramesh, head of the department, plastic surgery and burns, Bangalore Medical College and Research Institute.
"Even if we have only two ventilators we try to provide as much proper treatment as we can but we have to release them within two to three weeks so that we can admit more patients. Apart from that, we have also requested to the higher authorities to hire more burn specialists," he added.
The National Crime Records Bureau (NCRB) shows a total of 13,099 cases and 13,397 cases of fire injuries registered in 2018 and 2017 respectively in India. In 2018, however, out of the total cases registered 12,748 people died, thus showing the death of 35 individuals due to fire injury every day.
Due to high maintenance costs, which is also a hindrance for setting up of burn units,  the private hospital only either treat cases of less than ten per cent burn or cases of any emergency. As per the reports if all goes well Manipal Hospital and Narayan Hrudayalaya will soon have a special burn ward."
"I lost my mother and my sister during a fire accident. We were first taken to a local private hospital where we didn't get any proper treatment because there was no burn specialist and then we were sent to Victoria hospital. During the shifting period, my sister died," Sandhya who is the victim's family member, told The Softcopy.
The Softcopy observed that no private hospital in the state has a specialized burn ward for severe burns.
The National Programme for Prevention & Management of Burn Injuries (NPPMBI) was formulated by the Centre to develop burn wards in government hospitals throughout the country where a budget of Rs. 450 crore was allocated as part of its 12th five-year plan. The Centre will pay seventy-five per cent of the cost of setting up the burn wards in each district, and the state will bear 25 per cent of the remainder. However, the certificate of use for the allocated budget has not yet been received.
Dr Sanjiv Lewin, Chief of Medical Services, St. John's Hospital said, "Running a burn ward need a lot of manpower and dedication from the hospital staff. We have eight special beds for burn patients and if the patient cannot afford the single room bed we shift them to the general burn ward."