India seized 48 per cent more drugs in 2018 compared to 2017, says NCRB.
Ritam Chatterjee
The National Crime Record Bureau (NCRB) data shows that the number of registered cases of drug seizure filed by the city crime branches and the state police departments across the country was 49,450 in 2018, compared to 33,158 in 2017.
Bhagoji T Khanapure, Departmental Head, Drugs Control Department, Bengaluru, said, "Mostly, Indians are caught under the Narcotic Drugs and Psychotropic Substances Act, 1940, carrying various drugs (mostly Ganja) and the foreigners are involved in synthetic drugs (cocaines, tablets with mixed drugs etc.). We are working regularly to crackdown drug peddlers actively across the major cities in the states. Once someone involved in drug peddling has been tracked by our officers, it is easier to catch the whole group."
P Ramesh, a senior officer of the Drugs Control Department, Bengaluru, said, "We often catch students who should not be involved in such cases. We try to educate them on how the consumption of drugs can ruin their lives."
Meanwhile, according to the Drugs Control Department of Bengaluru division, the city has seen around 60 per cent increase in registered cases for narcotics seizure in 2019, compared to 2018.
S Venkatesh, a senior officer from City Crime Branch, Bengaluru said, "In 2018, we investigated and filed 43 cases and arrested 67 people for drug peddling, but, the number of cases has gone up to 70 in 2019, and 82 were arrested in the same period. We arrest people under the Drugs and Cosmetics Act, 1940.".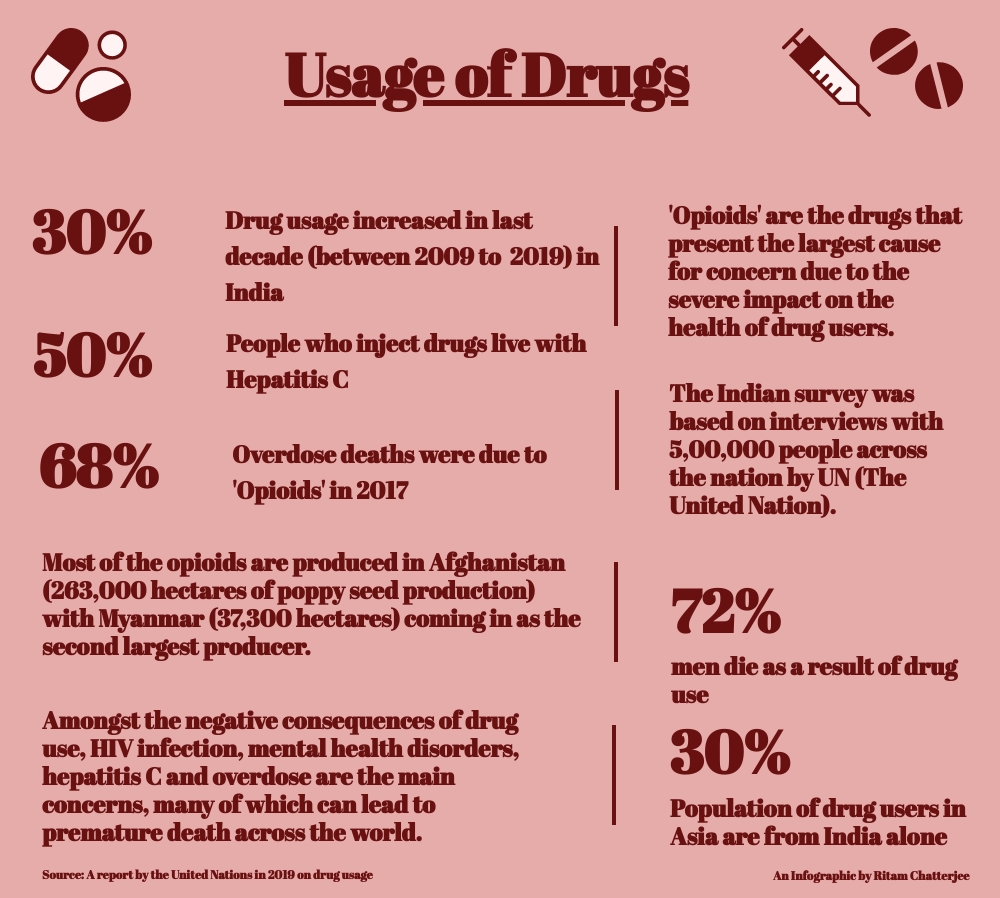 The 2018 NCRB data states that the most seized narcotic substances across the country is Ganja (3,91,275 kg), followed by Acetic Anhydride (9,717 kg), Opium (4,307 kg), Hashish (3,911 kg), Heroin (1,258 kg) and Ephedrine or Pseudoephedrine (337 kg) whereas, in 2017, A total 3,64,206 Kg drugs were seized, out of which, Ganja (3,52,539 Kg), Hashish (3,218 Kg), Ephedrine or Pseudoephedrine (2,990 Kg), Opium (2,551 Kg), and Heroin (2,146 Kg) accounted for maximum.
A news report in December, 2019 stated that drug peddlers are starting to use courier to transfer narcotics from one place to another. The central crime branch has seized drugs worth one crore rupees which was couriered from Canada.
Dr. Manoj Kumar Sharma, a psychiatrist from National Institute of Mental Health and Neuro Sciences, said, "The internet has become the most relevant medium on transporting drugs from one place to another. If crime branches are able to track all the websites and find a way to shut them down in the future, we can assume that students, who are affected most in such cases, can be safer tomorrow."