The prevalence of blindness is at 1.99 per cent in India as against the target set by the National Programme for Control of Blindness and Visual Impairment (NPCBVI) to reduce the per cent to 0.3 by the year 2020.
Surbhi Shah
It's all blurry. You cannot see the buses coming near. You cannot see the face of your partner serving you breakfast. You see only the blurry moving bodies on the road with voices telling you to get out of their way. So, get out of their way and see an eye doctor because you may be on the way to lose your eyesight.
"I could not see properly, it was all blurred. My first thought was that I have glasses. Then after the check-up, doctor said that I had cataract in my right eye," said Ajay, an accounts manager who is in his late 50s.
Cataract is the main reason for the prevalence of blindness in India shows The National Blindness and Visual Impairment Survey, 2015-19, released by the Ministry of Health and Family Welfare. Around 66.2 per cent of the surveyed population had lost their eye sights due to untreated cataract.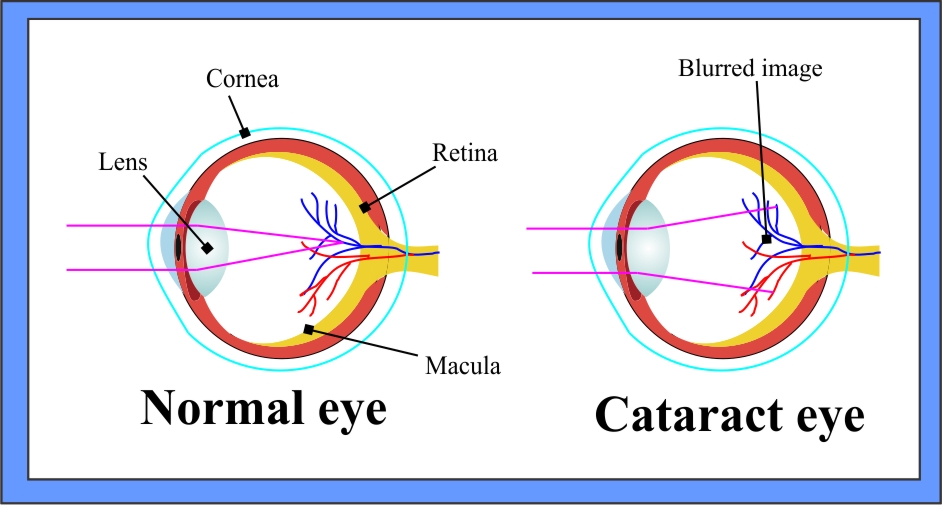 "Cataract is very common, especially amongst the age group of 50 and above. We perform at least 8,000 to 9,000 surgeries annually," said Pravin from Narayana Nethralaya, an eye hospital in Bangalore.
It is reported through the NPCBVI survey that blindness is higher amongst the illiterates and the rural population, than the literate and urban population. One of the main reasons for this is lack of awareness, money and lifestyle like tobacco and smoking.  
Many in rural areas and few in urban do not have the resources to go through the surgery and some set it aside referring it to the ageing process.
Mahin from Bevinkoppa, Belagavi had repeatedly asked her father to go for a check-up and probable surgery but was met with constant refusal. "My father is having defective eyesight for a long time and he is refusing to see a doctor. He says that there is no use of going through the treatment and surgery and waste money since he is already old and can still at least see, though not clearly."
Immediate treatment may improve chances of vision recovery but even then the chances are poor with only 21-35% of eyes retaining its vision. Kavita Visariya's mother had tears in her eyes as she woke up in the hospital bed to see nothing but blackness. Retinal Artery Occlusion or eye stroke was the cause of her blindness where the blood flow was blocked in the retina.
Kishor Khona from Madhya Pradesh, on the other hand, suffered from corneal displacement—the cornea of his right eye was displaced and the only option he had was eye transplant. "I went to Bangalore, Mumbai, Gujarat, but was unable to cure the defect. The only option that the doctors told was eye transplant but I refused and now I am partially blind in my right eye.
"I got cataract in the affected eye after that and had a surgery to remove it. But because of the cornea defect, I am still half blind."
Though untreated cataract is the main cause of blindness, there are many other visual impairment defects that can cause blindness like Glaucoma, corneal defects and others.
For the year 2019-20, around four lakh cataract patients have been registered under NPCBVI, followed by approximately 2,000 patients for Glaucoma in India. In Karnataka, over 49,000 patients have been registered for cataract.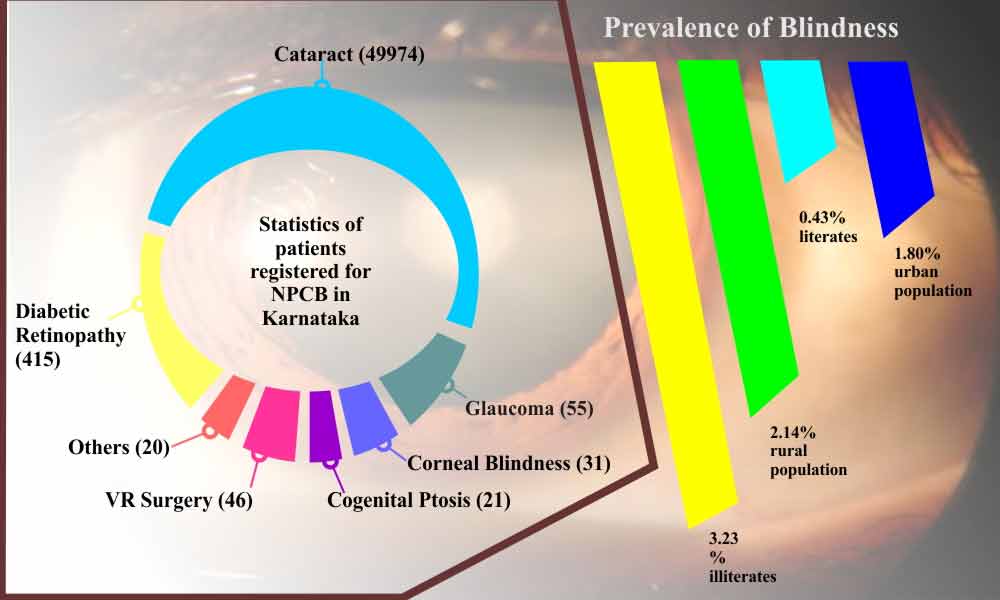 The central government releases funds to the blindness control division of the state. The affected cataract patients are treated free of cost in the government and NGO hospitals who have Memorandum of Understanding (MoU) with National Programme for Control of Blindness, but not many are aware of the scheme.
"The average package ranges from Rs 15,000 to Rs 150,000. There are schemes for poor people but not many know about that. The government helps with the cost but even after the deductions, for many people the surgery is still expensive," Pravin said.
The government provides grant-in-aid of Rs 2,000 for cataract operation for NGOs and Private practitioners per case and for government sectors it reimburses Rs 1,000 per case as mentioned in the pattern for assistance for NPCBVI through the National Health Mission (NHM).