Out of the 300 articles retracted over three years, 16 from the state.
By Niket Nishant
You plan. You copy. You change a word or two here and there. But then you throw it away. Too obvious.
You rewrite, this time replacing a few erudite words with more mundane ones. But then some of those words and ideas are too tempting to be deleted. You let them be.
However, just one run through a software and your sneaky little game is over.
Indeed, that seems to be the case with researchers and PhD students across the country. Ethics in research work have been decaying. Data from Retraction Watch, a database that maintains a list of all retracted research papers, articles, journals and the like, shows that over the past three years, that is, from 2017 to 2019, 300 research articles from India were retracted. Out of these, 16 were from Karnataka. The subjects ranged from chemistry and physics to sociology and history.  
The reasons for retraction range from plagiarism and unfair image manipulation to fabrication and data falsification, among others.
The Indian Institute of Science (IISc), the Indian Institute of Horticultural Research, the National Institute of Mental Health and Neurosciences (NIMHANS), the Indian Institute of Management (IIM) in Bengaluru and the NITTE in Mangaluru are some institutes, articles from which have appeared on the list.
In India, the University Grants Commission (UGC) came up with new laws against plagiarism in 2018, news reports show. The "Promotion of Academic Integrity and Prevention of Plagiarism in Higher Education Institutions" (2018), sets out the punishment to be handed out for different levels of plagiarism.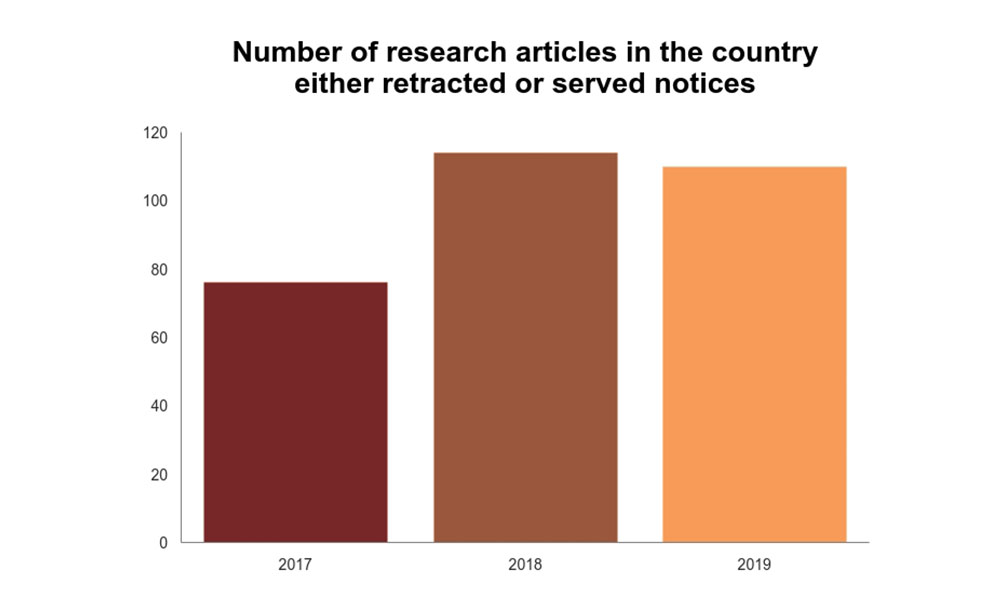 The new rules say that work with plagiarism between 10 and 40 per cent will be retracted and the student will be asked to rewrite. Between 40 and 60 per cent plagiarism invites a suspension of the student for a year and their supervisors will also be denied annual increment for a year. Anything above that is ground for the student's expulsion and in that case, the supervisors are barred from supervising any research students for three years.
The theses are put through a plagiarism checker software and any similarity to existing texts without attribution and above the acceptable limits is revised.
After consultations with the supervising faculty, final research work is submitted to the university. It is screened by three examiners, of which two are not affiliated to the university the student is a part of, explained Professor Prabal Maiti, Chairman, Department of Physics, Indian Institute of Science (IISc) in Bengaluru.
"I believe quite a few students commit plagiarism mistakenly because they only have a vague idea about duly attributing sources," said Dr. Urmishree Bedamatta, English Professor at the Ravenshaw University in Cuttack.
"The technicalities and formalities need to be taught well And sinceince the new course introduced by the UGC deals chiefly with this, it might be effective," she added.
The University Grants Commission (UGC) has introduced a new mandatory course on research and publishing ethics for PhD scholars. Scientific conduct, publication ethics and open access publishing, among others, are parts of the course. This two-credit course involves thirty hours of teaching.