Even as selling petrol in bottles is not permitted by the law, many petrol pumps across the city continue to sell petroleum in bottles.
By Kurian Joe M
Many Petrol bunks across the city sell petroleum in plastic bottles and gallons. Section 8 of Petroleum Rules, 2002 prohibits the sale and carrying of petroleum in bottles and containers to any individual.
Abraham Markos, a lawyer said, "Petrol pumps cannot sell petrol in bottles and gallons unless the buyer has the permission from the licensing authority, which is the District transport officer. Yet, many places sell lose petrol,"
Sebastian Mathew, a bike owner, said that he wasn't aware of the rules regarding the sale of petrol. "I didn't know that petrol can't be sold in plastic bottles. I have bought petrol from the pump in plastic bottles, a few times, when my bike ran out of fuel," he said.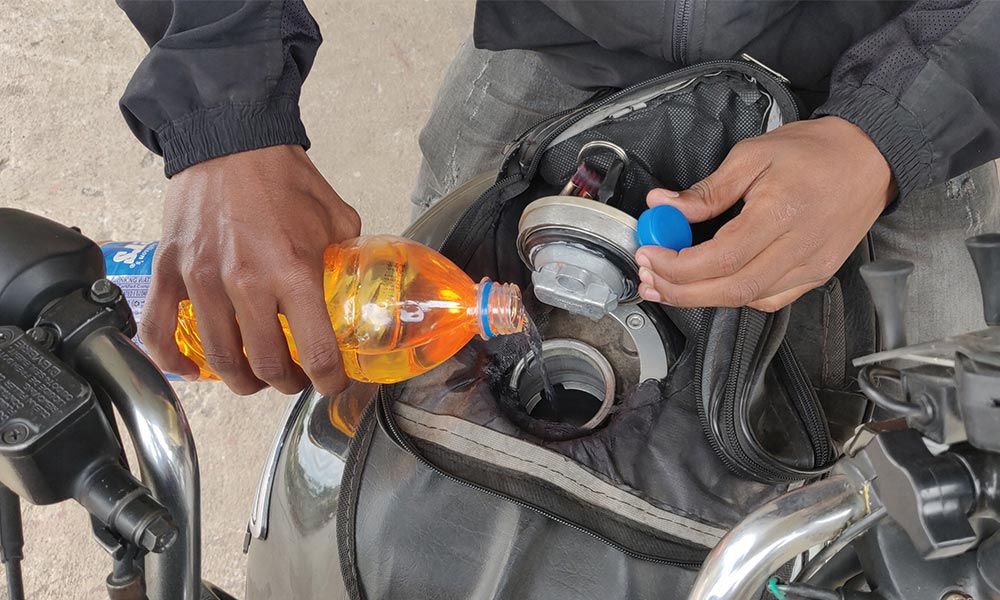 Storage of petroleum in Plastic containers is dangerous as petrol dissolves plastic, which increases the chances of static charge explosion, misuse and misconduct of the product.
Mr. Abraham added, "In cases where the vehicle has run out of fuel, the vehicle owner may bring the right type of container. He/she is allowed to buy less than 30 liters."
The manager of Essar Bunk, Mr. Vinod affirmed that people do buy petrol in plastic bottles. "Petrol and diesel is sold in plastic bottles and is mainly purchased by two-wheeler riders and auto drivers," he said.
Despite the law, many are unaware about the ban on selling loose petroleum in plastic containers. These rules aren't followed by many petrol pumps across the city.
M.S Prakash, the Assistant Commissioner of Police said, "It is not possible to keep a check as there are many pumps selling loose petrol in bottles. Buyers should also understand the hazards of buying petrol in plastic bottles and cooperate with the police to curb this activity."