The recent amendment of the National Law School of India University Act, 1986, garnered negative opinions from students and faculty both.
By Riddhiman Roy
Bangalore: The recent cabinet approval of 25 per cent quota for local/domicile youth in National Law School of India University (NLSIU) is the latest addition to a string of reservations introduced by the State Government in different sectors.
Several students are alarmed by this new amendment. Kriti M, a third-year student of NLSIU and a resident from Gujrat said, "NLSIU is a National University. It never allowed any reservations except the mandatory SC/ST reservations (18 per cent). There was something fair about the admission process, as anyone worthy enough could study in this institute. This reservation throws mud on NLSIU's image as an institute for the deserving."
As per the University's website, there are 80 seats for the BA. LL.B. (Hons.) programme at NLSIU. Out of the same, 57 are for General Category applicants. Students belonging to scheduled casteshave 12 seats reserved for them, while those belonging to scheduled tribes have six seats. Foreign nationals receive a reservation of five seats.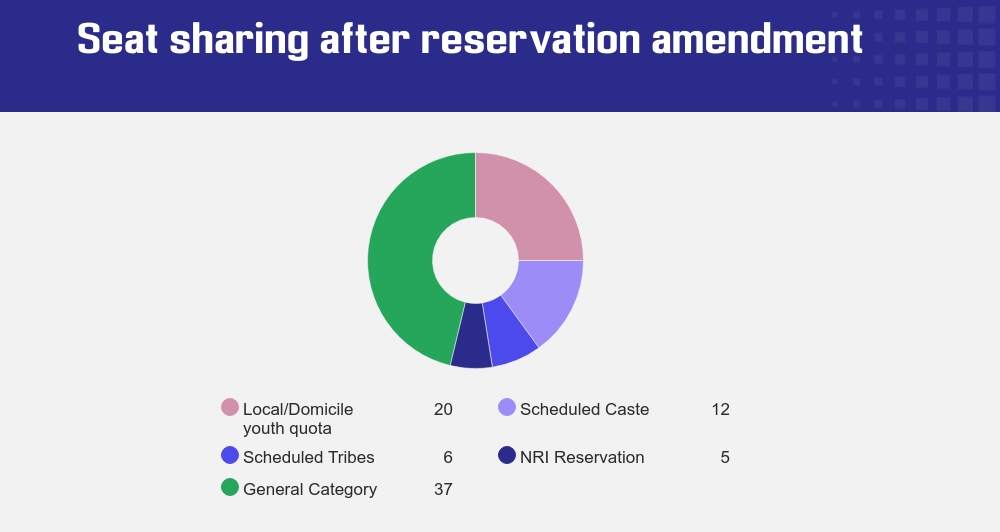 Advocates Association, Bengaluru (AAB) who supported the amendment recently issued a letter to the law minister, JC Madhuswamy requesting to increase the reservation to 50% for local youth. They stated, "All other National Law Schools have introduced provisions to provide adequate reservation for the resident students of states. Recently, the General Council of the National Law University Odisha (NLUO) approved 25% horizontal reservation for the benefit of domicile students from Orissa."
A senior faculty differed from AAB in his views. According to him the request for 50 per cent reservation reinstates the misconception that Karnataka students need quotas to help them enter this University. "Roughly around 18-20 per cent of the student body anyway consists of local students. Plus last year's CLAT scores show that local students really don't need a quota to enter this reputable institute," said the faculty member.
 Professor Sudhir Krishnaswamy, Vice-Chancellor of the university, said he would not be in a position to comment on the matter until he had a chance to study the bill. 
But NLSIU reservation is not the only one of its kind. In December 2019, the BJP led Karnataka government promised to push for a law to reserve 50-75% jobs for local residents in the upcoming assembly session.
Akash Chakraborty, a data scientist from Capgemini said, "A huge chunk of Bangalore's workforce consists of migrant workers working in highly specialized IT companies. This reservation will dilute the quality and productivity of the workforce as a lot of people would get hired based on birth location and not on merit and quality."
"The government hasonly issued an advisory till now, asking all companies to prioritize locals. If a law is passed every company has to follow. No way around it," said the HR of Grexit, a Bangalore based IT startup. Private companies are planning to hold extensive training periods to integrate the local youth hired through this quota, to prevent dilution of workforce quality.
In another instance, the state government promised a bill to introduce 50 per cent reservation for Karnataka students in Post Graduate medical courses from private universities.
This new wave of quotas being introduced in different sectors aim to provide reservation to local Karnataka youth, who have resided in the state for a minimum of 10-15 years and are well versed with the language and culture.
Mr K N Prahlad, a senior Inspector in Bangalore labour department said, "This is not only happening in Bangalore. Andhra Pradesh and Madhya Pradesh both have announced 75% and 70% reservation of jobs, respectively, in all companies (public-private both) for local youth in July,2019. Maharashtra and Goa are also pushing for reservations for local people in job sectors."
According to Professor Jogan Shankar, department of sociology, Calcutta University, West Bengal, "A lot of states are introducing quotas to protect their youth. NUJS Kolkata(National University of Juridical Sciences) also recently announced 30% reservation for locals in LLB and LLM programmes. As the economy of the country is in shambles, there is an increased demand of jobs and a very low supply. There is a mist of fear and distrust all over the country. Hence all the states are closing down their gates."