Karnataka becomes one among 10 states across the country accounting for 82% of total estimated people living with HIV.
By Apoorva GS
Bengaluru: According to the 2015-16 National Family Health Survey (NFHS), only 1.3 per cent of the 6.41 crores people in Karnataka use condoms to prevent unintended pregnancies and sexual transmitted diseases (STDs).
Kamal Sinha, Marketing Executive, Hicks Thermometers India Ltd. says, "I have been marketing condom brands for the past 20 years. Initially, not many people were aware of condoms and other contraceptives, but gradually they got to know about it and started using it. In the past couple of years, we have come across a decrease in sales."
Dr. Sadik Hassan Roy, a sexologist, said, "66 per cent of the total population knows that consistent condom use can reduce the chances of getting HIV/AIDS. Despite being aware of the health risks, people do not use contraceptives.
"Few reasons may be, use of the counter contraceptive pills excessively which are easily available in the medical stores, as well as online. This might also lead to infertility in some women. "
Prime reason why people don't use condoms is because of an illusion that it only prevents pregnancies. But on the contrary, it also prevents sexually transmitted diseases (STDs).
"My partner and I, we do not prefer using condoms, rather we use contraceptive pills. Even when I got pregnant by chance, we had an easy option of aborting using pills. We think it is more convenient because condoms are uncomfortable and also reduce pleasure," said a 28-year-old on the condition of anonymity.
There are various reasons behind not using condoms, according to Kamal Sinha. For him there is a misconception among people that usage of condoms reduces sexual pleasureand again, a few think that made out of plastic, and it's harmful to the human body while others find it easier to use abortion pills if they conceive.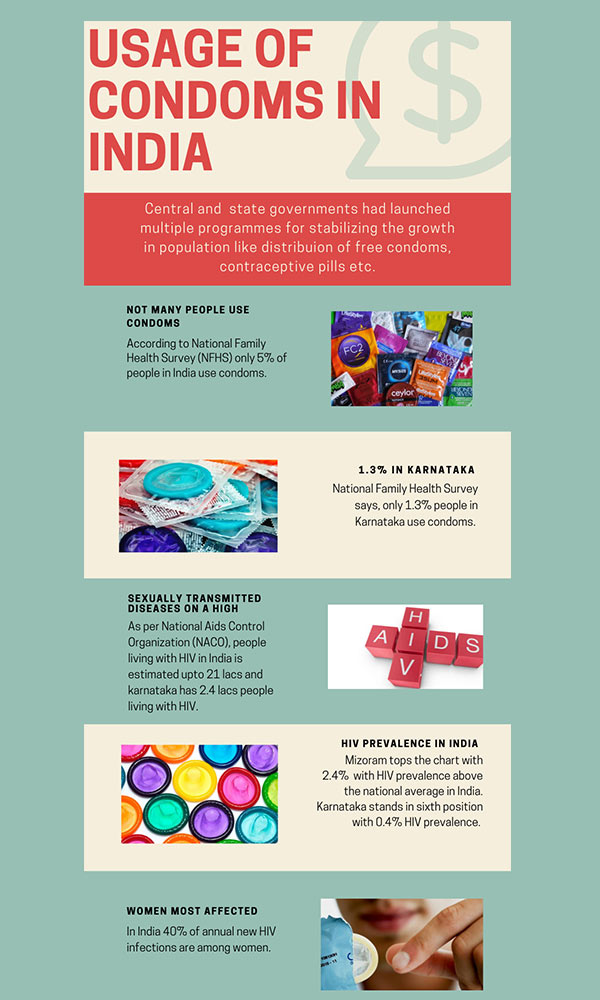 An independent survey conducted by Statista, a German online portal for statistics in 2019, only 338 out of 10,000 unsterilized couples use condoms in Karnataka. Even in Chandigarh, which ranks the highest in this list, a little over 1000 unsterilized couples use condoms. This shows that most people do not prefer using contraceptives, despite being aware and educated.
Naman Rathi, a 27-year-old living in Bangalore, said, "My wife and I, we prefer not to use condoms. We take care of the ovulation period, and we avoid intercourse from 12th to 18th day of her menstrual cycle. It has proved effective for us."
Dr. V. Usha, Deputy Director, Women and Child Development Department said, "Government provides free condoms to people in government hospitals. It is their choice to use them or not. Couples don't tend to use contraceptives, which may lead to unintended pregnancies, sexually transmitted diseases, and other health-related issues."
However, reliable information on induced abortion is not available in India, and national surveys do not provide complete data about this.