With a meagre 2.17 per cent increase in the state's forest covers, it lags behind in using Rs 1,350 crore allocated by the centre to take up afforestation activities.
Savyata Mishra
Karnataka has been losing its forest covers gradually over the years. Although a centrally funded Compensatory Afforestation Fund (CAF) provided the state with Rs 1,350 crores in August last year for taking up green initiatives, it hasn't been able to make proper use of the money.
Mr Puneet Pathak, CEO, CAMPA, explained that the state government is authorised to use only 10 per cent of deposits in the fund raised by collecting money from various user agencies. User agencies are those who buy forest land from the government and pay a compensatory amount to the state government to carry out green activities.
The central government had disbursed a total of Rs 47,000 crore to 27 states in the country and formed a committee called the Compensatory Afforestation Fund Management and Planning Authority (CAMPA).
Odisha (Rs 5,933 crore), Chhattisgarh (Rs 5,791 crore), Madhya Pradesh (5,196 crores), Jharkhand and Maharashtra were allocated more than half of the total disbursed amount. Karnataka received 2.87 percentage of it for maintenance of its forest covers and other green activities like wildlife maintenance, catchment area maintenance, etc.
However, the state hasn't carried out any extensive projects or plantation drives under the CAMPA act, according to an official of the Karnataka Forest Department.
A Press Information Bureau (PIB) report suggests that Karnataka received Rs 10346 crore as of March 2018, of which only Rs 10 crore was utilised.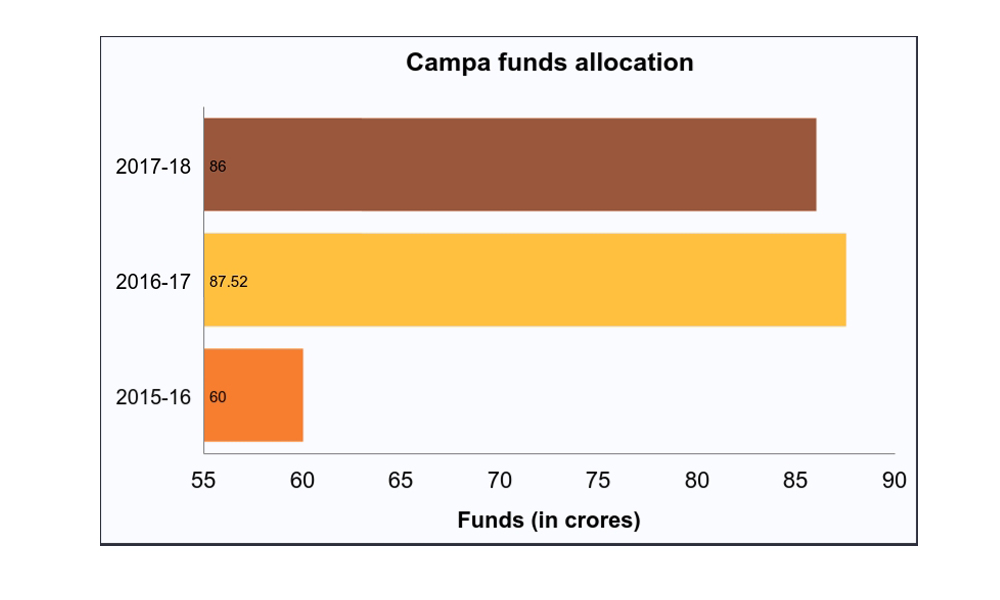 Mr Puneet added, "We get money under CAMPA every year which we try to utilise to raise plantation. Because of various sub-heads like Compensatory Afforestation head, Catchment Area treatment head, the process is long. But the work is under process to use this fund to improve the forest covers in various districts."
According to the Compulsory Afforestation Fund rules, 2016, the monies received towards this fund shall be used for plantation, forest management protection, forest andwildlife-related infrastructure development, wildlife protection and management. This is to be done by a regulatory body called CAMPA.
The 2019 State of Forest Report shows that from 2017 to 2019, there is a meagre 2.73 per cent increase in Karnataka's forest covers. It also shows that the Western Ghats districts like Shivamogga have lost a whopping 49.22 sq km of forest. This is primarily due to encroachments, development projects and mining activities. Kodagu is another eco-sensitive zone that needs afforestation drive on war-footing to maintain the deteriorating ecological balance of the Sahyadri.
Suresh Heblikar, an environmentalist said, "It is high time our country focuses on increasing its green covers. Every year, we lose forest land to exploitation and natural calamities. Looking at what is happening in Australia, the state and central government should come together to take measures to prevent such drastic conditions."
According to media reports, the Environment Minister, Prakash Javadekar had said, "continuous deliberations will be held with stakeholders to ensure maximum afforestation activities are carried out all over the country."