90 percent families under the 'payment failure' tab of the Karnataka Ashraya website haven't received funds since their Aadhar cards cannot be mapped.
By Yamini Chincholi
Around 2,55,000 households have not received funds under housing schemes in Karnataka since 2017. Families can provide bank details directly or Aadhar number linked to banks in order to receive payment. After Aadhar-related payment failures, 'Issuer Identification Number' (IIN) under account-based payments is the second largest cause of failure in payment.
Raichur district has over 7300 households waiting for funds under Pradhan Mantri Awas Yojna (PMAY), B. R. Ambedkar Yojna and Rajiv Gandhi Housing Corporation Limited (RGHCL). Maski was made a taluk two years ago, combining Lingsur, Sindhnoor and Buddhini. "The documents and records that exist in these individual three places haven't been shifted to Maski yet. This is the cause of Aadhar mapping failures," said Mr Satyanarayan, Maski town head.
The RGHCL website says, around 1,02,682 people are homeless in Raichur district. Most have been displaced due to floods, and most homeless people are artisans. In Maski town, 550 houses have been built under housing schemes since 2017, and around one-third of them (183) hasn't been funded by the government yet. Schemes like Ujwala Yojna, Awas Yojna, Mudra Yojna etc, have failed at the implementation stage because the funds are channeled through Aadhar.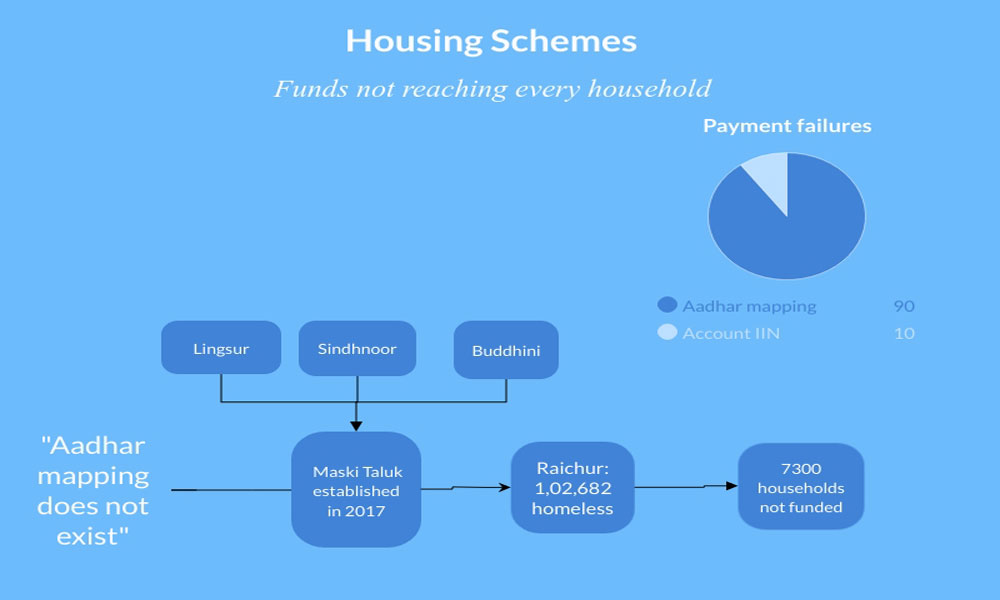 Mr. Ambrish, Zila Panchayat member, has sent letters to the State government about funds not reaching households and hopes that action will be taken within the month.
In 2015, the first District Human Development Report for Raichur was released by the Zila Panchayat. It concluded that there is an economic stagnation because of lack of infrastructure.  The report states that Lingsur and Manvi taluks are "most backward" and development is relative.
Houses are built on unowned sites in these taluks. Around 688 houses constructed under housing schemes in the district were found to be "not okay" upon inspection of windows, roofs, and lintels. About 3,400 houses in the district are yet to be started.
Mr. Basavaraju, the Panchayat Development Officer (PDO) in Antargange Grama, said, "Funds have not been coming from Basava Vasati Yojna and B. R. Ambedkar Yojna from the past six months." Devekamma Amarappa, Hanumamma Nagappa, and Gundamma Durgappa are among the ones who are waiting for the funds.
Experts believe the problem lies with the procedures in redeeming of schemes. " The government representatives and bank officials should verify the identity of the Aadhar cardholder. Even if documents are misplaced in the taluk level, beneficiaries can approach the district. The Aadhar card is not the problem here, but the lack of simple verification," said Mr. Kiren Pol from Blueboy Property Consultants.